Equity markets are having yet another day of difficulty, with the Dow Jones Industrial Average declining for a third consecutive session as investors are finding very little in terms of new economic data points and are refocusing on the slowing Chinese economic growth and the continuing Ukraine tensions.
As we saw earlier this week, Chinese exports declined dramatically last month as fears of unsustainable debt levels in the world's second largest economy have been resonating in the minds of investors. Japan's economic growth has also been in focus, as an April sales-tax bump threatens to trigger the deepest one-quarter contraction since the March 2011 earthquake. And over in the Ukraine, government leaders are asking for help in preventing Russia from annexing Crimea, but the Black Sea peninsula, overrun by Russian troops, appears to be on track to formalize the new marriage within days. All this negative sentiment had a significant adverse effect on Asian and European markets; in fact, the Hong Kong Hang Seng was down 1.65 percent, the Japanese Nikkei dropped 2.59 percent, and the German DAX declined 1.28 percent.
While the U.S. economic calendar is empty today, the rather negative sentiment from abroad carried over and also put significant pressure on homegrown stocks, with the Dow sinking close to 90 points in the first 15 minutes of the trading session. However, markets have bounced off the lows of the session as investors are beginning to look ahead to tomorrow's readings on retail sales and initial claims, as well as next week's Federal Reserve meeting.
King Ready to take Candy Crush Public
By David Urani
Okay I'll admit it, for a month or so last year I played Candy Crush Saga on my daily subway ride to and from work. I can't explain what was so addictive about it, perhaps it was the fact that it was simple and easily played with one hand while I held onto the handrail; a perfectly quick, bite-sized diversion rather than just staring at the window or the other passengers. And I wasn't alone in finding a little bit of enjoyment in matching colored candy pieces; Candy Crush boasts 93 million daily active users, and altogether King Digital's (proposed ticker: KING) games draw 128 million daily active users. Now King is getting ready to go public later this month, and is reportedly looking to value itself around $7 billion.
For now you could say King is literally the King of the mobile game arena, and has impressively found a way to capitalize on its popularity, raking in $568 million of net profit in 2013. Yet, as of Q4 revenue and profit were already decelerating after an astonishing explosion in Q1-Q3 (see below). It makes you wonder whether the mania has begun to wear off. Certainly at some point it has to, and subsequently King needs to be able to produce something to take the place of Candy Crush, which accounts for more than 70% of its daily active users. It should be said though, that its second-most popular game, Pet Rescue Saga, is no slouch at 15 million daily active users and #5 on the Google Play top grossing list, while its next biggest game Farm Heroes Saga is trending at #3.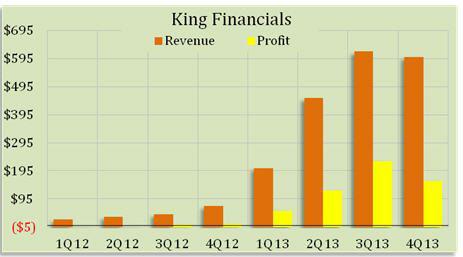 But mobile games are such an astonishing, yet strangely perplexing market. Candy Crush is not particularly innovative or even new. In fact, you could even say that it's an evolved clone of Bejeweled, a game that came out all the way back in 2001.
Mobile games, like internet videos of cats, can go viral. Take for instance the phenomenon of Flappy Bird, which stormed onto the scene earlier this year and topped the Apple and Google Play game charts until its creator, Dong Nguyen (one 28-year old guy), couldn't take the pressure anymore and pulled it off the market. For some perspective note that Flappy Bird is a 2.3MB file, smaller than a typical song, and consists of nothing else but flying a silly looking pixilated bird between pipes. Flappy Bird is no longer available, but right now looking at the Google Play store I'm seeing that 4 of the top 30 trending free games are shameless Flappy Bird knock-offs (games that took hardly any time to develop). What this means is that the mobile game market has a very low barrier to entry.
Then again the overall game market has quite a variety. Mobile games are obviously restricted by the power and size of the phones. I find it interesting to compare King, which is seeking a ~$7 billion valuation, versus EA (NASDAQ:EA) which has a $9.2 billion market cap. EA is as big a name as it gets in the game industry, and whereas King makes low-budget brain teasers EA makes big budget 'triple-A' titles. If you were to compare them to TV/movies you could call something like Candy Crush perhaps vaguely similar to a game show which, like Jeopardy, is cheap to produce but you can get your quick, entertaining daily fix.
On the other hand EA just yesterday released Titanfall which would be more comparable to a must-see blockbuster like Gravity, which has a big budget and fancy special effects. Not to mention, EA creates the likes of Madden, FIFA, Need for Speed, Mass Effect and more that contain vibrant environments, lifelike characters, and deep storylines. If you were to ask which company has more skills and resources for creating games it's hard to argue against EA. Not to mention, EA makes its own mobile games alongside the huge productions that can only be played on consoles and PC's. Take for instance Plants vs. Zombies, an EA production that currently sits as the #3 top paid game on the Google Play store.
So when I look at the two companies something just smells wrong with that $7 billion valuation for King, which gets relatively close to EA's value; especially when you consider that 4Q decline in revenue for King. I will say that financially King does make a valiant argument, with its 2013 revenue of $1.9 billion reaching just under half that of EA's FY13 (ended March) revenue, while EA does struggle with profit margins given its high game development budgets.
But perhaps it's not King itself that I'm weary of as much as the mobile game market as a whole. It's a place where success is strangely unpredictable and viral. It's also a far more accessible place for competitors, where one guy like Dong Nguyen and his Flappy Bird found a way to challenge King for the top spot.