By Carlos Guillen
Despite the fact that equity markets around the world had a difficult trading session yesterday, U.S. stocks performed well, relatively speaking of course, with the Nasdaq and the S&P 500 slightly in the green and with the Dow Jones Industrial Average losing just a bit over 11 points. However, the market's action is much more different today as investors are now reacting to renewed fears over the escalation of conflict between Ukraine and Russia as well as to the slowdown in China, which has served to completely overshadow any enthusiasm that might have stemmed from the better than expected domestic economic data presented earlier.
Quite encouraging today was a key measure of U.S. job layoffs fell to the lowest level since the end of November; clearly an encouraging sign for the strengthening labor market. According to the Department of Labor, initial claims during the week ended March 8 totaled 315,000, decreasing from the 324,000 revised figure reported for the prior week and landing below the Street's estimate of 329,000. The fact that the number continued below 350,000 is certainly encouraging; however, this also occurred in November of last year and then it jumped back above. The initial claims' four-week moving average was 330,500, decreasing from the prior week's average of 336,750, and moving further below the 350,000 mark. While the jobs market worsened in February, at least the small improvement is giving a bit of hope.

Very surprising today, in a positive way, was that retail sales data showed that despite the inclement weather, the consumer stepped up its discretionary spending. According to the U.S. Census Bureau, retail sales during February increased year-over-year by 1.5 percent and increased month-over-month by 0.3 percent, better than the Street's consensus estimate calling for a 0.2 percent month-over-month rise. Excluding automobile related revenues, retail sales increased year-over-year by 1.3 percent and increased month-over-month by 0.3 percent, better than the Street's consensus estimate calling for a 0.2 percent month-over-month rise. Of the thirteen categories that make up the result, only three declined, led by a 6.7 percent decrease in Sporting goods. Given the importance of consumer spending, as it represents 70 percent of gross domestic product (GDP), this unexpected reversal in retail sales, which comes after two consecutive months of declines, with January sales declining 0.6 percent, will certainly bode well for first quarter GDP growth.

Asian markets were mixed, with the Nikkei 225 index ending slightly down 0.1 percent, and the Hang Seng Index falling 0.67 percent after data showed China's industrial production slowed in the January-February period from 13.6 percent to 11.8 percent, while retail sales in January eased from 13.6 percent to 11.8 percent. Helping to offset this slowing growth was China's Premier Li Keqiang's reassurance that the government will not allow systemic risks to get out of hand as a result of debt defaults.
Also serving to put pressure on stocks today was news that Russia's Defense Ministry announced new military operations in several regions near the Ukrainian border, and this comes in spite that Chancellor Angela Merkel of Germany warned the Kremlin to abandon the politics of the 19th and 20th centuries or face diplomatic and economic retaliation from a united Europe. All focus will be on Crimea's vote this weekend to decide whether to stay with Ukraine or join Russia. Things could get ugly again.
Sino-Russian Smackdown
By David Urani
The news of the day, alongside the ongoing crisis in Ukraine, is probably Chinese industrial production numbers that came in soft, the latest in a long line of lackluster data out of China. There are sort of two ways of looking at it. The headline number shows an 8.6% increase year over year, which objectively is not a 'weak' number, and it's something the USA would be proud of. However, this is also a 5-year low for China. As we've said a number of times lately, February is of course skewed by China's New Year holiday but given the consistency of soft data of late it would probably be wrong just to blame that.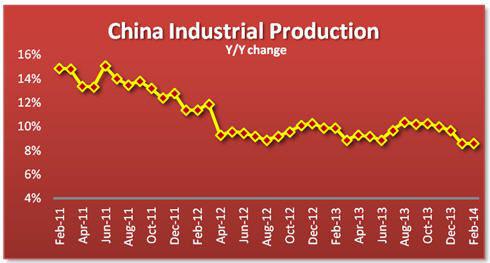 The developments in both Russia and China are serving to spark somewhat of a global selloff today, and it's being felt heavily in Europe where the UK FTSE 100 was down 1.0%, the French CAC 40 down 1.3%, and Spain's IBEX 35 down 1.2%. But the German DAX is seeing the worst of it, down 1.9% while also facing a technical breakdown through support. Germany is a big export nation with a thriving manufacturing sector that also happens to have a large reliance on Russian gas, along with trade ties in Eastern Europe. Furthermore, it gets a lot of export dollars from emerging markets including China and Russia. Germany of course is the most influential economy in Europe and the whole situation is getting the global markets frightened.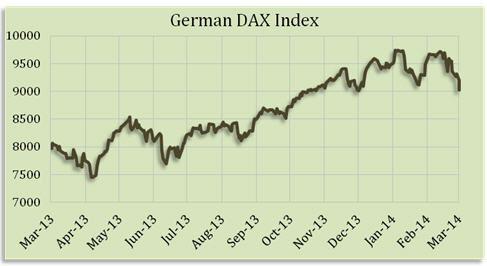 Consequentially, Xi Jinping is making the first visit by a Chinese President to Germany in eight years at the end of this month amid waning Chinese trade activity and a potentially ongoing dispute over sanctions between the EU and Russia. So far China has been pretty hands-off with respect to the Ukrainian situation but they have generally sided with Russia with these types of issues in recent history.