By Carlos Guillen
Equity markets are making a rather encouraging move to the upside today as better than expected consumer confidence has enthused investors back into buying stocks. While there have been some jitters as many on the Street have been concerned with the declining manufacturing data from here at home, investors today saw overall good economic data points and have reacted accordingly, leaving the Dow Jones Industrial Average on track to make up for the losses posted during the prior two sessions.
Perhaps most encouraging today was data from the Conference Board, as it showed that consumer confidence jumped much better than expected. According to the Conference Board, its consumer confidence index jumped to 82.3 in March from 78.3 in the prior month, landing well above the Street's consensus estimate of 78.2. The result served to contradict the data published by the University of Michigan 11 days ago, which showed a rather discouraging decline, as the University of Michigan Consumer Sentiment March preliminary result landed at 79.9, which was lower than the Street's expectation of 82.0 and was lower than the 81.6 reached in February.
While consumers' assessment of current conditions was little changed in March, the main reason for the rise in confidence was that Consumers' expectations for the short-term outlook bounced back from February's decline. In fact, consumers were moderately more upbeat about future job prospects and the overall economy; however, they were less optimistic about income growth. Overall, consumers expect the economy to continue improving and believe it may even accelerate a bit in the months ahead.
Those expecting business conditions to improve over the next six months increased to 18.1 percent from 17.3 percent, while those expecting business conditions to worsen decreased to 10.2 percent from 13.6 percent. Consumers' outlook for the labor market was also more upbeat. Those expecting more jobs in the months ahead improved to 13.9 percent from 13.7 percent, while those expecting fewer jobs decreased to 18.0 percent from 20.9 percent. On the other hand, the proportion of consumers expecting their incomes to increase dipped to 14.9 percent from 15.8 percent, but those expecting a decrease also edged lower to 12.1 percent from 13.4 percent.
On the housing front, new-home sales ticked lower in February as the unusually cold winter coupled with ramping mortgage rates served to slow sales. As is stands, sales of newly built homes declined 3 percent month-to-month: more on this below.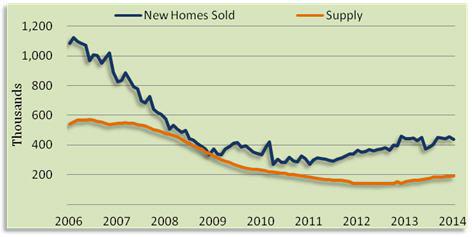 In all, it is a good day for equity markets, and today's trading session is certainly bringing a sigh of relief after the last couple of rough trading sessions. The rest of this week promises to be quite eventful as a slew of economic data is scheduled for release including durable orders, GDP final estimate, and Michigan sentiment.
New Home Sales
By David Urani
The Census Bureau reported February new home sales in line with the consensus estimate, and down 3.3% month over month at 440k annually adjusted. As a reminder, January had been at a 6-year high (now revised just below) so it's a modest dip from a good January, and also a volatile winter month. That volatility can be seen in the regional data, where a 37% month to month increase in the Midwest was offset by declines of 32% and 16%, respectively in the Northeast and West. This kind of volatility can be expected to occur when the slow winter months are annually adjusted, especially in an unusual winter such as this year's. Thus, you shouldn't put complete faith in what the numbers say but rather look at the long term trends (below).
And from that standpoint I remain optimistic about housing. Sales are still hovering just below a 6-year high as we go into the spring selling season, when the market heats up and we get a fuller view of how demand is progressing. While sales are at 2008 levels, supply is running at less than half 2008 levels and remains relatively subdued. Months' supply stands at 5.2 months, which is up from 5.0 in January but still quite manageable and gives room for further new home construction, as well as support for prices.