By David Urani
Action in the market today is flattish and the big news of the day as perhaps the Census Bureau's durable goods report. Durable goods orders for February were up 2.2% month to month versus consensus estimates for a 1.0% increase. That follows a 1.3% decrease in the prior month, which had sort of been given a mulligan because of the harsh weather. However, excluding the typically volatile transportation readings orders were only up 0.2%, which was actually below the 0.3% consensus estimate (transportation orders were up 6.9% after a 6.2% drop in January). Areas of strength included metals and electronics, while there decreases in machinery and electrical equipment.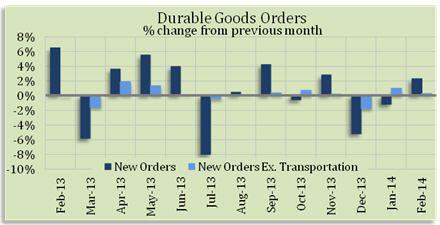 Capital goods orders, a measure of corporate capital investments, have wavered in recent months after hitting a relative high note in November. Capital goods were down 1.3% month to month to $67.4 billion. All in all, the durable goods report was neither good nor bad enough to really budge the market one way or another.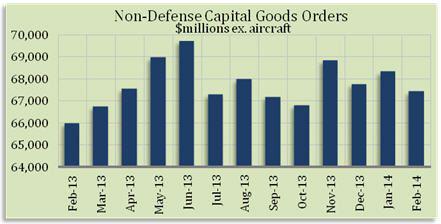 The market's eye was also on King Digital (BATS:KING), maker of Candy Crush as it made its trading debut. The IPO price called for a valuation of $7.1 billion at $22.50 per share but the initial reaction has been a negative one with the stock down approximately 10%. It is an interesting case study that may give us a hint to the market's mentality. It's a big name that a lot of folks will have been excited about and perhaps one may not have been surprised to see the stock jump initially. However, it seems fundamentals are taking charge and in a way maybe that's a good thing; we don't want too much over-exuberance. In the end one has to question whether the company has a long-term plan for when Candy Crush inevitably loses its popularity, while analysts will also be quick to note that its sales already began to fade in Q4.