By Carlos Guillen
Equity markets are continuing the momentum that started yesterday after Federal Reserve Chairwoman Janet Yellen gave investors some comfort in the belief that there will continue to be quantitative easing at its current $50 billion per month level. And today, better than expected manufacturing data is serving to enthuse investors once again.
Clearly the most important fundamental bit of economic data out today was the Institute for Supply Management (ISM) Purchasing Managers' index (PMI), considered by many to be a very important health indicator of the manufacturing industry here at home. PMI in March clocked in at 53.7 percent, increasing from the 53.2 percent reported for February, but landing below the 54.0 percent consensus estimate. Of the 18 manufacturing industries, 14 reported growth in March. Given that a reading below 50 percent indicates the manufacturing economy is generally contracting, this PMI result puts the U.S. manufacturing sector into its tenth month of growth after landing in contraction territory back in May of last year. Also encouraging was that, given that a PMI over 43.2 percent over a period of time generally indicates overall economic expansion, the result also indicates the 58th consecutive month of overall economy growth. Concurrently, New Orders totaled 55.1 percent, up from the 54.5 percent posted for the prior month.

This good ISM economic data helped to bring a sigh of relief after yesterday's economic result from the Chicago PMI showed a decline in March to 55.9 from the 59.8 reported in the prior month, which landed worse than Economists' forecast of 60.1.
Over in China, equity markets moved higher after manufacturing data actually worsened. HSBC Holdings Plc and Markit Chinese PMI fell to 48.0 in March from 48.5 in February, the lowest reading since July. However, a separate PMI from the government, which has a larger sample size, actually ticked higher to 50.3 from 50.2 the previous month. Nonetheless, Chinese manufacturing gauges are pointing to weakness in the world's second-biggest economy, but this could motivate the Communist Party leadership to roll out additional support measures, which in turn has serve to attract equity investors to buy more stocks.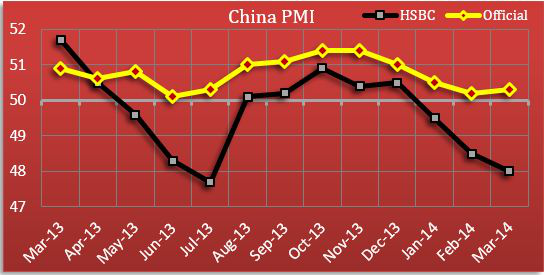 In all, despite some market fluctuations today, stocks are holding nicely to the gains achieved earlier in the session, as reflected by the Dow Jones Industrial Average, which is up over 60 points at the moment.
Auto Sales Shape Up
By David Urani
Auto-related names including automakers and auto parts companies are getting a bump today on the back of some pretty good sales numbers out from the various automakers. Chrysler was the standout performer, with a 13% increase in sales in March which was also their best March since 2007. Ford F posted a 3% increase in sales following a 6% drop in February. Toyota's TM sales were up 9% and said there was good momentum heading into spring. Volkswagen showed a 3% decline, following a 14% decrease in February. Nissan sales were up 8%, hitting a new March record for the company. GM will report later today. Analysts are preliminarily showing these sales as approaching a 15.8 million annual rate, which would be an improvement over the 15.3 million rate in February. The Street had been bracing for worse considering unfavorable weather that apparently didn't slow customers too much from hitting the dealerships.