By Carlos Guillen
Taking a look at the Job Openings and Labor Turnover Summary, or JOLTS report, we can see more jobs available in our economy during February. The highlight of the report was that the number of available jobs in the U.S. ticked up, providing some evidence that the jobs situation may improve moving forward as companies are likely to be putting up additional openings in the face of slow but consistent global economic growth. The number of job openings in February was 4.17 million, up from 3.87 million in January, representing a 7.72 percent increase. At the moment the number of job openings still remains well below the 4.32 million openings when the recession began in December 2007; however, the number of job openings has increased 94.5 percent since the end of the recession in June 2009. Among the largest contributors to job openings in September were in retail trade and in professional and business services.

Hiring increased by 71,000 to 4.59 million, representing a 1.57 percent up tick, and firings declined to 1.62 million from the 1.70 million posted in January, representing a 4.93 percent drop. This data comes after Friday's rather discouraging jobs number that showed a flat unemployment rate of 6.7 percent and an increase in nonfarm jobs of 192,000 in March, both worse than expectation.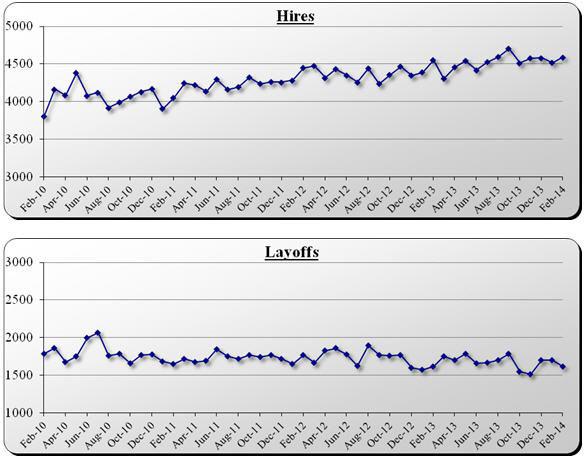 It is also worth looking at the number of unemployed per jobs available, which has been on a down trend since the third quarter of 2009. While most recently this ratio has been holding fairly flat, showing very little room for improvement, it now improved a bit. So we now have a scenario of less layoffs and more hiring going on, certainly an encouraging sign.