Watch Charles' New Show: Making Money with Charles Payne on Fox Business, 6PM
Disappointing housing data and increases in the consumer price index (NYSEARCA:CPI) caused the equity markets to have a rough morning. However, the equity markets have finally managed to settle down and are roughly flat for the afternoon. Aside from these two sets of data, there are some more noteworthy items of which to be aware of in the coming days.
This morning, the Chinese Ministry of Commerce announced that it would be blocking a formal global alliance by the three biggest container shipping lines, noting that this union would restrict competition on the busiest routes between Asia and Europe. The decision sent shares of Maersk, the world's largest container line, falling by over 8% - the steepest intraday decline since early 2012. Members involved in creating the pact have yet to come up with alternative for the moment. China appears to be in need of raw materials. Although, the Chinese Housing Index showed this morning that newly built housing prices in China have increased 6.7% in April over a year earlier. Nevertheless, this trend has been declining since the beginning of the year, which could indicate that the Chinese are having trouble selling homes at current prices.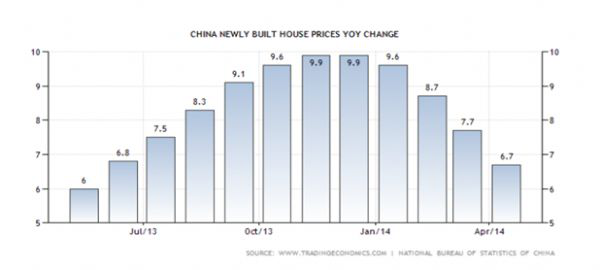 Back in the US, retails sales are looking a little more encouraging according to the ICSC-Goldman and Redbook retail sales numbers released this morning. ICSC noted that chain-store sales were steady in the week ended June 14th, at +3.1% same store sales year-on-year rate, which is consistent with ICSC-Goldman's post-Easter trend. Additionally, Redbook noted that year-over-year same-store sales are in line with the recent trend at +3.5%. Redbook says that the sales increase within the latest week was driven by Father's Day and strength in apparel sales.