Watch Charles' New Show: Making Money with Charles Payne on Fox Business, 6PM
In anticipation of the Federal Reserve's interest rate announcement at 2:00PM, the major equity indexes are hovering just below the surface in the red. We have seen stock markets rise in other countries following their respective central banks announcing that they would be raising rates, so it will be interesting to see how markets react to whatever the Fed has to say this afternoon. Given that economic data is still on shaky ground in the US, we believe that any seriously drastic action would be unwarranted by the Fed. It's more likely that the Fed will raise rates ever so slightly to test the true fortitude of the US economy. We shall find out at 2:00...
In the meantime, normally less-impactful economic data is causing the market to fluctuate. The Current Account is a measure of the US' international trade balance in goods, services, and unilateral transfers on a quarterly basis - the levels of exports, imports and the current account indicate trends in foreign trade. At present, the US's current account deficit jumped up higher in the first quarter, to $111.2 billion from a revised $87.3 billion in the fourth quarter of 2013. Ultimately, the widening in this gap reflects a softening in exports, a rise in imports, a dip in income from overseas holding companies, and an increase in government transfers. Additionally, the current account as a percentage of GDP rose to 2.6% from 2.0% in the prior quarter. Below is a chart showing the trade deficient from the first quarter of 1960.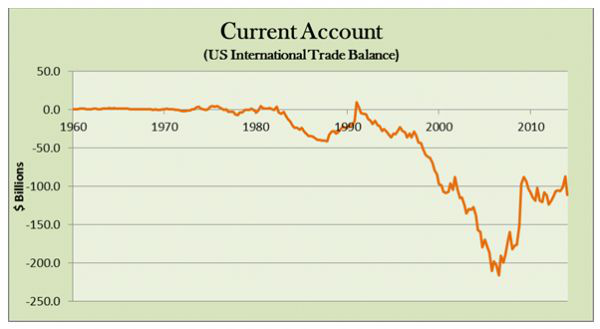 Also, trade related were the earnings results reported by shipping giant, FedEx Corp. (NYSE:FDX), this morning. FDX, which typcially serves as a gauge for the overall health of trade and management, noted on their earnings call that they remain optimisic that moderate global economic growth will continue in the second half of the year. All of FedEx's segements reported positive operating results and we note that the company expanded profit and operating margins in FY14 over FY13. If these trends at FDX are reflected in more company earnings, which will pick up huge mid-July, we ought to get a more effective gauge for economic strength.
 
Express: revenues up slightly to $7 billion; operating income +3% to $475 million
Ground: revenues +8% to $3.01 billion; operating income +5% to $586 million
Freight: revenues +12% to $1.55 billion; operating income +51% to $122 million.