Watch Charles' New Show: Making Money with Charles Payne on Fox Business, 6PM
The market must have expected great news during today's session. The major equity indices all hovered just above the surface in the green for the majority of the morning session. One day ahead of the Bureau of Labor Statistics' monthly jobs report, the ADP Employment report showed some very impressive numbers. ADP's data are showing a big increase in payroll growth for June at 281,000, which was much higher than the unrevised 179,000 level in May. Consensus' estimate for the ADP numbers was far off, estimating an increase of 200,000 jobs. Last month, when the ADP posted 179,000 jobs the Bureau of Labor Statistics posted a May reading of 216,000 job added in the month. Given that huge difference, is will be interesting to see what news is released tomorrow morning. Aside from the jobs data, there were a few other data points worth noting this morning.
For the month of May, total factory orders fell 0.5%, but when excluding defense, orders rose 0.2%. However, most categories in manufacturing sector are showing a softening with orders for transportation equipment (-2.9%), electrical equipment (-2.2%), computers (-2.0%), and the all-important machinery group (-0.3%). One big positive takeaway from the report was that there was a 0.7% order gain for non-defense capital goods (excluding aircraft), which we note as an important core reading for business investment.
Other details within the factory orders report were mixed, with total shipments up only 0.1%. Ultimately, we don't see this as a reading strong enough to influence or lift GDP estimates in the second quarter of 2014. The softness in shipments made for a large (0.8%) increase in inventories, so for the first time in many months, that drove the inventory-to-shipments ratio up to 1.31 from 1.30. However, one positive sub-point worth noting is a solid 0.6% rise in unfilled orders for May.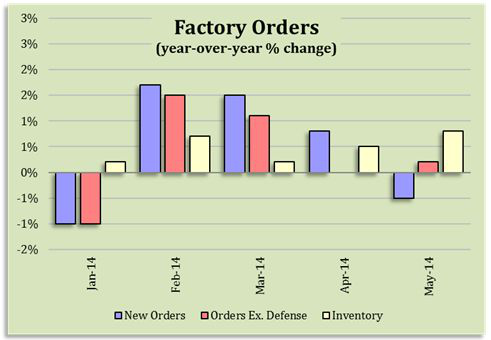 All in all, the factory/manufacturing sector has been a standout for the economy, despite the less-than-stellar reading from today's report. So far, industrial indicators for June are very positive; recall yesterday's impressive reading in new orders from Markit's ISM Manufacturing Index. Going into the close we don't expect too much volatility. However look for investors buying up shares into the close - this should indicate an elevated level of optimism for the jobs data out tomorrow!.