Earnings are the main driver behind the market rising higher today, as the economic releases from this morning were certainly no booster. Once again, the S&P 500 achieved another all-time intraday high due to a large number of earnings beats. The Dow Jones Industrial Average is hovering just above the surface in positive territory, though it is needs to climb over 100 points to reach another all-time high. Facebook (NASDAQ:FB) set the strong pace of the NASDAQ today even though earnings in general were mixed; most of the companies beat expectations. As we noted this morning, initial jobless claims are at their lowest level since February 2006. Jobless claims may be signaling a major shift in strength for the labor market during the summer months, unless retooling layoffs in the auto sector are less than usual this summer, or will be starting later than usual.
The Purchasing Manufacturing Index (PMI) noted that growth has slowed a bit, yet remains very strong. The economic group Markit provided a flash (preliminary) reading for the US manufacturing sector, which came in at 56.3, which is down only one point from final June's 57.3 and down 1.2 points from the June mid-month reading of 57.5. Markit Economics is only posting isolated details for the report; however, they did note that output is at an impressive 60.4. Also, the strength in the industry is centered in domestic businesses, not exports, where orders are only slightly above 50. Employment is at a 10-month low, but remains at an expansionary level above 50. Inventories rose and input cost pressures eased while finished goods prices rose. It's a bit odd that the acceleration seen this month in the Empire State or Philly Fed reports doesn't show up in this reading. However, it does indicate that the manufacturing sector, or at least Markit's sample of the manufacturing sample, is enjoying a strong summer, so far.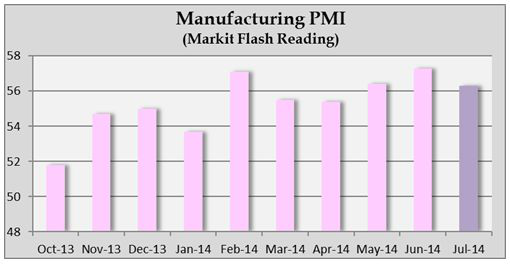 In addition, new home sales reported by the US Census Bureau were rather disappointing, causing many homebuilding-related stocks to drop today. It is really rare to have monthly data as volatile as the latest new home sales report where the outlook for the sector has suddenly shifted from strong to weak with just one reading. New home sales came in at an annual rate of 406,000 in June while the May reading, which was particularly strong, is now revised 62,000 lower to 442,000 without any explanation. All regions in the United States showed declines in June; the most important region (due to its overwhelming size), the South posted a 9.5% drop in new sales. However, total new homes for sale did rise in June to 197,000 vs 191,000 in May. Overall, signals from the new home sector have been mixed with the housing market index from the nation's home builders showing strength in sales and expectations of sales, but not housing starts and permits, which have been plummeting. This report is certainly middle-of-the-road, but definitely on the weak side in what is an unclear and uncertain view of the new home market.