Yesterday, I found it interesting that consumption could be up by so much, yet savings increased at the same time. It has to mean that either wages are increasing or the use of credit is increasing. There has been evidence of the latter, but this morning the market is grappling with the former.

The biggest spike in compensation since the first quarter of 2008 means that the moment of truth could come sooner than later, and while most mature market investors know it's better for an economic revival to lead the rally, there is going to be a period of angst. Of course, the idea that the Fed would go away and that there would be no turning back from Main Street leading the way, is currently problematic for Wall Street.
There have been so many false rebounds to the economy; it's tough to think there will be smooth sailing ahead.
Just Got Paid
Despite the Fed's stance, it is really hard to see how they will keep making excuses. Yellen has been hoping low wages would be her main reason for not hiking rates, but that's rapidly changing.
Compensation, according to the ECI report, spiked 0.7% as an average for all civilian workers. This is good news and not all together a surprise. All signs have pointed to higher wages, but maybe the pace spooked investors.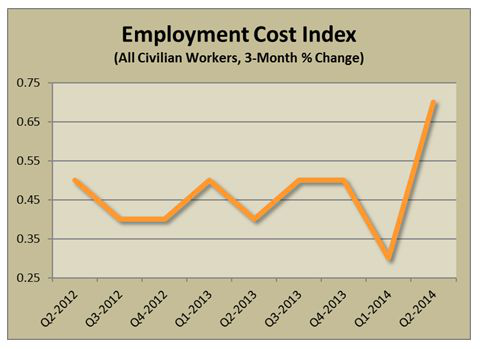 On the topic of being spooked, the situation in Russia gets weightier each day, and I think it a greater culprit in today's selloff.
It all adds up to a difficult session that has erased great earnings reports, along with the entire July rally.
This was due, and I urge everyone not to panic. We ratcheted up sells this week already, so all subscribers should have cash. Let's hold on long term; I still see the market climbing substantially higher, but we must deal with these dark periods from time to time.