It is nothing short of a small miracle that the stock market opened in the green after equity futures in the premarket were down significantly. The potential of further military intervention and air strikes in Iraq overnight had investors worried that one more conflict would be added to the list of geopolitical problems. However, fears were slightly quelled before the open after a Russian news source announced that the country was looking to "deescalate" conflict with Ukraine. Equities are trading back in the green for the moment, but the wild swings are not helping investor morale in the near-term. However, there was some interesting data release this morning.
The major economic reading this morning was the quarterly measure of nonfarm productivity and unit labor costs. Productivity measures the growth of labor efficiency in producing the economy's goods and services, and unit labor costs reflect the labor costs of producing each unit of output. Both components for the report are important indicators of future inflationary trends. Nonfarm labor productivity increased 2.5% in Q2-2014 following a downwardly revised -4.5% (from -3.2%) decline in Q1-2014, and economists had expected nonfarm productivity to increase 1.4%. Year-over-year, productivity increased 1.2% in Q2-2014 which denotes a slight acceleration from the 0.9% increase for all of 2013. Unit labor costs edged up 0.6% after surging by a whopping 11.8% annualized in Q1-2014 and economists estimated a 1.6% increase. Additionally, year-ago unit labor costs were up 1.9%, compared to up 2.6% Q1-2014.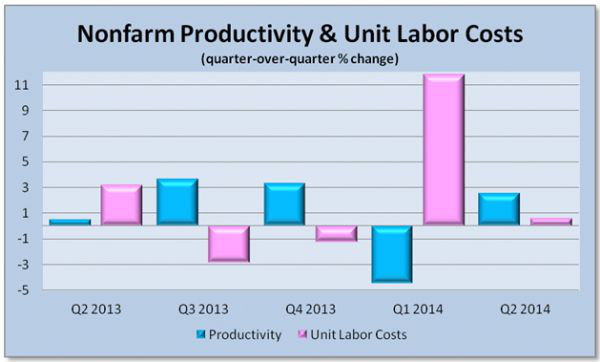 Looking at the individual components, output jumped 5.2% in the nonfarm business sector, following a 2.4% decline in Q1. Hours worked increased at a 2.7% pace after 2.1% the prior quarter. However, compensation growth slowed to 3.1% in the second quarter after jumping by an annualized 6.8% in the prior quarter. Ultimately, workers are working longer hours and producing more, but payment is slowing - a trend not that optimistic for near-term jobs data fortitude. These productivity gains should help keep cost-push inflation in check. Long term, productivity gains provide increases in output that lead to consistent gains in living standards in developed nations.
Additionally, wholesale inventories increased by 0.3% in June - which is a modest gain - and is in-line with a 0.2% gain in wholesale sales which resulted in the stock-to-sales ratio unchanged at 1.17. The reported noted that activity was strongest in the auto sector with wholesale sales of autos jumping 2.1%, after gains of 1.4% and 3.1% in May and April respectively. In the sales component, paper products, professional equipment (including computers), lumber, and metals show strong gains - all of which were matched by what are likely desired builds on the inventory side. Weakness in sales, outside of farm products, included chemicals, hardware, groceries, and apparel - all of whose inventories are unlikely to build up anytime soon.