As tensions simmer down globally, and in the absence of major economic releases, the major equity indices are gaining huge strides in today's session. At the open, the NASDAQ managed to jump to a new 52-week high and both the Dow Jones Industrial Average and S&P 500 are substantially reversing the pullback from early July. Globally, the equity markets are gaining ground as things appear to be cooling down in the Russia/ Ukraine area. The European Union is helping to draft a ceasefire agreement between Russian and Ukraine; in addition the Chinese Central Bank is potentially developing a new stimulus package. Domestically, the homebuilding sector is gaining ground, although the demand for new purchases may be lagging.
The National Association of Homebuilders (NAHB)/Wells Fargo Housing Market Index increased for the third straight month to a 7-month high of 55 in August from 53 in July. It is the highest reading since January 2014, as confidence among homebuilders increased thanks to sustained job growth. All components of the report improved, led by future sales which are up 2 points to 65, and present sales, also up 2 points to 58. The laggard component in the Housing Market Index was traffic, but at a reading of 42, it is actually the best reading since December 2013. Probably the most encouraging part of the report was the fact that the NAHB observed a "noticeable" increase in the number of serious homebuyers over the past few months. Regionally, the Midwest gained the most ground with 13 points to a reading of 65, followed by the West which declined slightly to 57. The South is the largest region for new home sales, but was down 2 points to a reading of 51 - this unfortunately doesn't point to much strength in the new home sales report. The Northeast is the most developed housing region in the US and therefore has the least amount of growth; however it still gained 3 points over July to a reading of 41.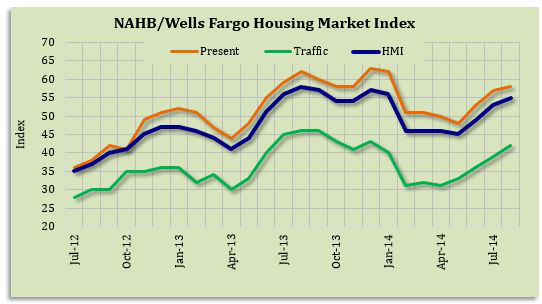 This is encouraging data going into the releases for Housing Starts and Existing Home Sales which will be released on Tuesday and Thursday, respectively.