"Emotional roller coasters tend to emphasize the lows, tend to be more affected by the low, by the dip in an emotional roller coaster than when you are at the peak."
-Rush Limbaugh
A whole slew of positive economic releases in the morning hours are keeping the rally alive, this afternoon. It's a very rare session as all three major equity indices managed to hit new intraday highs in the same day: the S&P 500 and the Dow Jones Industrial Average both hit new all-time highs, while the NASDAQ reached a new 14-year high. While the Fed's decision to raise rates still looms in the minds of investors, that dark-cloud remains far off in the distance. In fact, the most recent market dip caused by geopolitical concerns does not appear to amount to much in hindsight when you take a look at this one-year chart: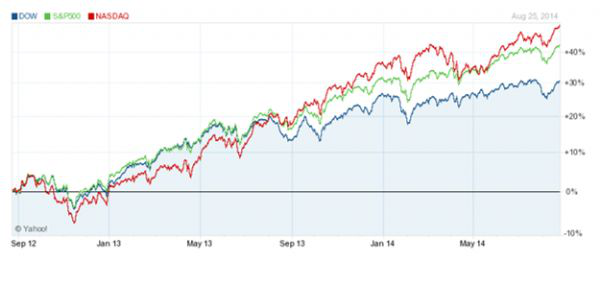 As for economic releases, we can first look at the S&P Case-Shiller report. The S&P Case-Shiller 20-city adjusted index showed that home price appreciation is continuing to unwind after a seasonally-adjusted 0.2% decline in June following a 0.3% decline in May. However, year-over-year, the adjusted rate of the composite reading (shown in the chart below) is up 8.1% compared to a 9.3% gain in May. On a monthly basis, there were declines in 13 of the index's 20 cities, with Minneapolis, Detroit, Atlanta and Chicago showing particular weakness. The unadjusted data shows a monthly gain of 1.0% which reflects the relative strength of summer months for sales. However, the year-on-year rate, where this effect is generally offset, tells exactly the same story as the adjusted data: +8.1% in June, versus +9.3% in May. Ultimately, home prices are weakening, and this is also supported by yesterday's new home sales report as well as last week's existing home sales report. The decline in prices is great for buyers, but remain bad for sellers.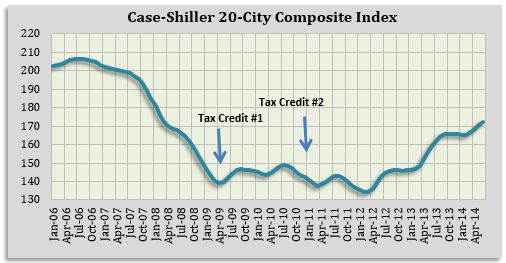 Next, the Conference Board's measurement of consumer confidence is higher, and is led by strength in the current assessment component. Consumer confidence rose to a new recovery high of 92.4 and reflects a 6.7-point surge in the present situation component to 94.6. The gain in the current assessment component points to improvement in employment during the month of August, with substantially more consumers believing that jobs are plentiful (18.2% in August, versus 15.6% in July). Also, fewer consumers are saying that jobs are currently hard to get, at 30.6% compared to last month's 30.9%. The expectations component (indicated in the chart below) is a comparatively vague component: it reflects the long-term outlook for jobs and income. Another noteworthy detail is a gain in home and auto buying plans, and a minimal uptick in 12-month inflation expectations to 5.5%. All-in-all, the report itself is very positive and underscored that there is substantial improvement in jobless claims. The job market outlook is the main component driving confidence, and this is a very healthy sign.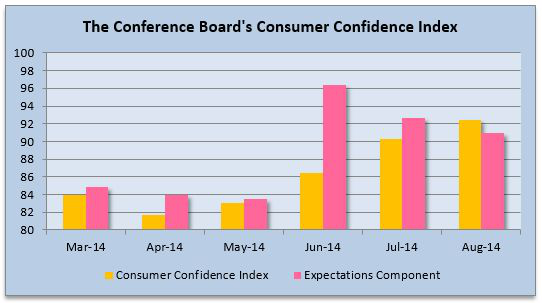 Lastly, not a major market mover, but worth-noting, is the major improvement in the Richmond Fed's manufacturing report. Regional Fed reports lately have been pointing to slowing this month for the manufacturing sector, but not the Richmond where the index is up a solid 5 points to 12. Order data led the report with new orders up a very strong 8 points to 13 and backlog orders jumped to 15 vs July's reading of zero. This report ought to help offset the slowdown in manufacturing seen in the Philly Fed, Empire State, and Dallas Fed reports. The general strength is also underscored in the durable goods report from this morning.