As i thought about this article, my first wish is that to be good and valuable as my last article about WDC.
Sure, i know, an energy company cannot be compared to a Tech one. But i decided to share my investigate about this stock.
bare in mind, we know that the stocks do well this year. The PE ratio for the S&P500 is high above (17, according to SPDR's etf) the average PE (which is 15). Moreover, a "fearfulness" may come back in addition to the latest news about China's growth and Fed's monetary.
but let's go into the Business, why should investor to consider FCX stock?
First of all, as i think about Mr market and the latest news from the terrible accident at Indonesia, i think to myself that price in already calculated. Mr market knows how harmless it might be, stock has suffered, and so on.
FCX, one of the 500 companies at the S&P500, with approximately 4% dividend, which is one of the highest (placed 28) at the index. but, we didn't came here to talk about one of 30... a little research for fundamentalist's data come up with this results:
FCX is the one of tow companies with PE less then 10, but it has an acceptable debt to equity which is 0.56 (the other on is 50...)
Since 2009, the company shows a positive net income to the shareholders.
Price-to-book is higher than 1, it's actually 1.5. but if we go back for the Intelligent investor book, we know that price to book could be higher than 1 if Price to earning is low and the result of both of them shall be less than 22.5. In our case- it's' 14.2.
Bare in mind number 2: no company will fit into Ben Garaham terms at these days. Truth is there still a lot of valuables stocks at the markets, but one with all of them it's hard to find.
FCX has great ROE-17% ROI-19% and ROA of 8% which is great.
Investors shall think how a company takes care for them, the latest acquisitions and the increased dividend are both good things to take into consideration at this price.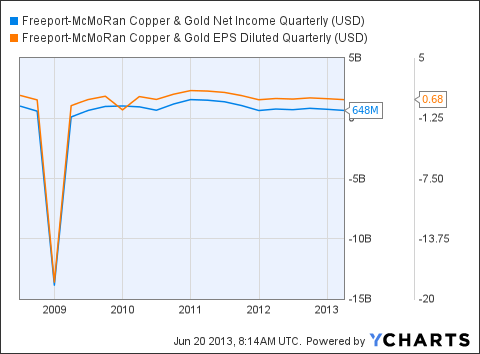 FCX Net Income Quarterly data by YCharts
So, FCX, a good company for the fundamental side, looks very bad on a chart. But we don't buy a chart, we buy a stack at a company. So we just stop by and ask- shall we? i think it's worth a shot, as the market throw stocks into the market according to latest news. But this is exactly the point where we can pick some good company with good price.
Good luck!
Itzik
Disclosure: I am long FCX.