In this article I won't be making a full analysis of Apple (NASDAQ:AAPL) based on its future product pipeline or speculation on what could happen with their war chest. There are plenty of great articles out there that have discussed these subjects. As for now, I'll try to decide (in a very simple way) if Apple has become an interesting value investment after its 30% drop.
Benjamin Graham and Warren Buffett
My way of working is probably too simplistic for most advanced people but some of you might enjoy my light way of analyzing and might enjoy a less difficult article once in a while.
To start my thesis I'll decide if Apple has now become a value investment. I belief that by comparing Apple's fundamentals to the criteria of two very successful value investors we can easily see whether or not Apple has become an attractive value investment. For this method I've used Benjamin Graham's criteria and those of his apprentice, Warren Buffett.
Benjamin's most important criteria to find true value on the stock market, were the following:
Current ratio > 2
Long term debt < Current assets
3Y average EPS > 1.3 times the 10Y average EPS
Average P/E ratio of the last three years < 15
P/B x P/E < 22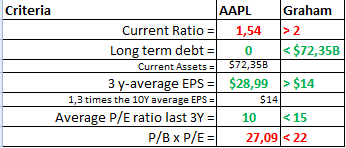 A few of Warren Buffett's criteria are the following:
ROE past 10 years > 15%
Free cash flow > 0
Debt < 5x annual profit
EPS past 10 years have to increase steadily
Return on assets > 12%
EPS/share price > 6%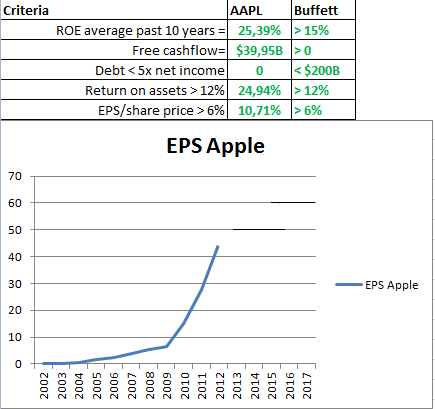 Apple meets 9 of these 11 fundamental parameters. For me, this is a clear indication that Apple has become a value investment. Don't get me wrong, this doesn't mean Apple is an attractive value investment. Therefor we first have to determine its possible upside potential.
Future earnings
To get a vague idea of what Apple's future earnings could look like, I've made 3 very similar earnings models but with different growth in revenue percentages and costs of revenue projections. I've made a worst-case scenario, a somewhat realistic scenario and a very, very optimistic scenario. For the valuation purposes I've used a simple P/E ratio. The different scenarios of course should have different P/E ratios. I've used P/E ratios of 10, 12 and 15. The poorer the company performs, the lower the valuation of the company will be.
Revenue & EPS Outlook
Worst-case scenario:
15% growth in revenue for 2013 and a year-on-year revenue growth of 3% in further years.
A cost of sales percentage of 63%.
A tax rate of 26%.
9% of net sales as operating expenses.
(click to enlarge)

More realistic earnings model:
A year-on-year declining revenue growth for first two years 2013 and 2014 (+21% and +15%) and a modest revenue growth for 2015, 2016 and 2017 of 10%.
An increasing cost of revenue percentage (from 61.5% to 64% as I expect declining margins)
A stable percentage of 9% for operating expenses
A tax rate of 26% (its current tax rate).
(click to enlarge)

Very optimistic model:
A-year-on-year revenue growth of 20% for the first 2 years and 15% growth for 2015, 2016 and 2017 = high growth figures maintain because of new successful products
A cost of sales percentage of 61.50% = margins are kept high
Operating expenses percentage of 7.5% = been able to keep costs low
A tax rate of 26%
(click to enlarge)

Conclusion
I feel that there isn't much to loose when it comes to investing into Apple. Following my above used worst case scenario, Apple would still be a profitable investment (+1.8% annually, dividends excluded). I think a lot of investors have been fooled by Mr. Market and their emotions lately. I only see a lot of upside potential or small upside potential for Apple. I don't think there is a risk on actual loss of capital or a share price below 420$ in the long term.
Disclosure: I have no positions in any stocks mentioned, and no plans to initiate any positions within the next 72 hours. I wrote this article myself, and it expresses my own opinions. I am not receiving compensation for it (other than from Seeking Alpha). I have no business relationship with any company whose stock is mentioned in this article.
Disclosure: I am long AAPL.