I recently bought shares of Inuvo (NYSEMKT:INUV), a virtually unknown and severely undervalued internet marketing company. Here's why:
Number 1: Inuvo is dramatically undervalued compared to peers

There is no logical reason why Inuvo is so undervalued, except for Wall Street's ability to severely misprice micro-caps.
Number 2: Inuvo is a cash-growing and profitable enterprise
Inuvo makes a profit, generates cash, grows revenue and is fully compliant with the strict NYSE listing rules. This is a rare phenomenon among small internet companies. It makes Inuvo a much safer investment than some loss-incurring pinksheet stock.
Number 3: The industry they operate in is very big, and about to become much bigger
Inuvo operates in the internet marketing industry, which is a $50 billion opportunity. The growth is all but over; online advertising, paid search, etc, are still in its infancy stages according to many experts.
Number 4: Inuvo is an obvious take-over target
Inuvo has a novel product portfolio and technology in place that could be very interesting for competitors to acquire, like the ALOT advertisement bars and validclick.com. And given Inuvo's extreme undervaluation, it would not surprise us if a bigger marketing firm would make a bid on Inuvo in the near future. Think about it, they could buy $55 million in profitable revenue for less than $25 million (!).
Number 5: Chart indicates compelling buying opportunity
(click to enlarge)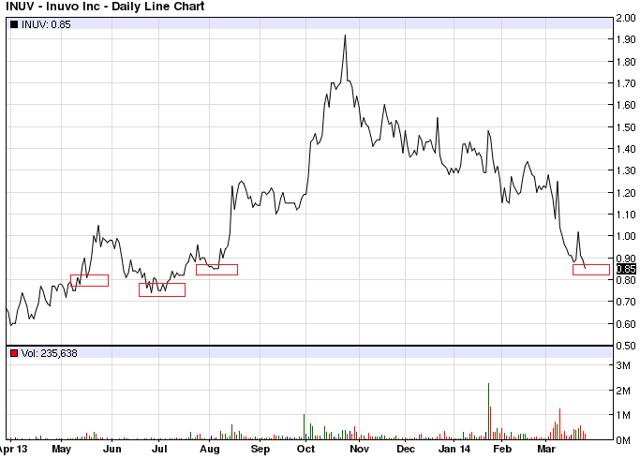 Click to enlarge
Number 6: Insiders are deeply invested at current levels
Check out the insider transactions history, and you will notice insiders bought heavily at current levels. Remember, insider buying is an excellent buy indicator, especially if you have the opportunity to establish a long position at the same levels they did.
So in essence, if you're looking for a cheap micro-cap to add to your portfolio, you might consider buying shares of Inuvo as well. Do your own due diligence, and good luck investing.
Disclosure: I am long INUV.