There are thousands of stocks listed on the OTC boards with no coverage at all. Most aren't worth a look, but I recently discovered a true gem, called Senesco Technologies (SNTI). Senesco has developed the next-generation cancer therapy. Its science is so unique that it could revolutionize the entire landscape of curing people from cancer. As of today, Senesco is virtually unknown and with a $20 million market cap extremely undervalued, as similar biotech companies are valued between $100 and $200 million. Given the excellent test results so far, I think this company should be valued at $80 million today, or $10 per share, which still leaves the company undervalued by comparison. I bought shares not only because the share price is so irrationally low, but also because an important near-term catalyst is looming that could multiply the share price. Senesco is well financed, progressing well in the clinical trails, and could be soon addressing multiple multi-billion dollar markets. This article gives you an overview about the technology, and why exactly Senesco's share price should be trading much higher.
Senesco offers similar potential as Spherix
Last week, I published an article on Spherix (NASDAQ:SPEX), and immediately notified all subscribers to my free stock pick alert service. Since the trade alert, shares rose from $1.50 to over $4 this week. My subscribers and readers must have made massive gains. As of now, Senesco offers a similar opportunity, since the company is currently trading at the same level of extreme undervaluation as Spherix was at $1.50.
What is Senesco Technologies?
Senesco Technologies is a development stage biotechnology company engaging in the development of products and technologies for human therapeutic applications to treat cancer and inflammatory diseases. The product candidate is SNS01-T, which is currently in Phase Ib/IIa clinical study for the treatment of multiple myeloma, mantle cell lymphoma, and non-Hodgkin B-cell lymphomas. The company also develops and licenses gene technologies to enhance the quality and productivity of all kinds of agronomic and biofuel crops through the control of cell death and growth in plants.
Why Senesco's approach to cancer is so unique
According to Senesco's CEO, Leslie Browne, a smarter and better way to treat cancer cells is to let them die naturally and quickly like any other cell, so they can't attack the body.
So the question is not just how to kill cancer cells. Leslie Browne states that the human body - cancer cells included - is, after all, very good at adapting, evading harm, developing protection and immunity, which cancer has done in the face of all the attempts to destroy it. The question is more delicate, and that is, how to re-educate these cells rather than attack them, to remind them of their life cycle and how to teach them again how to die just like every other cell. This is the central importance of Senesco's mission. Not simply to devise yet another drug to kill cancer in the face of all others that have failed or at best only partially succeeded. Not just to be the next attempt in a line of valiant efforts across the pharmaceutical spectrum. Senesco's mission is to completely reformulate the entire approach, to ask again the most basic question, What is cancer, and what should we do about it?
Basically, Senesco sees cancer not primarily as an attacking disease (though it is certainly that), but more as tragic cell error. Once that error is genetically corrected, the cell cycle can be relearned, with the malignant cell being 're-educated to die' so to speak.
Senesco's lead drug SNS01-T
Senesco is developing a potential blockbuster drug called SNS01-T. SNS01-T is revolutionary not just because both pre-clinical and clinical studies have shown positive results, but because it has fundamentally changed the approach with which Senesco treats cancer. SNS01-T is the first therapeutic designed to treat cancer not as a disease to be attacked, but as an error to be corrected. As mentioned, rather than seeking out cancer cells to attack, it finds them naturally and re-educates them about apoptosis by activating and fixing the malfunctioning eIF5a gene that regulates cell death. Tests show that SNS01-T was shown to be taken up by malignant B-cells at a rate 5 times higher than normal naïve B-cells. The drug naturally affects only cancer cells, with no measurable death in healthy cells. Especially the latter part would entail a major breakthrough in battling cancer. Eliminating cancer cells without affecting healthy cells is currently unheard of. Yet, the test results so far show Senesco is capable in doing so, which means Senesco's lead drug has a significant safety advantage over drugs that non-selectively kill both cancerous and healthy cells.
Another exciting thing about SNS01-T is its effect in combination with lenalidomide, a drug that also induces apoptosis, but through a cytotoxic attack instead of gene activation. In preclinical studies, a combination of SNS01-T and lenalidomide resulted in a survival ratio of 100%, as opposed to 60% with SNS01-T alone.
I recommend all investors to read the hyperlinks, and you will find out how stunning the results are. Another interesting factor is the speed in which Senesco operates. It has shown the capability to conduct tests in a timely manner, while managing to achieve positive results at the same time.
Near-term catalyst could multiply the share price
Senesco is currently in a critical Phase Ib/IIa trial. The primary purpose of the trial is to establish that the drug is safe. Half a year ago, Senesco reported excellent final results for the cohort 3, and is now in the final cohort 4 phase. I expect they will report positive results soon, based upon the excellent data and timeline from previous cohort tests.
Then Senesco will automatically enter the Phase IIb trial. If that happens, the dynamics will change dramatically, and the share price could skyrocket, as the average biotech company in Phase IIb is valued between $200 and $400 million. If Senesco enters Phase IIb, the comparison indicates the company should be valued at $200 million, or $25 per share.
Remember that Phase IIb could be potentially the basis for final approval of the drug, and that the chance of final approval increases by each step the company undertakes. Historical statistics indicate a 70% chance on final approval once a biotech company progresses in Phase II. On top of that, the chance of a partnership with a well established drug company increases as well. In essence, the value of the company increases dramatically if the company would to report positive results in its final Phase IIa tests.
So now is the time to buy shares of Senesco, given today's extremely low share price, lack of awareness on Wall Street, and high likelihood of near-term positive results. In essence, the best timing is to buy before everybody else jumps on board, and after a broad biotech sell-off, which just has taken place.
Comparison indicates how deeply undervalued Senesco is
Other biotech companies that are currently nearing Phase IIb trials are awarded high valuations, and that's with the recent broad biotech sell-off accounted for. A few examples are AGIO, IMMU and GERN. The average Phase I/IIa company is valued in the $100 - $200 million range. Some are even valued up to $1 billion.
Now look at Senesco's current valuation: $20 million. This is ridiculously low, especially if you consider the excellent clinical trial results so far. If Senesco's share price would be $10 right now, the company would still be undervalued compared to peers.
That begs the question: why is Senesco trading so low? Senesco is the typical OTC stock most individual investors never heard of. The OTC status also means institutional investors are restricted from buying shares, otherwise the share price would be much higher. Further, warrant conversion pushed the share price down, triggering stop-losses and margin calls along the way. Individual investors probably assumed the share price tumble has to do with the underlying business, while the opposite actually holds up. Here's the good news: all this has created an excellent buying opportunity.
Another factor why Senesco should be valued much higher
There is another interesting factor why Senesco's share price could soar tremendously: Senesco's lead drug candidate addresses all types of cancer.
So once the drug is approved, Senesco could commercialise it on many cancer markets like oncology cancer, prostate cancer, lung cancer, liver cancer, etc. The overall cancer market is $100 billion large.
All these 'sub-cancer markets' so to speak, are multi-billion markets on their own. The revenue potential is enormous. I would not be surprised if big drug companies are already have an eye on Senesco, as they await the upcoming cohort 4 results. Many take-overs, mergers and partnerships in biotech occur when developmental-stage companies enter Phase IIb trials, and Senesco is about to. If a buyout were to occur, I would estimate it to be well above $10 per share, given comparable examples of buyouts of last year.
Senesco is well financed
The company recently paid off the outstanding balance of $2.2 million and cancelled its $3.0 million line of credit with JMP Securities. The CEO stated:
"Eliminating this debt increases Senesco's stockholder equity, reduces annual interest costs by approximately $130,000, and is part of our plan to uplist to a major exchange."
This is a great move, as it has cleared the balance sheet of its debt. As of March 31, 2014, Senesco has $6.2 million in cash, no debt and a $500k monthly burn. There are warrants series outstanding with strike prices at $3 and $4, and if they are to be exercised, another $20 million will be added to the balance sheet, which enables Senesco to completely fund the upcoming Phase IIb trial without the need for another capital raise.
Senesco's milestone merger with Fabrus
Just two weeks ago, Senesco announced it has finalized the merger with Fabrus, an OPKO portfolio company. In the short term, the business focus of the combined company will be to realize the synergies of the combination, advancing the SNS01-T clinical program and bringing new candidates into clinical development in the next two years.
I spoke with an analyst who had a long conference call with Fabrus's CEO, and was told that Fabrus's Nanocage delivery system is one of the most advanced next-generation technologies available on the market, and should add a lot to Senesco's technological capabilities. The merger also enhances Senesco's balance sheet.
Suprisingly, the share price didn't budge when the news came out, but that goes to show how overlooked this stock is. I was told the merger with Fabrus is a big deal, and should be considered a milestone in the progress Senesco is making in becoming a biotech powerhouse.
Senesco has plans to up-list to the NASDAQ
Senesco's management has confirmed it has plans to up-list the company to the NASDAQ. There is no public information out there when exactly this will take place, but I expect the up-listing process will be commenced soon. Up-listing will boost the share-price as it is widely known that there are many benefits of a NASDAQ listing over an OTC listing. For example, institutional investors could (finally) accumulate shares, which should drive the share price higher.
Extremely low float could amplify the share price appreciation
In the same way the low float, about 2 million, amplified the share price depreciation, the opposite scenario could unfold when significant buying start taking place, as investors have witnessed before during last year's run-up to $7. I expect that when Wall Street realizes the level of undervaluation, the lack of shares available will amplify the share price appreciation.
Senesco's forgotten agricultural division
Senesco's main focus is on cancer, but the company has an agricultural division too.
I wonder if existing shareholders are even aware of this. As mentioned in the intro, Senesco also develops and licenses gene technologies to enhance the quality and productivity of all kinds of agronomic and biofuel crops through the control of cell death and growth in plants. There are 4 factors why the agriculture industry would like to adopt Senesco's technology:
Number 1: Increase in shelf life of the crops
Senesco's technology has proven to be effective in extending the shelf life of perishable produce by delaying senescence. Use of the technology in bananas and tomato fruit show the direct impact of reducing natural senescence, which allows the product to have a much longer viable shelf life.
Number 2: Increase in seed yield of the crops
The most important trait of large scale agronomic grains and cereals is their ability to produce seed. The seed is vital because it is eaten directly by humans, it is used as feed for livestock and it is the oil-bearing part of the plant. The farmers and companies who grow these crops attempt to maximize seed output because plants which yield more seed are more valuable. Field test results show that this technology has the ability to significantly increase the amount of seed produced by a plant. By ensuring that the plant continues to grow, even while being stressed, the ultimate output of the plant can be maximized.
Number 3: Increase in growth rate of the crops
Overall plant size is an important trait in many commercial crops. Plants with larger leaves could be beneficial in all leafy vegetables, while trees that grow larger would certainly be more productive for the lumber and paper industries. Larger root systems allow plants to be more effective at nutrient and water uptake from the soil, thereby adding to their overall productivity.
Number 4: Better resistance to environmental stress
Environmental stresses are the greatest threat to commercial agriculture. Chilling, drought, heat and soil salinity all contribute worldwide to losses of crops in the field. There is not a single crop that is immune to the negative effects of various environmental conditions. Senesco believes that they can impact a great deal of resistance to the senescence brought about by these harmful environmental conditions.
Field tests are underway as we speak, and the next results could be presented any day now. How much is the agricultural division worth? According to Harlan Waksal, Chairman at Senesco, it's worth more than Senesco's current total $20 million valuation on the market. Big partners are backing up this agricultural division.
The smart money is long Senesco
Both the insiders as well as well-known individual biotech investors like Philip Frost and Harlan Waksal have initiated large long positions. Even better, they bought at a higher prices than you and me can buy at today. No institutional investors are invested yet but that could change the moment Senesco enters the Phase IIb trial, and surely will change when Senesco up-lists to the NASDAQ. The potential large pent-up demand could drive shares much higher.
Shares hit a bottom
(click to enlarge)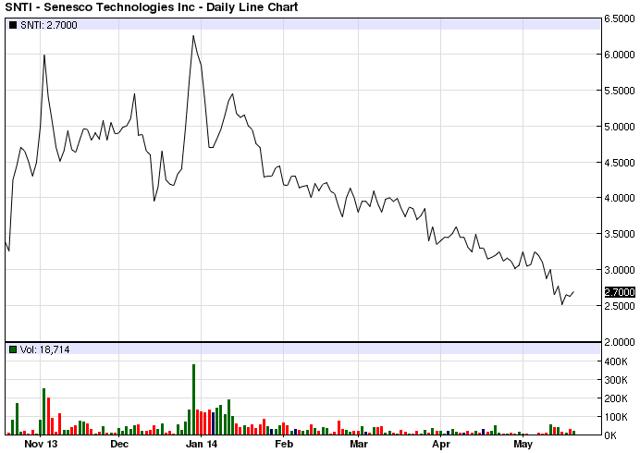 Click to enlarge
The chart shows the lack of awareness (very low trading volume), warrant conversion and the NASDAQ biotech sell-off has created an excellent buying opportunity.
What's the risk?
A specific risk is a negative cohort 4 test outcome. I expect positive news, but nobody can exactly foretell what the results will be. If the outcome is negative, Senesco must start the cohort 4 all over again, which would delay its drug development by at least 6 months. Obviously, the share price would be negatively impacted.
Also, the agricultural field tests could end up in a failure. That is unlikely, but not to be ruled out completely. But since investors aren't even aware of the existence of this division, I doubt whether the share price would be impacted negatively.
Further, there is always the risk of another capital raise. It could be that not all warrants will be exercised, which could force management to dilute shares in order to fund the Phase IIb trial. Dilution is a common risk that goes with the territory of investing in developmental-stage companies.
At last, if warrants were to be exercised, the conversion would cause a temporary cap on the share price. The lowest warrant strike price is $3.00, and warrant holders could decide to convert when the share price is trading in the $3.50 to $4.00 price range, to lock in profit. This is eventually a positive, because warrant conversion will add cash to the balance sheet.
Conclusion
Senesco's science is nothing short of amazing and could revolutionize the way the medical community is treating cancer. Clinical tests have shown excellent data so far, and the company should announce its cohort 4 test results very soon. When the company enters the Phase IIb trials, the whole dynamics will change dramatically, and the share price should rise well above $10. This would still leave the company significantly undervalued in comparison with similar biotech companies. The merger with Fabrus has greatly expanded Senesco's financial and technological capabilities, and could transform the company from a small biotech pioneer into a successful biotech powerhouse. The company's irrational low valuation on the market, forgotten agricultural division and solid financials severely limit downside risk. Senesco therefore presents investors the ideal investment opportunity: little downside risk, extraordinary upside potential.
For full disclosure and disclaimer information click here
To join my free stock pick alert service click here
Disclosure: I am long SNTI.