Mom & Pop, "Welcome to the Club"

Aurum Weekly Access - 9/5/13
By Michael McKeown, CFA, CPA - Director of Research
Large private equity firms are bringing new products to the masses.
In early August Barron's published "The Next Private-Equity Investors: Mom and Pop" and the Wall Street Journal covered the topic in May with Megafirms Talk about Challenges Catering to Retail Investors.
This is not news to us since we field calls on a daily basis from asset managers itching to explain the privilege of allocating a portion of our client assets to their next great investment product. Private equity [abbreviated as PE] managers and PE fund of funds (managers that invest in a basket of private equity funds) include themselves on the roll call and have for several years now. Should investors be swooning (with their capital) into the loving arms of PE firms?
Let's walk through a few important topics.
1.Investors will be wooed by the high historical IRR (Internal Rate of Return), calculated differently than most other investments since investors do not invest the entire amount of the subscription on day one. Capital is called when needed over the subsequent few years following the subscription and then invested in companies. Eventually, that capital is returned to investors as the underlying businesses are sold to other PE funds or the public markets. In addition, many marketers quote the IRR as gross of fees and often do not include the management fees (2% annually) and incentive fee (20% of profits) that pays the managers.
Remember the disclosure from every financial firm when you see these charts, 'past performance is not indicative of future results...'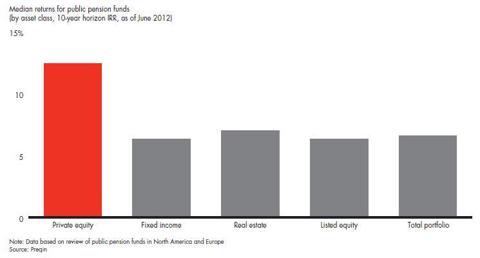 Source: Bain & Co., Global Private Equity Report 2013
2. Generally, the minimum investment for a PE fund ranges from $5 to $25 million, but to allow the masses a chance to invest, minimums are dropping to $100k or so. In that way, wealth managers and marketers can pool a large number of individuals and reach the fundraising goal. Dropping minimums is an initial warning sign, given that most PE funds would prefer to just have institutional relationships. Opening the doors to individuals is the result of having trouble raising assets with the core clientele.
"I don't want to belong to any club that will accept me as a member." - Groucho Marx, comedian
We've seen a similar story in other asset classes over time, finally letting retail investors grab a part of the action, only leaving them as the bag holders when it does not work out. Tech club deals in the late 90s and private REITs in the mid-2000s followed a similar pattern, and both were illiquid structures.
Over the past few years, maintaining the same level of growth in assets continues to be difficult as pensions and endowments become over exposed to private equity. While originally an 'alternative,' PE is largely conventional now to institutional investors. Is *now* the time for retail to jump in?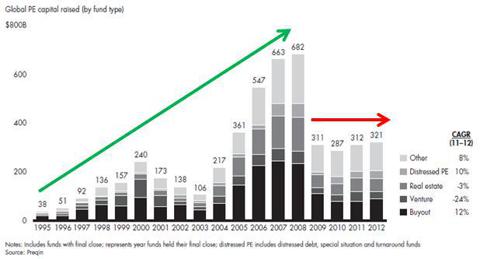 Source: Bain & Co., Global Private Equity Report 2013, Aurum
Also in the above chart, note the small level of assets raised by the industry prior to 2004. These are the vintage years of outsized returns which managers offer as a compelling reason for investment, however, a low supply of capital and less competitive environment in the 90s and early 2000s does not compare to the same opportunity set for investors today.
As assets increase performance necessarily does not. In fact, it is typically the opposite...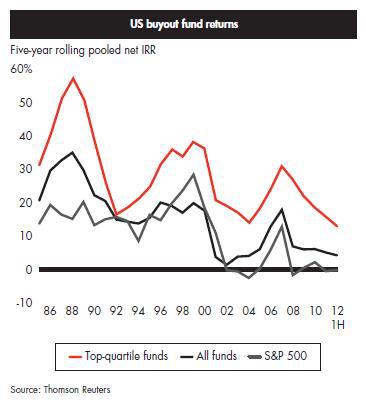 Source: Bain & Co., Global Private Equity Report 2013
3. The illiquidity risk premium that investors earn by forsaking the ability to sell out is part of the appeal and reason for private equity's outperformance. Still, understanding the length of commitment to a private equity investment program is important.
The CEO of the Carlyle Group, the largest PE manager, recommends a 5-10% allocation to PE for individuals in the Barron's article. Let's assume the investor does not want another layer of fees for an 'access' product like a fund of funds that really doesn't do much for manager selection. The differences among private equity managers is even greater than public market managers, so the investor wants to diversify by size among large, mid-size, and small focused funds, regionally with North America and Europe, and style with buyouts, growth, early-stage, mezzanine, and distressed. Assume he can invest in 2 funds per year for $100k each with a target PE portfolio of $1,000,000. So he selects ten funds to allocate $100,000 each over the next five years as he does not want to 'time' his investments, he diversifies over five vintage years. This way he will not catch the top of the average business cycle, nor the bottom. Thus a $1,000,000 program would be a 5% weight for a $20,000,000 portfolio or a 10% weight for a $10,000,000.
Does a retired baby boomer at age 65 want to make this type of commitment? Perhaps. He should recognize though that the time frame for this private equity program will be about 15 years. Given that the first year vintage will be locked for 10 years along with the other private equity investments over the next 5 years. When the program ends, he will be 80 years old.

Here is the actual illiquidity illustrated from real data. North American-focused funds with vintage years of 2002-2004 still have not returned the original amount of invested capital to the limited partners, let alone a return on assets.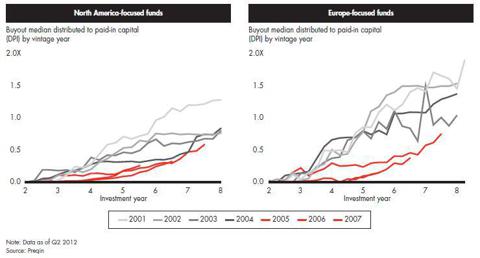 Source: Bain & Co., Global Private Equity Report 2013
With this liquidity commitment, investors give up flexibility for rebalancing portfolios in the future. That is, rebalancing away from overvalued assets and increasing allocations to undervalued assets when the opportunity arises during bear markets.
In the future, as PE managers market to retail investors and 401(k) plan sponsors, managers will offer liquidity to investors perhaps quarterly or annually. Though they may fail to mention in the initial sales of these funds, there will be a discount to the actual value of the business if you want to redeem early. In addition, there is only a small percentage of the underlying fund that can redeem at any single point in time. In actuality, the PE managers are offering the best they can since the underlying companies they fund are not immediately liquid (they are after all, private).
4. A study of endowment performance by Barber and Wang from the University of California, Davis found that private equity returns are largely explained by two factors, a small cap bias and low price-to-book stocks (value stocks). They go on, "results indicate that private equity investments have average market betas... In short, the insignificant alpha [skill based excess returns] on the private equity benchmark makes it difficult to argue that the returns earned by tilting toward private equity represent alpha."
Below is the Cambridge U.S. Private Equity Index, quarterly pooled returns, shown net of fees. While the correlation is not perfect due to the lag in Net Asset Values, there is a relationship to the public markets small cap value proxy, the Russell 2000 Value Index.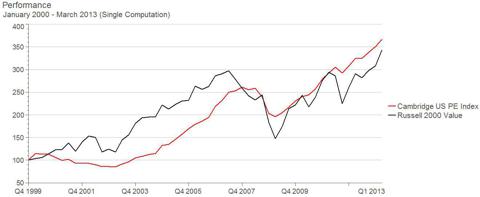 This means that a liquid alternative to PE is using public market small cap value stocks, replicating much of the return and risk profile of PE.
5. The last consideration individuals should make prior to investment in PE is looking to the very person many financial advisors cite as the reason to invest. David Swenson, the Chief Investment Officer of Yale's Endowment since 1985, revolutionized the institutional investment world with his "Yale Model," allocating to illiquid and diversifying alternative investments resulting in stellar portfolio returns. In his seminal book, Pioneering Portfolio Management, he wrote:
"Academic research backs up the notion that private equity produces generally mediocre results."
"Even if investors could purchase the median result in an alternative asset class, the results would likely disappoint. Longer term median historical returns have lagged comparable marketable security results, both in absolute and risk-adjusted terms."
---
Is the allocation to private equity a reaction to frustrating U.S. public equity markets over the last 14 years? What will the marginal money flows to private equity be in five to seven years if public equity markets show average performance? This matters because the marginal flows will be the capital that buys the businesses from the current private equity allocators. When unconventional asset classes become conventional to the majority of portfolios, then the unconventional returns also become conventional, as do the risks.
To sum up:
• PE matches similar patterns of previous asset classes in which investors become overexposed.
• There is a history of retail investors being the last to the party.
• Long lock up periods results in the inability to rebalance portfolios.
• The majority of PE's return stream can be replicated in a lower fee and liquid structure.
• One of the best investors in alternative strategies says to be skeptical.
Hey Mom & Pop investors, "Welcome to the Club."
[One last item: We have clients and friends working at private equity firms and as allocators to private equity funds. These bright folks work for institutions and clientele with a perpetual time frame as opposed to most individual private clients who do not. In this note, we aim the discussion at the large mass market approach to PE as an industry as opposed to many folks we know who are intimately involved with the private equity funds and companies in which they invest.]
Important Disclosures
This material is based on public information as of the specified date, and may be stale thereafter. We make no representation or warranty with respect to the accuracy or completeness of this material. Aurum Wealth Management Group and/or Aurum Advisory Services has no obligation to provide updated information on the securities or information mentioned herein. Actual events may differ from those assumed and changes to any assumptions may have a material impact on any projections or estimates. Other events not taken into account may occur and may significantly affect the projections or estimates. Certain assumptions may have been made for modeling purposes only to simplify the presentation and/or calculation of any projections or estimates, and Aurum Wealth Management Group and/or Aurum Advisory Services does not represent that any such assumptions will reflect actual future events. Accordingly, there can be no assurance that estimated returns or projections will be realized or that actual returns or performance results will not materially differ from those estimated herein. This material should not be viewed as advice or recommendations with respect to asset allocation, any particular investment, or any tax advice.
i Barber, Brad & Wang, Gujun. "Do (Some University Endowments Earn Alpha?" UC Davis. May 2013. Page 21.
ii "U.S. Private Equity Index and Selected Benchmark Statistics." Cambridge Associates LLC. March 31 2013. Page 4.