2014 started on a sour note for U.S. equities with all major indexes selling off. The weakest is the Dow Jones Industrial Average. The chart below shows that DIA, the SPDR Dow Jones Industrial Average ETF, crossed below its 50-day moving average on increasing volume, which is considered a negative sign.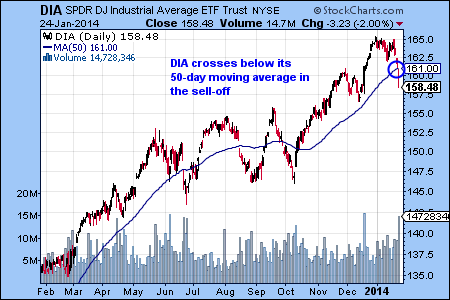 Unexpectedly, long-term interest rates started moving lower in early January causing a rally for investments that are inversely correlated with interest rates. One of my favorites is the PIMCO 25+ Year Zero Coupon U.S. Treasury Index ETF (ZROZ, see fund information at PIMCO):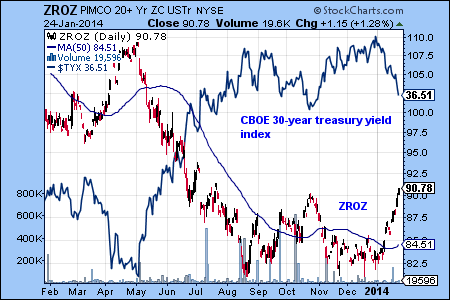 The chart shows the inverse relationship between ZROZ and the long-term treasury yield. ZROZ made a 52-week low in August of 2013, moved sideways for the rest of the year, but came alive in January surpassing the October high.
While ZROZ is clearly a bet on the direction of long-term treasury rates, it can provide a new tool for investors looking to diversify away from an increasingly dangerous stock market.
Disclosure: I am long ZROZ, .