In my February review of the economic cycle, I highlighted the real estate sector as one of the most promising investment areas for 2014. The analysis showed that the iShares Real Estate ETF (NYSEARCA:IYR) has received the top ranking (see current rankings at ETFnext.com) and, in addition, IYR displayed a favorable chart pattern. The chart below shows that IYR continues to outperform the market and has now entered into a bullish uptrend:
For investors who are looking to diversify into international investments, the SPDR DJ Wilshire International Real Estate Index ETF (NYSEARCA:RWX) may merit consideration. Comparing the IYR and RWX charts we can see a similar chart pattern. However, the bullish breakout for RWX (see blue arrow) occurred with about a two month lag. This can present an excellent opportunity to invest early in international real estate.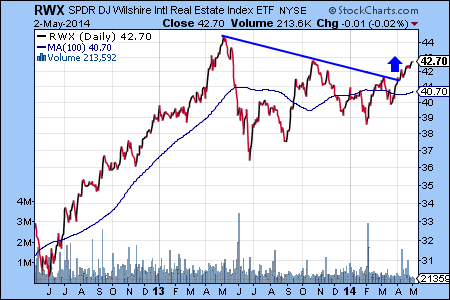 Aggressive investors can use the ProShares Ultra Real Estate (NYSEARCA:URE) and the ProShares Ultra Short Real Estate (NYSEARCA:SRS) ETFs to make a bet on the continuation of the bull market in real estate by using a spread trade (long URE and short SRS):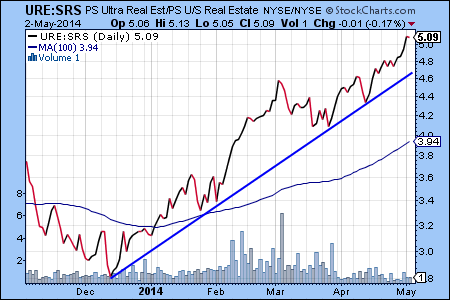 Disclosure: I am long IYR, RWX, URE.
Additional disclosure: I am short SRS