At a value of $621bn Apple is the world's most valuable company ever in nominal dollar terms. It is touted by financial press and analysts alike to become the world's first $1 trillion company and in recent months speculation about the release date of the IPhone 5 has pushed the shares up a further 20%.
Plain and simple - Apple has been and still is a cash cow. In its Q3 results it posted an $8.8bn profit for the 3 months of April - June. That's $100million per day in net profit. Continuing this crude analogy I believe "Apple the cash cow" is grazing on a field where the grass is now certainly greener on the other side. Apple raises nearly 50% of revenue and over 70% of net profit from just one product, a product that has been unchallenged for the past 4 years. Now, Apple's competitors (some of which are also the company's largest component suppliers) are releasing devices that trump the Iphone on specification, price and functionality. Android has replaced ios as the dominant smartphone operating system and Apple's future profitability is heavily reliant on the success of the (yet to be released) IPhone 5.
For the reasons above as well as additional points below I believe Apple's share price is entering territory where large % gains could be made from shorting the stock.
Lots of Eggs in One Giant Basket.
Apple is a mobile phone maker and not much else. No different from Nokia, Motorola and RIMM. Anyone that tells you otherwise have simply not seen the numbers, and if they have are very much living in the past. Flagship products such as Macs and Ipods are responsible for less than 20% of bottom line profit.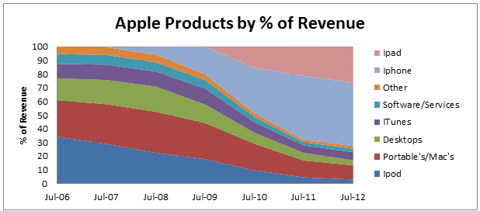 It's scary just how dependant the largest company in the world is on the success of one of its products. A product that is essentially 4 years old, has never had a major upgrade and is $100 more expensive than a comparable model made by Samsung.
To justify its current valuation the Iphone 5 will need to contribute $10-12bn in net profit per quarter just to maintain a P/E Ratio of 15. At current profit margins that's a rate of 35 million Iphones a quarter. Read on to see why this isn't possible.
Upgrade Cycles
Since October last year 110 million IPhone 4S have been sold worldwide. The vast majority of these have been taken on with a network operator subsidising the cost of the phone but locking customers to a two year contract. Considering that the Iphone4S was released less than 12 months ago the very success of the model could very well dampen market demand for the anticipated IPhone 5 with large waves of consumers already committed to existing contracts.
This seems to be the case for America's largest carrier AT&T at least with CEO De la Vega commentating that "the vast majority of AT&T iPhone customers will not qualify for an upgrade". The implication is that a large majority of AT&T iPhones will not be eligible for an upgrade subsidy at any level and AT&T's expectation is that those customers will be unwilling to pay $600 for the new phone. There is no logical reason why this situation is not replicated in
So far in 2012 63 million Iphone4S's have been sold. Under their current contracts these potential customers will not be eligible for a free upgrade to an Iphone 5 until sometime in 2014.
To add to this already bleak picture it's been estimated that millions of consumers who were waiting for the IPhone 5 have abandoned there long wait and are taking out contracts with Samsung's newley released S3 instead. Having sold 10 million units in its first 2 months of trading and with BNP and Nomura both forecasting sales of 15 and 18 million for Q3 2012 respectively this reduces the Iphones potential customer base by a further 25 million.
In a worldwide smartphone market of 400 million consumers we've just accounted for roughly 135 million people that are effectively out of the market for an Iphone5 , worse still is that this 135 million is only taking into account 2 smartphone models. It may play out that the Iphone5's largest competitor is actually its younger cousin the Iphone4S.
China
China is key to Apple's success. With 1.1 billion mobile phone users it is predicted to become the world's largest smartphone market by as early as 2015. As Apple CEO Tim Cook said during the company's third-quarter earnings call, greater China accounted for two-thirds of Apple's revenue in the Asia-Pacific region during the period.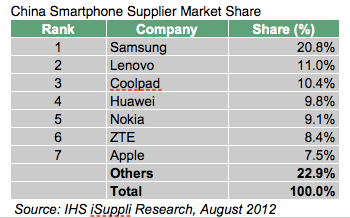 "In terms of iPhones in general in mainland China, we were incredibly pleased with our results. We were up over 100 percent, year over year."
OK. Good performance but it's actually not as great as it look. If we take into account the growth rates of mobile ownership into account and the fact that Apple's main competition in China are small domestic mobile phone manufactures the numbers are distinctly average.
The numbers are also on a very steep downward spiral. At the end of 2011 Iphone had a 19% market share of the smartphone market in China. By the end of June this has plummeted to 10% and a new report by ISH ISuppli released last week reports that market share has plummeted to a poultry 7.5% - making Apple the 7th largest mobile manufacturer.
Another headache for Apple is that s Iphone is actually unavailable to over half of Chinas 1.1 billion mobile users. China Mobile is yet to sign a partnership agreement with Apple as the Iphone is not customised to operate on Chinas home-grown 3G standard (known in the industry as TD-SCDMA). Analysts are divided as to whether or not the Iphone5 will function on Chinas domestic network. If not China's hopes of getting a foothold in the world's largest mobile market pretty much vanishes.
Samsung
Would BMW ever get Mercedes to build the engines for its new 3 series? Or would GE share a new technology with its main competitor Rollys Royce? No. It just wouldn't happen.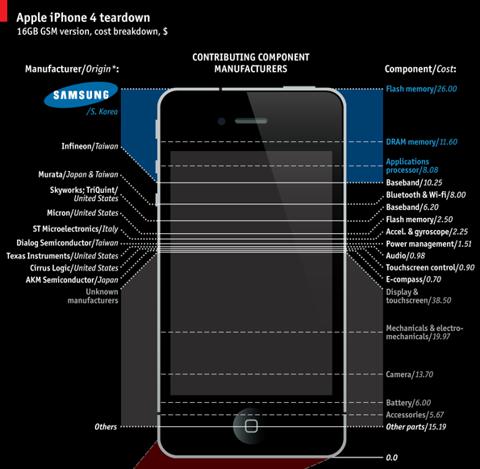 But in the strange relationship of Apple and Samsung that's exactly what does happen. Samsung is without a doubt Apple's largest rival. Its S2 and S3 models are the Iphones main competition with the S3 currently outselling the Iphone4S.
$45 of the Iphone 4S is made up of Samsung products. Apple's heavily touted A5 processor - debatably the engine of a smartphone - is actually made by Samsung. In fact Apple is Samsung's largest customer outside South Korea - earning the conglomerate over $8bn in 2011. Keeping friends close and your enemies closer is something Apple's management have taken quite literally.
To me this just makes no sense. Apple have over $100bn in cash which it could use to build a state of the art production facility, instead it subcontracts the production of key components of its most profitable and most important product to its fiercest rivals.
If this is not a long term recipe for disaster I just don't know what is.
Conclusion
1. Iphone 5 sales will disappoint. A large proportion of Apple's customer bases are locked into contracts with carriers. This is more so than in the past because
Iphone4S was released in October with a huge take up of over 110 million units. Most IPhone4S deals with carriers meant entering into a 2 year contract.
Success of Samsung/Android has tempted consumers that would traditionally be waiting for an Apple upgrade to
2. The disappointment of IPhone 5 will mean Apple will drastically miss earning's expectations. Iphone contributes 70% of net profit and with flagship products in decline it has no means of hitting earnings targets.
3. Longer term Apple will continue to be outcompeted on functionality and smartphone specification by Samsung. Samsung is a large component supplier of the Iphone and knows exactly what it needs to beat when designing a new product.
Disclosure: I have no positions in any stocks mentioned, but may initiate a short position in AAPL over the next 72 hours.