Within the last weeks, YUM has been a sure bet. The performance over the last year was 45,78% and even on last Fridays down-market, YUM gained 2,81%.
You will find plenty of fundamental and technical analysis out there which favor a continuation of YUM´s story. I don´t want to spend time on either one of these now. On the other hand, after a strong rally, there a always signs that expect a pause soon.
Since I was watching this stock for a while now, I personally believe that the positive trend will continue. A look at this chart supports my positive view: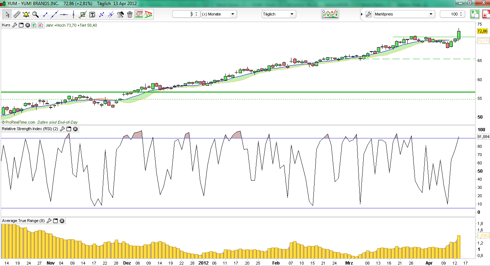 The Option Play
Sell 10 April 2012 '75' strike calls (priced at 0.70$)
Buy 10 May 2012 '75' strike calls (priced at 1.36$)
Net Debit to Start: 0.66$
In case of a down-move, the lower protection for this option play is @71.21$, which is just slightly above the support @70.90$.
Here is the strategy graph: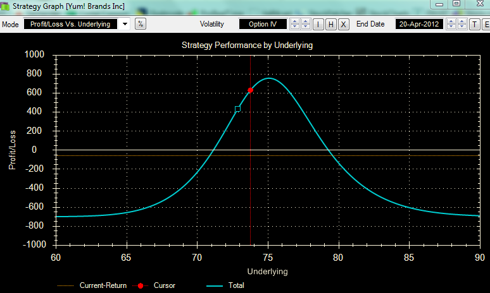 Disclosure: I have no positions in any stocks mentioned, but may initiate a long position in YUM over the next 72 hours.