REA Group Limited (ASX:REA) owns and operates the leading real estate and commercial property advertising sites in Australia, realestate.com.au and realcommercial.com.au. It also operates international real estate advertising sites such as the market-leading Italian property site, casa.it.
REA Group aims to deliver effective online advertising solutions through a stable of sites to help real estate agents sell or rent properties and win new listings.
REA Group currently operates 13 websites around the world in locations such as Luxembourg and Hong Kong.
REA Group was established in 1995 in Melbourne and employs over 500 people globally.
Does this business have a sustainable competitive advantage?
REA Group has delivered a great user experience for real estate agents, commercial clients and house hunters alike.
REA Group's success to date is largely due to the efforts of passionate staff and management. REA's staff understand digital media and continually look to deliver innovative real estate services to customers and consumers.
REA Group has rolled out a new advertising package directly which gives vendors the option to choose to upgrade their online advertising campaign. This has the potential to deliver increased advertising revenue to REA Group as vendors attempt to attract more buyers.
REA's multinational portfolio of websites is visited by over 11 million unique browsers each month. This volume of eyeballs gives the company a competitive advantage which will not be easy to erode particularly in their largest market here in Australia.
What are the risks facing this business?
Being an online business, barrier to entry is theoretically low. Someone with deep enough pockets and a vision for developing a new digital media platform could provide a competitive offering at more attractive rates. As more advertising in the real estate space moves from print to online, the potential for new and improved competition will remain high.
Is it run by able and trustworthy management?
Mr Greg Ellis was appointed Chief Executive Officer and Managing Director or REA Group in September 2008. Mr Ellis is a seasoned online executive having held senior management roles in internet-based companies in Australia and internationally.
The business is run with a strong balance sheet showing a significant net cash position. The business also generates good cash flow which is not quite to the level of reported net profit after tax.
Is it trading at a bargain price?
REA Group is fully priced at the moment based on my estimate of value at June 2013. However, my value of the business is anticipated to continue growing for the foreseeable future.
| | | | | | | |
| --- | --- | --- | --- | --- | --- | --- |
| Rank | 2012 Actual Valuation | Today's Share Price | Margin of Safety | 2013 Forecast Valuation | 2014 Forecast Valuation | 2015 Forecast Valuation |
| Gold 1 | $13.13 | $17.20 | -2% | $16.85 | $18.42 | $19.90 |
*Please note that forecast estimates of intrinsic value are subject to change on a daily/weekly basis.
Here is a chart of the company's share price over the past six months.
(click to enlarge)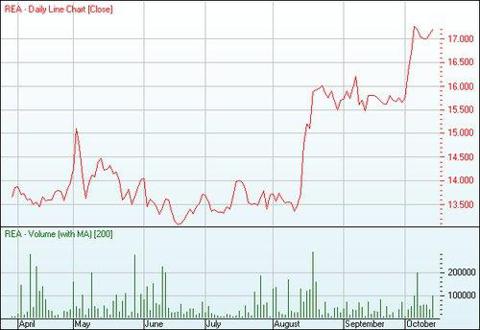 Click to enlarge
Summary
In summary, REA Group is a profitable business with a strong position in the online real estate advertising space. The business has good free cash flow and a strong net cash position. REA Group has experienced management and is trading on the ASX at about fair value currently.