Wow what a week: North Korea's attack, Better than expected jobless claims, Increased Volatility

If you would have followed my charts from the close of last Friday to the close of today you would have been up 2.38% whereas the SPY was almost flat from closing 120.20 last Friday to 120.29 today.
Here are my results from last weeks close on "Lets Talk Charts" instablog
(Note" Total assumes even allocation of investment in each Equity/ETF)




This instablog is coming out late tonight: I apologize that my results for next week will be based on the closing prices of today (11/24)...but next week I promise to release my picks at least by after hours so you have a chance to get positioned for the next week based on a Friday close.  

Now....LETS TALK CHARTS!....Here are my picks for next week based on todays close till next Fridays close...

Synchronoss Technologies (NASDAQ:SNCR): 
This Software Programming Firm bounced off support on minor volume on the 22nd.  SNCR then followed through by with an up day when the market was down triple digits on Tuesday (23rd).  Today (24th) we've had further follow through with incredible volume to the up side.  The volume "commands" the stock to go higher....best part is...this stock has already broke out 2 weeks ago, we got the sellers out, and the buyers want to have a hay day with this stock next week.  For an example of what SNCR could look like next week...check out TataMotors (NYSE:TTM) action over hte past 5 days.  TTM brokeout, then sold off, yet investors came back flooding the stock with volume to go up 10% today.  I think the same fate is in Store for SNCR next week.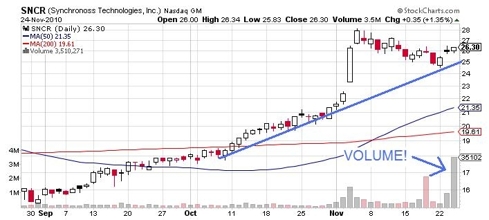 Taleo Corp (NASDAQ:TLEO):
In order to play TLEO one must feel comfortable with a "tech bubble" status PE ratio of 201.  Technically speaking this stock broke out on BIG volume two weeks ago.  After roughly a 6.5% correction from 32.50 to 30 the stock has seen investors return on good volume today.  $31.10 is a safe place to enter TLEO because it's at support and the buy side volume at the support line confirms the downside risk is minimal.  Look for SNCR to go up to at least 32.50 next week.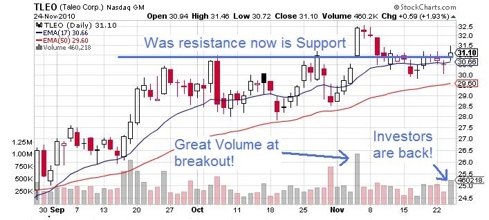 Google (NASDAQ:GOOG):
For all the skeptics that think Google is going to close the gap at $550...check out this YTD chart.  The breaks have been at the $580 area.  This time as Google is approaching $580 we should not be afraid of a sharp sell off because unlike last March when Google was busy leaving China and having insiders like Sergey Brin selling massive amounts of shares: Googles Profit has increased 32% qtr over qtr.  Hop on board, Google is going higher...resistance is at $636.10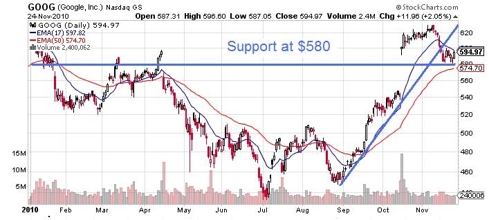 Ishare Singapore (NYSEARCA:EWS):
The chart on EWS is wonderful, it just bounced off support in an upward channel. EWS fundamental are backed by an economy which is producing the most GDP it has ever experienced: here's a chart of Singapores GDP from
tradingeconomics.com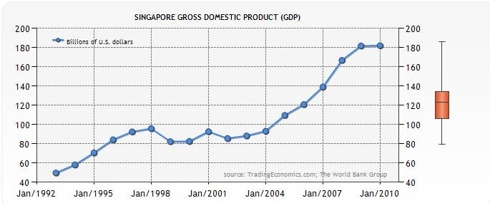 Singapores GDP is on the breakout...thats bullish...enough said...we're getting in EWS for next week: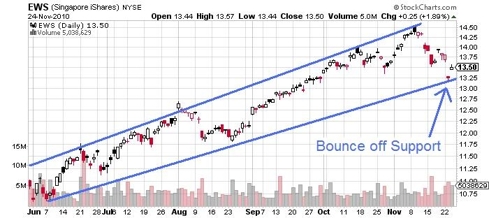 JinkoSolar (NYSE:JKS):
JinkoSolar has had one heck of ride since the first week of November.  Although JinkoSolar beat analyst estimates by 81% on November 1st.  The stock has since sold off hard pulling back roughly 35%.  The pull back has been e
normous
 which has opened a door of opportunity for us to get in.  The best thing is we are not trying to pick a bottom on JKS, the stock has already made a bottom and resumed an uptrend indicating to me that there is limited downside.  Since this Solar stock now trades for an acceptable PE of 23, is 35% below the 52week high, and is treading at support, ....I can only see one direction for this stock....UP!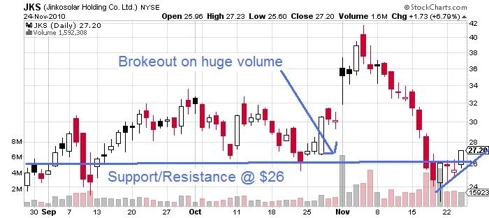 Disclosure:
No Positions