Lets Talk Charst 7 Review
Wow we did very well this week, we made a popular 24.60% in one week monstly thanks to the rally in INFN.  Results are based on buying the equity on the closing price of Jan-28th and selling on close of Friday Feb-4th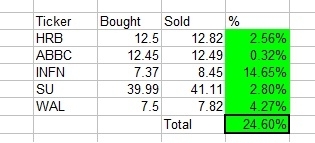 Wow protests in Egypt spark a buying opportunity in Eygpt and made the sell off on Friday more dramatic!  
Lets Talk Charts: (Note: All Charts provide are compliments of StockCharts.com)
H & R Block (NYSE:HRB)
We're in tax season what better time to pick this stock!  HRB has had a pretty rough past 6 months.  Despite 10,000 shares and over 130,000 call options being awarded to its insiders since September (marking an 80% increase in y/y insider transactions), investors have seized to take notice and have continued to sell the stock making it under perform the market.  The stock has not been able to do anything since September.  However, since September H&B block has slowly formed an Inverse Head and Shoulders formation which coupled with an upgrade from Northland securities on jan-27th makes this stock look very attractive.  Northland securities prices H&R Block with a $20 price target. 
Support: $12.35
Resistance: $14.05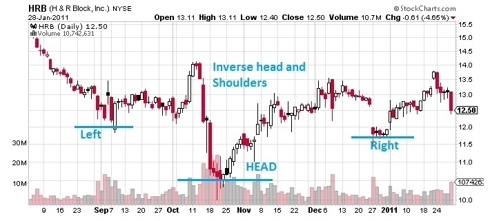 Abington Bancorp (NASDAQ:ABBC)
After beating its earnings by 12.5% (0.09 over 0.08) on Jan-26th ABBC broke out on on Jan-27th on heavy volume.  The day after the breakout (Jan-28th), profit taking was light and more buyers came into the stock (Note: ABBC was down only 0.56% when the NASDAQ closed down 2.48% on Jan-28th).  This stock has positive operating margins of 20%+ clearly beating its closest competitor Beneficial Mutual Bancorp who has negative 10% operating margins over the past 12 months.  ABBC is going higher!
Support: $11.90
Resistance: None the breakout implies there is no current overhead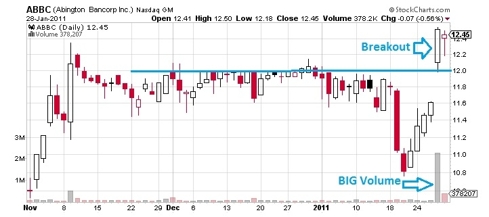 Infinera Corp. (NASDAQ:INFN)
This stock got slammed on Friday after it BEAT earnings by over 70%, yet its guidance was not confidence inspiring.  Additionally, the stock got triple downgrades between $7-$8 price targets on Friday.  The stock was already 35% below 52 week high prior to its earnings release.  After the earnings release the stock got slammed for another 18% drop.  INFN is now 41% below it September high, needless to say market has oversold the stock.  The pullback has been very technical, and the next direction the stock goes will also be very technical.  INFN is currently trading at its previous August breakout level of $7.4, thus the stock may be trading at support right now, in which case it should rally to fill the gap to at least $8.00
Support: $7.4
Resistance: $8.00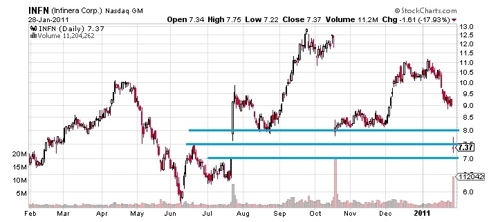 Suncor Energy (NYSE:SU)
Suncor Energy just broke out from an upward wedge formation on great volume.  Apart from a technically bullish perspective, Dennis Gartman on CNBC's Fast Money mentioned that due to the political unrest in Egypt the Suez Canal may be closed for due time, causing the US to increase its demand of oil from Canada, meaning SU would sell more oil and make more money = Stock goes up!
Support: $39.65
Resistance: None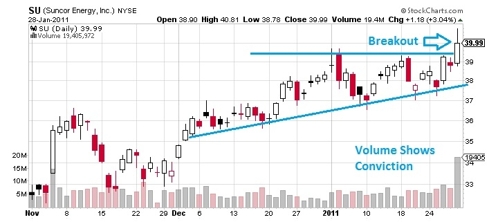 Western Alliance Bancorp (NYSE:WAL)
This South West regional bank holding company ha been on the rise over the past few months, the stock did not even fall on Friday when the market booked a heavy sell off.  Instead WAL has been getting loaded with buyers eager to breakout the stock!!!  The chart shows investors had bid it up intraday on Jan-27th but it could not close above the breakout giving us an opportunity to get in. 
Support: $7.40
Resistance: $7.70