Right?
Right?
Sure. 
Or maybe. 
Or – no way.
I would always advocate placing new funds in the market if you find an opportunity that will do well regardless of market direction.  I believe we've identified quite a few of these in previous articles.  But I wouldn't race to throw money at the market just because it broke through some alleged technical point or round number.
I remember the bated breath with which many investors looked to 10,000 in April 1999.  And you know what?  The market kept running.  But it wasn't because of any special numerology – Goldman and the rest of Wall Street still had dot.com.bombs in their pipeline.  Never ones to walk away from a scam when the suckers are still buying, they continued to pump and dump companies with no revenue, no earnings, and no likelihood of ever achieving same, all the way to 11,700 or so, after which the market promptly entered a ratcheting-down pattern to unwind from the dot-com excesses.   Its natural and normal decline was halted around 7500 only when the Fed dropped rates and relaxed regulations on home mortgages in order to inflate yet another bubble.
The point is, there was nothing special about 10,000.  It was just a number on a chart.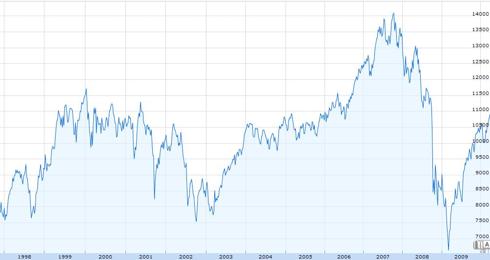 Click to enlarge
Of course, the next magic number was predicted by many to be 35,000.  We stopped a bit short of that.  But 14,000 was as eagerly anticipated in October of 2007 as a "special number" to prove we had the oomph to make it to 15,000, then 20,000 and beyond.  So much for special numbers...

The market rose for a couple days after 14,000, then began its sickening nearly straight-down slide to 6600, before rebounding in 2009.  So – if you have a reason to believe, convince, delude, or satisfy yourself that the market writ large has plenty of more room on the upside, 11,000 will be nice but, really now, just a number on the way to infinity and beyond.  And if you have a reason to believe, convince, delude, or satisfy yourself that the market writ large is more likely to disappoint because of whatever, going through it won't mean a thing.  There will be no re-setting of the downside at 11,000!
 
Personally, I don't give two hoots if it goes through 11,000 or doesn't.  It is simply irrelevant to what I look at when deciding if this is a good time to commit funds to the market.  In fact, however, there is some interesting evidence that "anchoring" around a particular number, like 14,000 or 11,000 on the Dow, is a sign the market is ready to turn over.  Such a move does not signal where the market is going, but if it gets enough people to throw money in late in the game, it gives the smart money someone to sell to.
 
I'd rather look at the fact that this market has risen for 13 straight months purely on relief that the earth is still rotating around the sun.  We haven't fixed anything important yet, but we did keep from falling off a cliff.  To me, that screams "relief rally," not a new bull market based on revenue, earnings, or any other fundamental reason to believe.  Or the fact that most stocks now sell at PEs higher than they did when the Dow was at 14,000.  Or that volume has been drying up ever week for the past 12 weeks.  Or that volatility has gone to virtually nil.  None of these are normal signs of a market ready for a second wind sprint.  All scream "tired market.  Feet hurt.  Legs cramped."
 
But in this business you pays your money and you takes your chances.  So if you read the tea leaves or the bones in the circle or the Tarot cards or the currently-most-popular tech guru differently, just throw your money in.  Wall Street will be eternally grateful.
Author's Disclosure: We and / or clients for whom these investments are appropriate, are long VXX and VXZ to benefit from a return to normal volatility,  short US Treasuries via the inverse ETFs TBT and TMV against the recognition that these rates, at near zero, have only one way to go – up, and are long a number of income stocks previously discussed in the utility generation and energy sectors because, no matter how bad it gets, these companies will be the last to see a hit to their revenues.
The Fine Print: As Registered Investment Advisors, we see it as our responsibility to advise the following: We do not know your personal financial situation, so the information contained in this communiqué represents the opinions of the staff of Stanford Wealth Management, and should not be construed as personalized investment advice.
Also, past performance is no guarantee of future results, rather an obvious statement if you review the records of many alleged gurus, but important nonetheless – for example, our Investors Edge ® Growth and Value Portfolio beat the S&P 500 for 10 years running but did not do so for 2009. We plan to be back on track on 2010 but "past performance is no guarantee of future results"!
Finally, it should not be assumed that investing in any securities we are investing in will always be profitable. We take our research seriously, we do our best to get it right, and we "eat our own cooking," but we could be wrong, hence our full disclosure as to whether we own or are buying the investments we write about.