I am on a constant search for companies that can provide the energy we need for our food, shelter, transportation, and commerce at a price we can afford.
In past years, I was way ahead of the crowd in looking at renewable energy sources  -- decades ahead, but only because an early client was a solar pioneer making big, fat, heavy solar disks.  I was also one of the really early US investors in Vestas Wind Systems (OTCPK:VWDRY) partly because I wanted to believe in the promise of virtually free wind and partly to visit my wife's ancestral home in Denmark.  We've come a long way since those days but, sadly, not far enough.  Neither solar nor wind can stand on their own without massive taxpayer-funded subsidies.
My goal is to identify those sources of energy that will allow us to (1) reduce our dependence upon foreign sources of energy and (2) find the most cost-effective "US and neighbors" sources of energy.  The former because I'm tired of seeing any American, elected or otherwise, kowtow to despots who recycle our petro-dollars to those who would destroy us.  The latter because it makes sense in all times, but especially in hard times, to buy an essential human need like energy at the cheapest price.
This quest leads me to coal and natural gas first, and to nuclear and hydroelectric wherever feasible.  The most under-appreciated, under-used and cost-effective of these is nuclear, but getting people to overcome irrational fears based on problems with 40-years-obsolete technologies is too daunting a task.  So I stick with doing my best to uncover hidden gems in the US and Canadian natural gas and coal space.  And I have plenty from which to choose.
My latest is Cloud Peak Energy (NYSE:CLD) on the NYSE.  It is the biggest little coal company you've never heard of, the third-largest U.S. coal producer, and the only pure-play Powder River Basin coal company there is.  It didn't exist, as an independent company, until 19 November 2009, when it was IPO'd by former parent Rio Tinto.  Its properties consist of most of the former Rio Tinto Energy USA -- the Antelope and Cordero Rojo surface mines are located in Wyoming and the Spring Creek surface mine is located just across the northern border near Decker, Montana.
Why coal?
Because it's dirty, environmentalists hate it, and it pollutes the atmosphere.  No.  Those statements are all true, but the reason I like coal is that the United States is the Saudi Arabia of coal.  We have more proven and probable reserves than any other nation.  That includes Russia at nearly twice our size, Canada, roughly comparable in size, and China, Brazil and Australia, all only slightly smaller.  As every year shows new ways to make it burn cleaner and more completely, we will finally ask why we didn't invest our research dollars into what we have the most of: coal..  The Energy Information Administration (NYSEMKT:EIA) of the US Department of Energy agrees: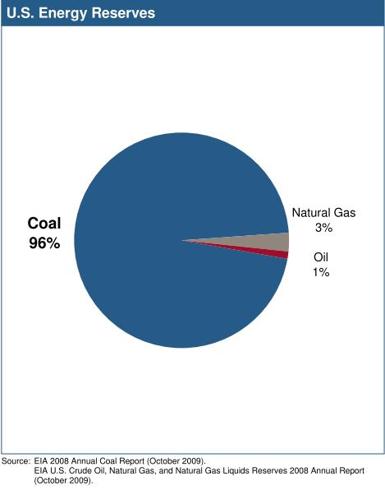 Staffed with a number of fossil-fuel-hating fire-breathers, it must grate some of them to have to publish this further dose of reality every year: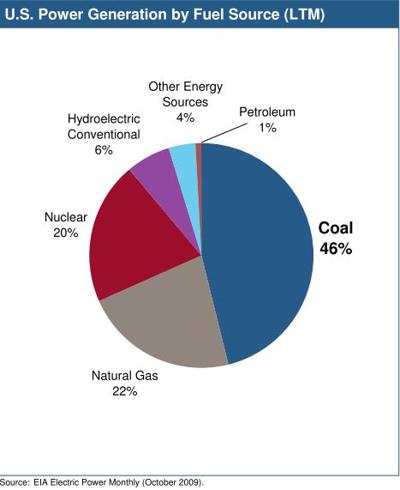 And it must really frost their Cheerios to have to admit that while renewables will likely enjoy a 50% increase in kilowatt hours generated in the next dozen years (yaaaay!!!), since nuclear will enjoy only a small increase, it is still coal and natural gas, in that order, that will continue to provide the bulk of our electrical generating capacity.  (As it should be – now if we could just stop using imported oil for transportation, chemicals, plastics, and fertilizers, we could tell the potentates of oil to take a powder.)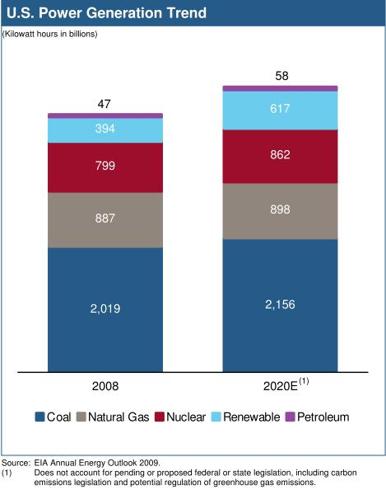 Why Powder River Basin Coal?
You'll recall that coal comes in many stratifications but there are just two primary economic values we derive from coal, "thermal" for energy and "metallurgical" for making steel. The most desirable thermal coal is low sulfur, sub-bituminous coal. That's the kind found in the Powder River Basin (NYSEARCA:PRB) of (mostly) Wyoming and Montana.  As a side benefit, the PRB is also the lowest cost major coal producing region in the nation.  I would argue it is also one of the safest, mostly because it is surfacet mining in which there is less danger of respiratory disease, no danger of mine collapse, and is far easier to reclaim after mining is completed.   As a result, PRB coal is becoming ubiquitous for electricity – it's cheaper to mine and makes less of a high-maintenance mess when burned so, even adding the extra freight costs, it makes sense for a utility to select it.  Which the next chart makes abundantly clear…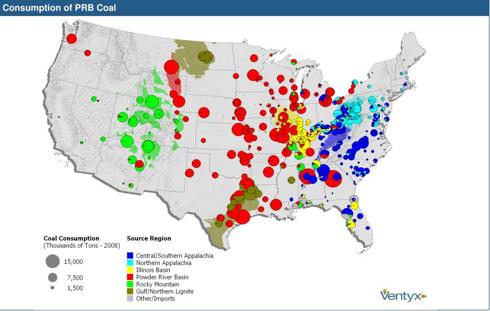 This is a great chart, isn't it?  It's quite the epiphany when you see just how far afield PRB coal is consumed – from Washington state to Arizona to Georgia (lots in Georgia!) to New York. 


And speaking of great charts, I think this next one, courtesy of Cloud Peak, gives a 30,000-foot view of where the world's coal comes from and where it goes.  It would certainly seem more efficient to take US coal to Europe rather than Australian coal, which is what the decreasing and increasing trends shown by the arrows indicate.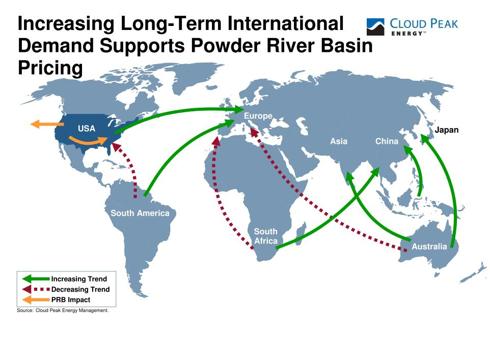 Why Cloud Peak Energy?
·         Size
·         Safety
·         Low sulfur content Powder River coal
·         Low-cost producer of a lower-cost coal supply
·         Less restrictive permitting process out West
·         Plenty of surplus rail capacity right into their surface mining areas.  (If they need to increase production and sales, there's no limiting factor here…)
I like the pricing power and negotiating power CLD will enjoy as a major producer. I like it's enviable safety record and the likelihood that, given the means of production, that will continue.  I like that the company enjoys a leadership position with a long-life resource in the most desirable coal belt and has achieved superb economies of scale.
Here is a comparison of the "Preliminary Incident Rates" as published by the Mine Safety and Health Administration (MHSA) for the last full year.  According to the MSHA data, Cloud Peak Energy had the lowest 2009 rate among all leading U.S. coal companies. Additionally, the company's three properties have not received any notice of environmental violations under the Surface Mining Control and Reclamation Act (SMCRA) since October 2002, when they were still a part of Rio Tinto.  This seems to indicate they are good environmental stewards, but we'll see how they do over the coming years on their own.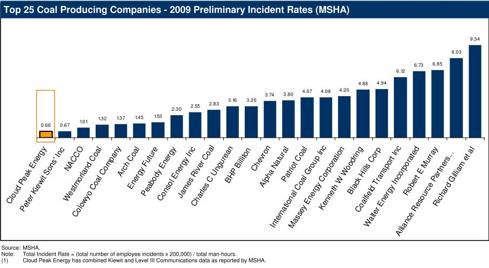 This safety record and the fact that they operate surface mines mean they bring more to the bottom line rather than having to reserve as much for long-term liabilities like current and retired employees' respiratory and other medical issues or for workers comp, unlike the Big Boys of Coal back East, mining "Down in the dark of the Cumberland Mine…In the roads that never saw sun nor sky."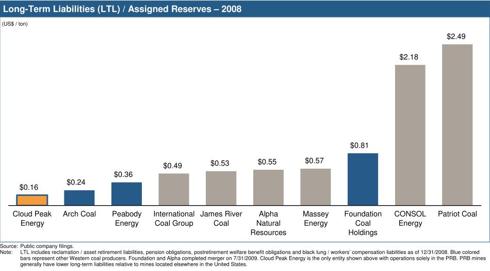 Finally, from the company's own website, here are the most salient charts showing consistency of production; compound annual growth of revenues; earnings before interest, taxes, depreciation and amortization (EBITDA), the best indicator of cash flow; and EBITDA ex a Houston Light & Power contract that expires this year.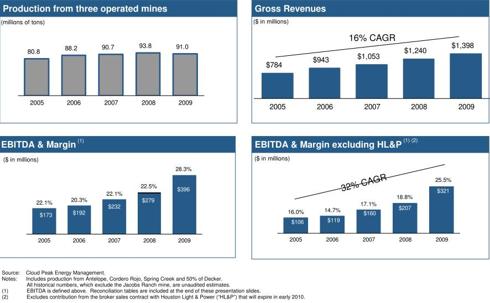 One final reason I think CLD will do well.  I mentioned earlier they had great surplus rail access.  Warren Buffett didn't buy Burlington (Burlington Northern Santa Fe – BNI) because he always wanted to wear one of those cool Engineer Warren caps and toot the horn when kids asked him to.  He did it for the coal.  And by coincidence it is either Burlington or joint Burlington/Union Pacific track and trains that lead smack-dab to CLD's 3 surface-mining properties.
Now.  Having satisfied myself that this company is in a sector and an industry I like and may be the best one in that sector and industry for me to buy doesn't mean this is the time to buy.  But this is what I will buy when I believe the timing is propitious. 
One reason I am only nibbling at this stock now is because it IPO'd on 19 November 2009 and has a 180-day lock-up period.  So Rio Tinto, the underwriters, and the company's management, directors and other insiders have been proscribed from selling any shares in the 180 days since 19 November.  That means that sometime around 19 May – like now – this restriction is lifted. 
For all we know, not one insider will want to buy a new car or pay Junior's prep school tuition or enloy a week at the Villa d'Este at Lake Como.  But if a bunch have just been waiting to sell, it might put pressure on the stock short-term – for reasons which have absolutely nothing to do with the value or the future of the company.  It may not be enough to send the price down but it "typically" is enough to keep it in a tight range and allow us to buy all we want.
Which I will begin doing.  Slowly and steadily.

Author's Disclosure: We and / or clients for whom these investments are appropriate have entered limit orders to buy CLD.  We'll buy close to the current price but look to buy more on any pullback.
The Fine Print: As Registered Investment Advisors, we see it as our responsibility to advise the following: We do not know your personal financial situation, so the information contained in this communiqué represents the opinions of the staff of Stanford Wealth Management, and should not be construed as personalized investment advice.
Past performance is no guarantee of future results, rather an obvious statement if you review the records of many alleged gurus, but important nonetheless – for example, our Investors Edge ® Growth and Value Portfolio beat the S&P 500 for 10 years running but we are flat in 2010. We plan to be back on track as the year progresses and we put our cash to work but "past performance is no guarantee of future results"!
We encourage you to do your own research on individual issues we recommend for your analysis to see if they might be of value in your own investing. There are three possible ways you see our work at this site: by your choosing as a result of seeing an article, by taking the recommendation of another reader or, possibly in the future, by being pre-assigned to us because our articles match the interest areas you selected when signing up. In all cases, we take our responsibility seriously to proffer intelligent commentary, but it should not be assumed that investing in any securities we are investing in will always be profitable. We do our best to get it right, and we "eat our own cooking," but we could be wrong, hence our full disclosure as to whether we own or are buying the investments we write about.