Since my last article on DGAZ posted over the weekend, DGAZ - Buying on Dips - here, we have been on a wild ride with this latest spike in Natural Gas, today closing over $6/mmbtu. Some traders now say we are going to $7/mmbtu, however, no matter how high we get, someone will always pick a higher target and at some point, there is a failure and the bears take over - at least for a while.
In my prior articles, I did not expect to see this spike run this high, as our prior spike to 5.7 appeared it was going to hold. But the bulls took control again so far this week in a way that surprised even bull side traders. Early in the day, I read posts from bulls who sold out of their positions and stood in disbelief as the price went even higher. The common comment was, whoever is buying at these levels could be caught in a huge trap. Well, we will see what is ahead.
Lets take a look at some charts, cover some issues on DGAZ and again look for how to play this going forward.
First, lets check the daily chart on Natural Gas for spot prices: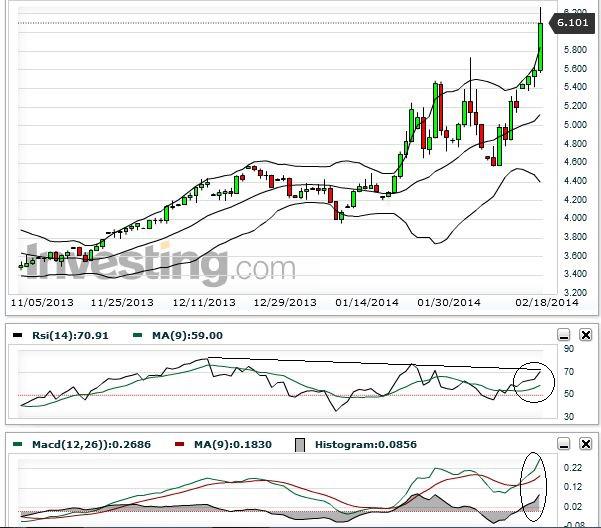 From this chart, RSI is showing that NG is hitting an overbought level and during the time frame covered, this has always resulted in a correction. However, if you look at MACD and momentum indicators - they are very strong (representative of the big move today) and appear to signal that we could move higher - although, price action as I write this is falling a bit lower.
Lets see what the weekly chart shows us: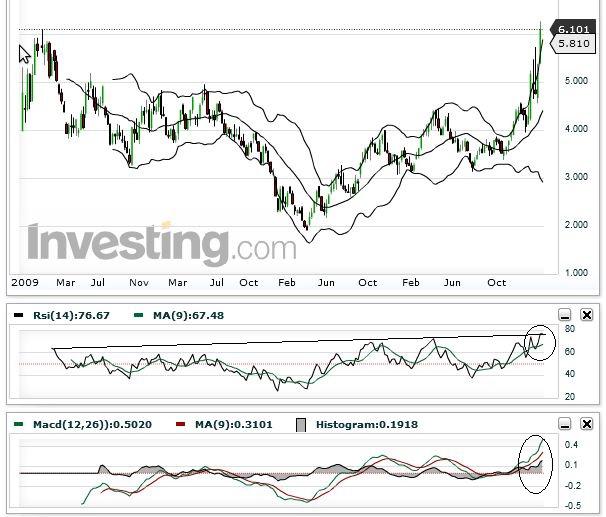 Look at the very similar spike to almost precisely this level in 2009. RSI showed oversold and we had a major correction. In fact, every time RSI hit these overbought levels along the line drawn, we had a significant correction in Natural Gas.
Now, the monthly chart: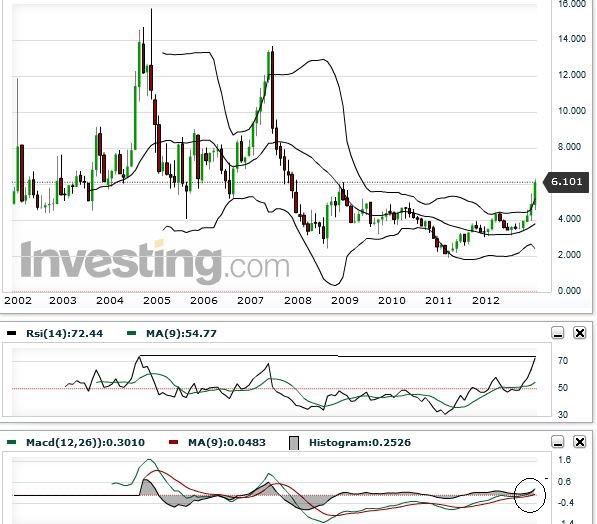 Again, on this chart, we see that we hit the RSI levels that drove significant corrections in 2005 (from a NG price of 16 - a time when fundamentals were very different and the base of that rally started from the levels we are just touching now), and from the peak we hit in 2007.
Well, we got a big dip today and I think it was a good time to add to positions. We are yet to see if this is the top, or whether the top is still in front of us in NG, and the resulting low in DGAZ. I do think we are close, if we did not already see this high today.
On prior rallies, it was the storage report results that turned us downward with big falls and there will be a release of storage inventory levels again tomorrow morning that should indicate if our milder weather over much of the US - although still some very cold weather in the NE, NW and some of the MW states drives a smaller draw than expected.
With a smaller draw, I think we are in for a good run starting tomorrow following the report in DGAZ. If the report shows a larger draw than expected, we may get to witness more of a run in Natural Gas and have yet another opportunity to reposition DGAZ shares to lower prices. And, as we learned today, when that bull gains steam, it can definitely move. My thoughts are the probability is in favor of a correction in the price of NG and a move higher in DGAZ.
Looking forward, during the last 2 years, March has been a net injection month, rather than a withdrawal month, with net injections of about 101 bcf in 2012 and 98 bcf in 2013. Once storage reports begin to show net injections versus withdrawals, the bulls may have a harder time getting price runs with much enthusiasm to the upside.
There are many ways to trade these positions. One can use hedging, options, be both long and short, or take a single bullish or bearish view adding on dips and selling on rallies. It is recommended that positions in DGAZ are managed in order to reposition shares when the opportunities are there to buy into spikes and sell into rallies in order to best capitalize on the moves and work through the turn and longer-term trend.
I will be looking for a rally starting tomorrow in DGAZ after the Storage Inventory report. If the report shows a larger draw and Natural Gas rallies further, I will be looking to reposition with lower DGAZ prices.
Disclosure: I am long DGAZ.
Additional disclosure: I also am long BOIL puts. I may trade and reposition DGAZ shares based on dynamics associated with the Natural Gas Market. I may also trade in and out of UGAZ, or buy/sell calls and puts on BOIL or KOLD (2X Leveraged ETFs on Natural Gas Index).The thoughts and opinions in this article, along with all stock talk posts made by the Author, are my own and are shared on the basis of helping others learn, to provoke other points of view that help us all on our journey to become better investors. My posts are never intended to provide investment advice. Investors should always view multiple sources of information in their due diligence process.