Natural Gas and DGAZ provided another good trading day on the volatility today, and I hope everyone was able to enjoy and benefit from the movements. If you were like me, over the weekend and this morning, you were considering impact on your overall portfolio and individual positions of the tensions in the Ukraine with Russia and the Western world.
Fortunately, for the US Natural Gas market, our market today is relatively isolated - which is different from the world Oil markets. In the future, when LNG is traded more freely globally, our NG markets may mirror more closely how the crude markets respond to Global crisis outside our country, as supply and demand patterns could become interrupted by such events - or, at least risk profiles would change on our supply and demand outlook.
At present, I see little, if any impact on our NG markets from tensions in the Ukraine. There just is nothing from this conflict so far that has impact on our local supply and demand of NG.
Here is a current daily chart of NG from 11/18 to present: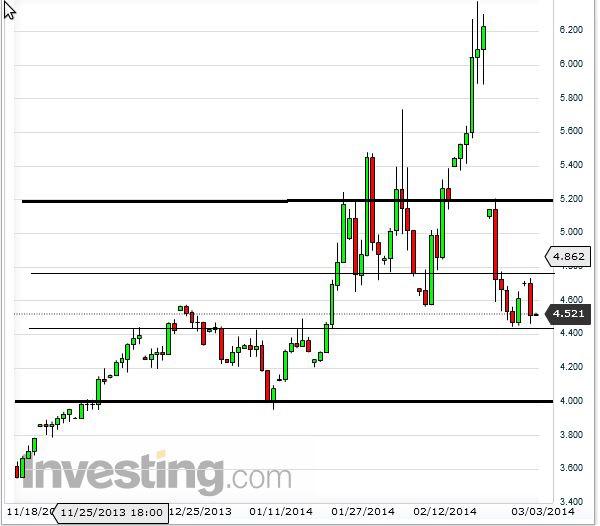 In the near term, I see us most likely to maintain the trading range between the thin horizontal lines, providing opportunity toward to higher end (to be a buyer of DGAZ) and toward the lower end (being a seller of portions of our DGAZ positions), in order to seek out repositioning with cheaper shares from the high end range.
If we turn out to have continuing extreme weather beyond what we already know is ahead for the US this week, or, weather patterns change significantly to spring weather (and reigning in injections to storage), then I see us potentially breaking out of the ranges and into the ranges marked by the thicker horizontal lines. Based on what we know today, I see the probability that we breakout to the downside being stronger than the probability of us breaking out to the upside and moving to the 5.0 or 5.2 range again.
As a result, when we get to the lower end of the range in NG - higher range for DGAZ which has been about 3.75 DGAZ, I will be a seller of about 1/4 of my position in hopes of repositioning - but won't sell greater than 1/4 in the event we continue to go lower in NG and higher in DGAZ so I don't miss the move with the bulk of my position. Today, I did get the fill on an order to sell about 1/4 of my position at 3.75 and will be looking to buy those shares back at lower prices in the near future - perhaps tomorrow morning if the opportunity is there.
Here is a current chart on DGAZ with separate chart including MACD:
(click to enlarge)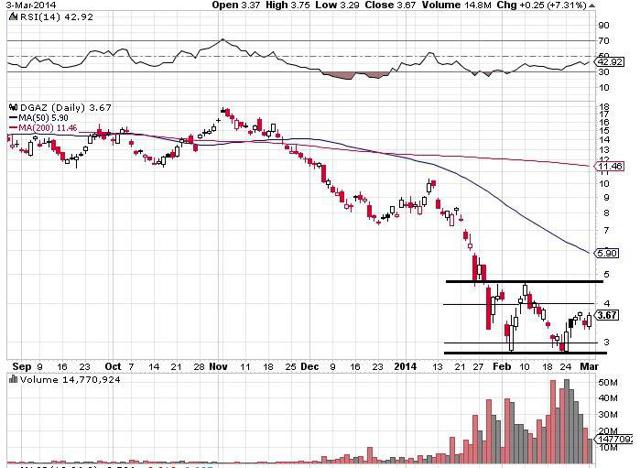 Click to enlarge
(click to enlarge)

Click to enlarge
On this chart, I've marked the ranges I think we are likely to see in DGAZ, as it relates to the NG ranges. I've marked the low end of DGAZ at about $3.00, although what we have seen has been in the 3.10-3.20 range on the low side. In premarket today, we saw lows of around 3.30 in DGAZ which provided a nice buy opportunity. Any time we get into the 3.10 to 3.20 range on DGAZ, I will definitely be a buyer. And, if we find our way to 3.00 or below (barring any major concerning change in fundamentals, then I will be a strong buyer and extend my position with more cash than I have allocated so far to these trades). In my cost basis, I still have some shares bought at 2.60 and 2.81. The only regret I have at present is, that when we found those levels that I didn't go in with a much larger buy at those prices. If we get the opportunity again - I will definitely make additional sacrifices for that value.
A couple interesting things to note. On the MACD portion of the chart, the first time we received the buy signal of bullish MACD crossover - (see the circle on the MACD histogram), our price performance of DGAZ actually went down, which was very surprising to me - although, representative of how performance to technical indicators can be skewed with leveraged ETF's against commodity contracts. The pricing of commodities contracts can be a bit unpredictable and the perceived value of prices can be purchased strongly in the ETF's contra to what we would normally expect. However, MACD signals have strengthened to the bullish side and we have seen the price action aligned. Interestingly, we do see reduced volume in DGAZ, but that would be explained by the expectation from the market that there is less value at higher price levels and still risk we could run to the top of the range in NG and get better DGAZ prices while weather and storage withdrawals are still in the picture. Buyers have definitely piled into DGAZ when prices were at the low extremes.
I promised some readers I would come back to the price target discussion, although, I caution that price targets I perceive to be "at risk". My original thesis, and one that made this NG/DGAZ trade very compelling, is based on prior UGAZ/DGAZ spread an the closure of the spread. With this in mind, here is the latest using a chart of DGAZ and running a Compare with UGAZ.
(click to enlarge)

Click to enlarge
The grey circle highlights where I think we are generally in the spread timeline. That is, in our current spread, I think we are in the upturn off the double bottom. Now, there is no guarantee that performance will behave in the same manner, but notice that if this is where we are, there is a significant gap run in DGAZ in a single day uptrend - which would likely translate to a breakout to the downside in NG. If we repeat this pattern, as soon as tomorrow we could see a breakout in NG to below 4.4, providing a significant pop in DGAZ. But, considering volatility and fundamentals we have had with this winter, my expectation is that our rise will be more gradual until this winter weather subsides or we have a big surprise on the storage reports. I would certainly welcome a pleasant surprise however.
The first blue circle drawn in the center of the chart reflects the peak in DGAZ after it closed the spread and crossed over UGAZ in the prior spread. This is the formation that would result in me closing out my original thesis for the DGAZ trade I'm involved in now.
One reader asked today, when would I sell all my DGAZ shares - at what price target? The 2nd blue circle represents the target aligned to my original thesis. Along with it are assumptions and risk factors that could mean we don't accomplish this thesis. My response was, if we only see a peak in DGAZ of 7, instead of 12-14, I want us to trade profitably anyway. If we do get to 12-14 range, then I hope we capitalized on our profit opportunities along the way, as well as from the full trade range DGAZ affords us. After all my analysis and study of the NG market dynamics, I would not recommend just a buy and hold view with the expectation that we hit the 12-14 range, or even the DGAZ/UGAZ crossover and peak we have seen in the past. I do however, still hold some level of expectancy that this will happen.
In the meantime, I am flexible on what the indicators are, fundamentals or market dynamics and plan to adjust accordingly. If something changes severely tomorrow that makes me turn bullish on NG from my bearish view, then I would be willing to throw out my original thesis, sell all my DGAZ position and get on the other side of this trade. For now, I'm still working this trade in line with my original thesis - but taking profits and repositioning shares and cost basis as explained throughout my articles on this topic.
Winter weather and storage reports hold the key to any bull run potential I see - posing the greatest present risk to my original thesis for DGAZ. Looking to this upcoming report, below is the readers poll taken from the First Enercast website, polling for last week, which will be reported on by the EIA in the Storage report release this week on Thursday at 10:30 am ET.
(click to enlarge)

Click to enlarge
From the poll, expectations seem to again be mostly for the 100-109 bcf withdrawal range but again, the estimate is hedged with there could be revision downwards relative to warmer weather across much of the US (definitely not in the NE yet) and some of the weaker pipeline volumes reported.
Last week, the number came in at 93 bcf, very bullish for DGAZ, but NG rallied and DGAZ went down for probably an hour or two before the bear move kicked in on NG. Of course, we could see a similar pattern again this week. On this storage report, or upcoming storage reports through March, I think our risk of NG running out of the expected range to the upside would be based on a surprise higher withdrawal from storage or inventory levels than is projected. Other than this risk, I continue to look for mostly range bound levels in NG with a breakout more likely to the downside - bullish for DGAZ.
Disclosure: I am long DGAZ.
Additional disclosure: I also am long BOIL puts. I may trade and reposition DGAZ shares based on dynamics associated with the Natural Gas Market. I may also trade in and out of UGAZ, or buy/sell calls and puts on BOIL or KOLD (2X Leveraged ETFs on Natural Gas Index).The thoughts and opinions in this article, along with all stock talk posts made by the Author, are my own and are shared on the basis of helping others learn, to provoke other points of view that help us all on our journey to become better investors. My posts are never intended to provide investment advice. Investors should always view multiple sources of information in their due diligence process.