The last week has been one of little excitement in Natural Gas, UGAZ, DGAZ, BOIL, KOLD, UNG and other NG related investments as trading ranges during our seasonal transition have been very tight with bulls and bears pretty much agreeing on the price. This weeks storage report tomorrow, reporting on last weeks withdrawal could be the real beginning of the transition. Last weeks report was on a -195bcf withdrawal which gave a reason for the bulls to hang on and hold prices higher. This weeks report, while not yet reporting net injections, is the first report signaling a major change in NG demand foretelling what lies ahead.
The bulls may argue that Storage is at an all time low, we may go below the 1tcf levels, but what is different now is the Supply side opportunity. If we were at low storage levels and exploration and production efforts were not able to find abundant NG, things would be different. But, in my opinion, with ample supply, prices should fall when demand falls and injection season begins in full force. My trade thesis is based on looking for exit in the April/May/June time frame most likely and I'm still looking for the DGAZ crossover above UGAZ. But, I will admit, there are of course still some risks to the thesis which is one reason why I continue to suggest traders buy the dips and sell the rallies to profit from volatility along the bullish move. Not only does this help to hedge against the risk, but also looks to maximize profits along the way.
Here is the Storage poll for the report tomorrow:

The estimate I read that I'm keying in on is for estimated draw of about -58bcf.
Here is a 1 month chart on DGAZ:

You can see from this that what I suggested after we confirmed the double bottom in DGAZ, is that we have in fact experienced the bullish trend with higher highs and higher lows with the most progress on higher lows while the trading range has narrowed.
Here is the 1 month chart on UGAZ: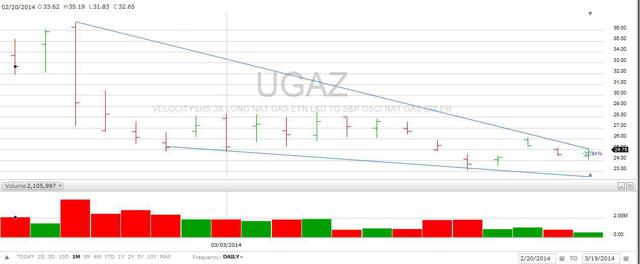 Here we see the counter-trending bearish move with lower highs and lower lows, with the greatest progress on lower highs while the trading range has narrowed.
And, here is the updated chart on the DGAZ/UGAZ spread using a compare on base DGAZ chart with the overlay of DGAZ.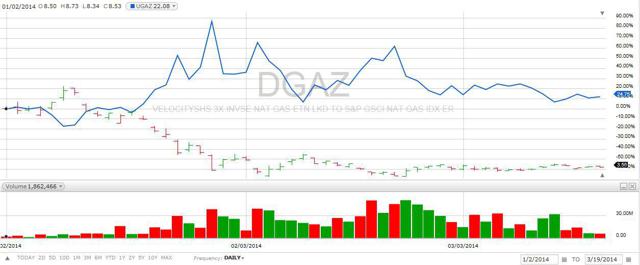 What this chart shows is how we have moved off the extreme highs from the spikes UGAZ had and the extreme low dips DGAZ experienced and both have begun to slowly work on their convergence. I am eager to see if this week provides the catalyst following the report tomorrow to break to new lows from this trend in UGAZ and to new highs in this convergence from DGAZ as we work our way to the crossover. Viewing this chart, if UGAZ falls 50%, and DGAZ climbs 100%, that would put UGAZ at roughly 12.375 and DGAZ at 7.10. So for the crossover, if it is going to happen, there will be more upside in DGAZ from there and downside in UGAZ. In order for this to happen, we will need to see a good bit of drop in the price of Natural Gas over the next few months starting in the near future and for investors to turn bearish in their overall sentiment on the pricing for NG during the next few months.
Here is a 6 month chart of spot Natural Gas and the chart with MACD following it.
From this chart, it appears the 50-day Moving Average is providing strong resistance on the upside, and on the low side, we have not yet retreated to test the 4.25 support level, which I am looking for us to do following the storage report tomorrow, or at least by the following week. I would expect the bulls to try to rally some off that support, while eventually we break through and work our way to the 4.0 level support.
Then, the question over the next few months becomes, will NG pricing during injection season, while building up the low storage levels, get us back to the level of the 3.5 support or, will it stop somewhere between 3.5 and 4.0.
While I state all of the above, one thing to note is the MACD on this chart is beginning to trend upwards. This on its own might provide some suggestion that Natural Gas prices could turn bullish if MACD crosses over and becomes positive. Volume is continuing lower, demand is falling rapidly and injection season is quite near which I believe will head off any attempts for NG to make a bullish break out. Although, I will be watching in case signals begin to change my thinking at some point. For now, we are right on course on my thesis and patiently waiting for our DGAZ increases.
Conclusion:
- Looking for DGAZ upside to break out of our recent trading range, after any potential small bullish rally in NG following the storage report tomorrow
- Look to continue buying dips at the low end of the trading range and selling significant rallies. (This week I didn't trade much as the range was too tight).
- There continues to be risk to the overall thesis, but I'm still looking for and hopeful we will see the DGAZ crossover versus UGAZ in the April/May/June time frame. If this does come to pass, we will see DGAZ levels much higher than we are at present. If the risks preclude this from happening, we will come out profitable by trading the volatility and ranges we are given and from the re-adjustments we have continued to work on our positions.
At present, I am still holding my core DGAZ position with cost basis now around 3.6 and holding 1/3 of my original position in BOIL puts, after selling the other 2/3 of the BOIL put position for nice profit. I will be watching for opportunities to re-enter trading shares, or take on more options positions when pricing levels are attractive in my analysis.
Disclosure: I am long DGAZ.
Additional disclosure: I also am long BOIL puts. I may trade and reposition DGAZ shares based on dynamics associated with the Natural Gas Market. I may also trade in and out of UGAZ, or buy/sell calls and puts on BOIL or KOLD (2X Leveraged ETFs on Natural Gas Index).The thoughts and opinions in this article, along with all stock talk posts made by the Author, are my own and are shared on the basis of helping others learn, to provoke other points of view that help us all on our journey to become better investors. My posts are never intended to provide investment advice. Investors should always view multiple sources of information in their due diligence process.