Clawing its way higher
First the Nasdaq Composite. It looks like it broke out of its trading range of the last 4-6 weeks. But the fact that it has been up for 5 straight days may mean a slight pullback before further highs.
The Close on the Nasdaq this evening is the highest since September 28, 2000! Now admittedly, the peak it created in 1999-2000 was pretty high. But it is clawing its way back. If you have watched my video updates and reading the posts, you know that I was suspecting that it would lead us higher, given that it did not pull back like the Dow Industrials or the S&P 500.
Cliffs Natural Resources
Now for Cliffs Natural Resources (NYSE:CLF). CLF was up $1.33 today closing at $23.18. It sure looks like it wants to push higher. It actually looks like a large 6 month Head & Shoulders reversal bottom. But before it can break out of that it has to break the 17 month downtrend line at $24.5. If it does that then the neckline of the H&S bottom is in $26-27 area. It breaks that, then the Gap up above it will be calling its name. That Gap is filled at $35.90.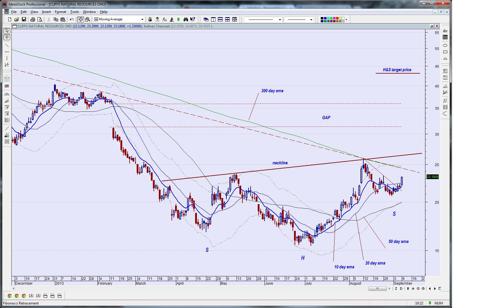 CLF - Cliffs Natural Resources
Based on the size of the Head in the formation, the projected move is $43. There's no telling how long that will take, but when it gets a head of steam going, this stock can move. The 20 day sma is above the 50 day sma and the 50 day is rising. The stock is above the 10 day ema. The recent high is $25.95 and after it takes that out, there's not much standing in its way.
Disclosure: I am long CLF.