Amazon (NASDAQ:AMZN) announced that they were hiring 70,000 full-time seasonal employees around the country for the 4th quarter. That's a nice bump in the employment rolls. What's interesting is that they said it was a 40% increase over the number hired last year! They are reading the tea leaves and implementing action plans. So what does that mean for their stock. Let's take a look.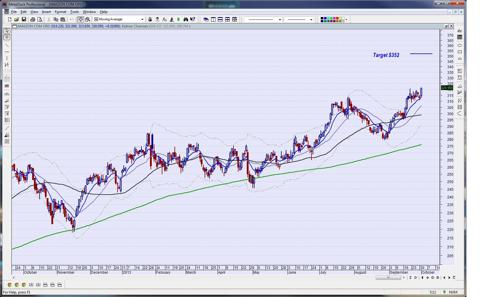 Amazon (
AMZN
) Daily Chart

Amazon has trended very nicely over the last year. Sure there have been pullbacks but higher highs and higher lows. Right now the stock has made two impulsive moves up from the August 28 low at $279.33. There have also been two corrective moves and today Amazon is breaking out of the second corrective move. So this looks like the kick-off of the third leg up. Volume was good, hitting the 50 day average.
Based on how the first two legs acted, and making Fibonacci projections I have a target of $352 for the stock. Amazon is in virgin territory and pushing new highs with each leg up.
Apple Inc.
Apple (NASDAQ:AAPL) has made a lot of news lately with their new phones and yesterday it was announced that they were now crowned the World's Most Valuable Brand. Congratulations! Oh and by the way, in number two place was Google (NASDAQ:GOOG).
Another issue floating around Apple is Carl Icahn. He has taken a stake, and is pushing hard for Apple to conduct share buybacks. Apparently he had dinner last night with Apple CEO Tim Cook. He wants a $150 billion buyback and says he's not going away anytime soon. So how is the stock acting? Let's take a look.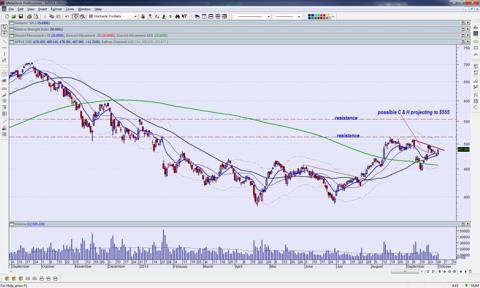 Apple Inc. (
AAPL
)
Above is a daily chart of Apple over the last 13 months. To the left you can see its all-time high $705.07 and then after a pullback, it made a large rounding bottom. The July to August move broke up thru the 200 day sma (green line). And now the 50 day sma (black line) is above the 200d and both the 20d (blue-gray line) and 10d ema (blue line) are above the 50d.
Today the 10d crossed back over the 20d and we got a close above the high of the last 2 days at $487.96, +$11.21. This trading action looks bullish to me. There is resistance at $515 and at $555. It does look like a bullish Cup & Handle chart formation which projects to $555, so that target coincides with resistance. Volume was higher than the last 4 trading days but still slightly below the 50 day average.
I don't have a position in either of these stocks but I do have an iPhone, an iPad, a Kindle and subscribe to Amazon Prime...I love these guys!! What do you think of Apple's and Amazon's prospects?
Disclosure: I have no positions in any stocks mentioned, and no plans to initiate any positions within the next 72 hours.