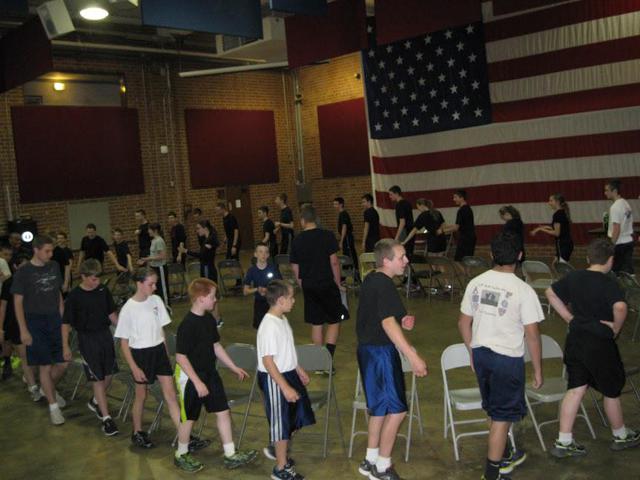 The market has rallied off the bottom for 5 years. Just 5 years ago, on March 6th, 2009 the DOW had an intra-day low of 6469.95 and a closing low of 6547.05 on March 9, 2009.
5 Years
What a difference 5 years makes. Do you remember what it was like back then? Were you trading then? Or investing for long-term? There was a lot of fear in the market back then. There were many folks who were overcome by fear and sold out. Can we have a repeat? You bet we can.
In 2008, there was no where to hide. The market sell-off took everything down...everything. All other markets on the planet, commodities, everything. Remember oil trading at around $150/barrel in June-July, 2008. Well it was trading for $30/barrel by December.
Not all stocks are equal and some stocks did better than others. Some much, much worse. So it does make a difference what stock you are betting on, but don't delude yourself into thinking that your stock can't go down.
New Bull Market?
So here we are 5 years after the market bottomed. Some people think we are in a new bull market and that the 2007-2009 sell-off corrected all the move from the 1932 low. I don't agree with that interpretation. In Elliott Wave theory corrections usually correct back to previous 4th waves of the next lessor degree and visually we did not even come close to that. But I will get into that in another post.
Let's look at a couple of charts. The first chart is the DOW from 1958 thru 1972. In 1972, the DOW was breaking above 1000 for the first time and good times were on the way. But not so fast.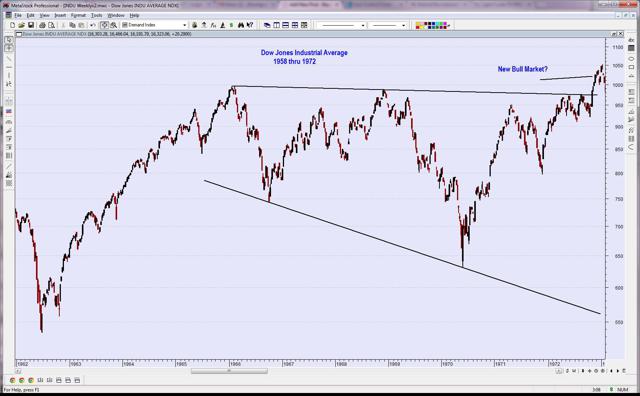 DOW 1962 - 1972
In this next chart we see what happened to the visions of a new bull market.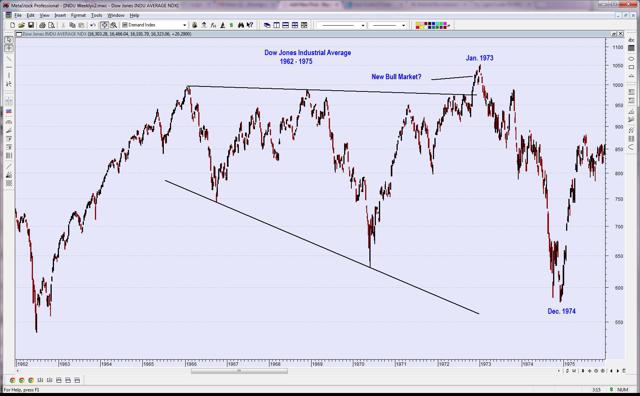 DOW 1962 - 1975
In 1973 and 1974 the market sold off in a vicious move down to a lower low than what was seen in 1970. when I look at the first chart and then look at our market of the last 18 years, there are some striking similarities. The difference is that the 1970s was a 4th wave correction in a move from 1932 to 2000 but what we are correcting now is of a next higher degree.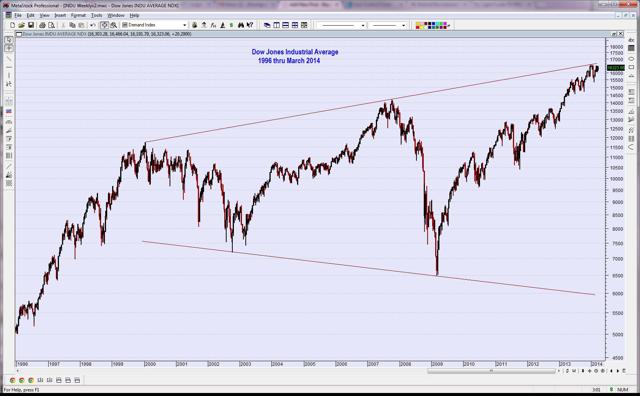 DOW 1996-2014
So just like 1972, I don't think we are in a new bull market. We need to be vigilant to the market rolling over and doing it quickly. What will cause it? Who knows? No one knew for sure when the music was going to stop in 1929, 1937, 1972, 1987, 2000 or 2007. So now we have had 5 years of rally, just like 1932-37, 1982-87, and 2002-2007. Now what?
This Week in the Market
The DOW was up 20 pts for the week and the NYSE Composite was up 42 pts with both in tight trading ranges. The SPX was down 8.9 pts and the Nasdaq was -121 pts for the week clearly the weakest of them all.
On Wednesday the market looked like a big reversal day and supposedly traders were spooked by a large trade in S&P 500 put contracts valued at a rumored $200 million. But there was minimal follow-thru on Thursday. Yesterday also looked like we were going to get a replay of Friday, March 21, but some buying came in during the last 30 minutes. In today's video we look at all the key indices on a daily and weekly basis.
In Focus
Today we also review Apple, Baidu and Apache. Apple was up $3.98 for the week but closed the week lower than it opened on Monday. Baidu continued its down trend, closing down $7.65 for the week. Apache was up $2.31 for the week and continues to tease with a possible large bottoming formation.
By the way, I posted several new stock market education videos this week. You can find them on the Stock Market Education page.