Impressed by 3C industry's development and changes too quickly, and looked at the rise and fall of the large enterprises, feel no matter once how scenery the company is, if you don't see the future of the development and changes according to it, it can directly be kicked out in the future two or three years. How to think about these changes as a industry practitioner ? How to seize these opportunities from a investor?
As Moor's law has entered a bottleneck, semiconductor, which is the basis for the 3C, is becoming increasingly difficult on technological process. In terms of the value chain, the industry is more and more inclined to the downstream to drive. Now many enterprises began to downstream integration, the purpose of which is to build up a complete echo-system, maximize the value in this line. Market research and application is becoming more and more important. As the integration of industries, the trend will be more obvious.
Based on this, I put forward the following mind map, please feel free to give advice. First of all, pay attention to the market and the trend of application changes, and then the enterprise resources and ability which build up the original echo-system. Compare with these two parts, make strategic judgment, whether it needs acquisition, strategic alliances, or internally invest, or not to enter into this field. How to take product as the core and strategic steps, a foothold by reasonable positioning, and construct a new echo-system.
(click to enlarge)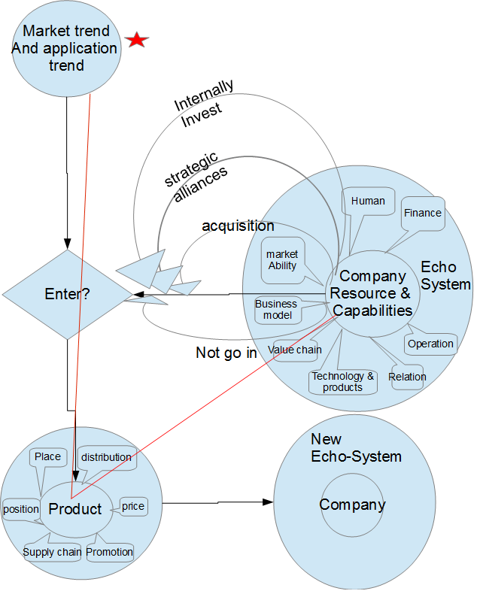 Click to enlarge