Why Tech Startups Are In For An Uphill Battle
By Nicholas Van Raalte
When Facebook was launched in 2004, there is no doubt that it hit the ground running on its web-based platform, and immediately attracted users to join. Facebook has been an outrageously successful startup, and developed into an icon of sorts for other small tech entrepreneurs. Over a nine-year period, Facebook has grown from a measly 1 million users in 2004, to a 1.5 billion-user powerhouse. There is no doubt that Facebook will continue to grow over the years, but do other small tech startups really have the same potential as Facebook did upon its launch. I doubt it.
Step back nine years to 2004. There were two large social media baby's kicking around in the playpen. These were Facebook, with their insignificant 1 million users, and MySpace, with about the same amount. They could have been considered more of a hobby than a business. However, one important detail that both of them were bound to was their platform. Users were bound to these apps strictly through computer use. There is no doubt that a significant amount of web traffic, even today, can be attributed to computers, but upon their startup these companies did not have a need to expand to other platforms.
As these companies grew over time, they allocated the required resources for the demand in different product lines. This was mainly the expansion from the laptop to the mobile phones and devices. But these companies had time. It would be years before the masses were using their smartphones frequently to check their emails, apps and updates. So these companies were ahead.
That being said, there has been a stunning expansion in mobile app usage over the past three years, passing on average that of conventional computer browsing. This shift has come at the same time as a boom in the widespread use of smart phones. If we look at the growth rates of PC's to Smartphones, there sales are seriously lacking.
"Since 2007, more than 500 million iOS and Android smartphones and tablets have been activated. By the end of 2012, Flurry estimates that the cumulative number of iOS and Android devices activated will surge past 1 billion. According to IDC, over 800 million PCs were sold between 1981 and 2000, making the rate of iOS and Android smart device adoption more than four times faster than that of personal computers," Observed Charles Newark-French in 2012.
People would rather use a lightweight, portable phone than haul around a bulky laptop. It's just easier.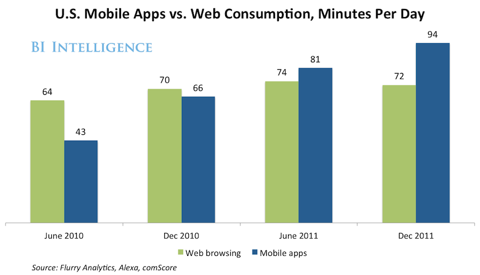 Startups will be faced with much more competitive and pricey initiations than that of the startups in the early 2000's. In addition, unlike Facebook who developed naturally into mobile platforms due to demand, new startups will have to design their apps or technology to be accessible on duel platforms. In the current tech scene there is only one axiom that can describe tech companies competitive edge: blow up, or get blown up. These startups must focus on two types of development to be successful, pc user applications and mobile applications. Luckily the sprit of tech entrepreneurs is ready to address these tasks, but not without substantial costs. An article from osxdaily.com estimated that "complex or recognized brand apps can cost $50,000 to $150,000. " This could possibly cost even more depending on how sophisticated the apps are. However this still leaves the website to be developed which can range anywhere from $10,000 to $100,000 or more excluding hosting, and marketing.
Aside from the financial struggle, there is much more competition in tech startups than the early years of Facebook and MySpace. Many firms are solely focusing on this niche whereas much fewer competent individuals were looking upon this sector in the early 2000's. In addition, thanks to Venture Capital competitions, many appmakers are finding themselves coding their apps for free, in the hope to be selected from a pool of submitted apps to be funded. There is a proportionally small amount being funded, and an absurdly high supply of apps. The tech market is in a bit of an imbalance.
Disclosure: I have no positions in any stocks mentioned, and no plans to initiate any positions within the next 72 hours.