The World Wrestling Entertainment (NYSE:WWE) launched the final version of its new Streaming network on 24thFebruary2014, in the presence of former WWE legends. At $9.99 per month, WWE allowed its fans to view Wrestlemania and every other WWE/WWC/ECW pay-per-view. The deal also enabled its clients to view original content such as NXT and Legend shows. With the WWE's declining Pay- Per- View numbers, the company decided to launch a network similar to "Netflix" that would target younger fans who were not subscribing to cable/satellite. The bulk of these fans were also streaming and downloading various WWE events on torrent, illegally, causing great loss to WWE's pay- per-viewsubscriptions.This new concept excited many investors and it helped in skyrocketing the share from $10 to $30 per share. However, the WWE network numbers did not do great, with merely 700,000 people subscribed as compared to the estimated target of 1,000,000 subscriptions. Moreover, WWE financial deals with NBC/Universal failed to meet the desired targets, eventually these factors contributed to falling off the WWE stock price. While I believe the launch of WWE Network is a thing of past, today, I write to analyze the future of this stock using various techniques and considering the upcoming stock price drivers.
Growth potential
As per the recent announcements, WWE's recent live attendance has increased up to 11% in the second quarter. Television ratings have increased to 5% for Raw and 3% for SmackDown. Total revenues increased by $4 million, while Network revenues increased by 13%,i.e. $43.3 million. The company has also decided to improve the business outlook by $30 million, which includes a 7% decline in employment and other inefficiencies in the business operations. E-commerce revenue generated by WWEShop, increased by $1 million. On the other hand, sales of Online Merchandise also increased by 29%.
The promising aforesaid figures, coupled with the recent deal with Rogers Communications have the potential to bring in extra revenues for the company. The company has announced a 10-year deal with Rogers Communications in Canada. This deal will enable the company to launch the. WWE Network through traditional pay-TV distribution versus standalone OTC distribution. Rogers will also have a license to show Raw and SmackDown television programs and hold distribution rights to the company's pay-per-views. The U.S. version of WWE Network will be kicking off in over 170 countries and territories. The company will localize WWE Network in these countries.
The Headwinds
The company faced a net loss of $14.4 million. Pay-per-view revenue declined 36%,i.e. $23.8 million (buys declined approximately by 41%). Revenue from digital media segment also declined $2.2 million, (lower demand of web-cast pay-per-view events and lower revenues from advertisements). Home entertainment revenue declined $1.7 million. Live event revenues declined by 3%. Revenue for the consumer products division declined $1 million from the prior year's quarter, while licensing revenue also declined $1.2 million. Revenue from the movie business, WWE Studios, declined $0.4 million.
Financial Fitness
(click to enlarge)

Click to enlarge
Source: vuru.co
The word Management in this table depicts the company's ability to effectively leverage its capital to deliver results for their shareholders. Based on this, WWE's management looks average. The current financial health of the company also looks weak. Being the only wrestling company listed on the NYSE, the company has an average moat (WWE and their competitors) while the company looks strong on dividends and payback.
According to macroaxis analysis, the company maintains a market beta of -1.1934 which depicts that as the return on the market increases, returns on WWE stock are expected to decrease and vice versa. So, given the NYSE composite's expectations, WWE is expected to post an increase of nearly 13%. So, I recommend investors hold on to WWE stock for a while and realize this expected return.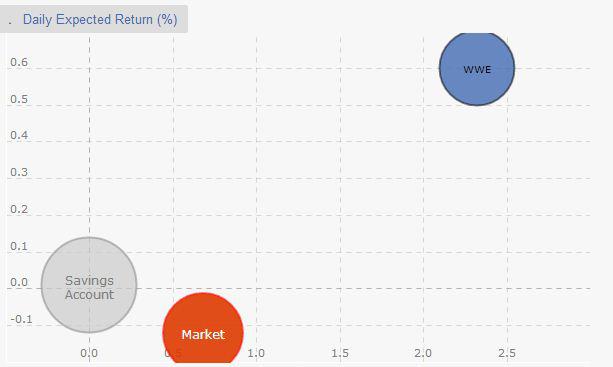 Source: Macroaxis
According to Bollinger Bandanalysis, the current lower band of WWE stock is 9.83 while the upper band is 17.72. With the current stock price of $13.71, it can easily be said that overall demand of WWE share is falling, which can suppress the stock price in the coming future.

Source: Macroaxis
WWE has a historical hype elasticity of -0.04, which means that price of WWE stock would decrease to $13.67 on the announcement to the next headline. The average volatility of media hype impact in the WWE stock price is close to 3866.7%.
(click to enlarge)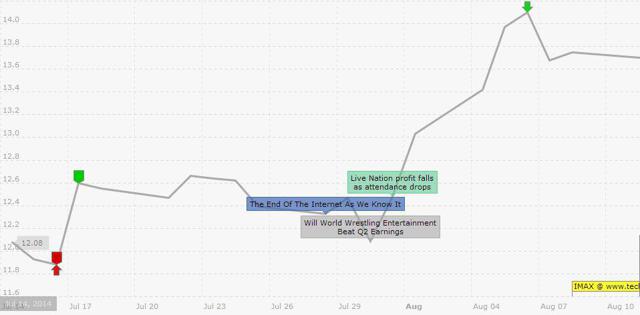 Click to enlarge
On July 31st, 2014, WWE's reported loss per share was $-0.19 in the second quarter of 2014. The stock under-performed as compared to last year's second quarter results by $-0.26.
(click to enlarge)

Click to enlarge
Source: Daily Finance
WWE second quarter revenue for the current year is$156.31Million. This was 24.45% more than the last year's 2nd quarter results.
(click to enlarge)
Click to enlarge
Source: Daily Finance
Dividends per share reported are same as compared to previous years.
(click to enlarge)

Click to enlarge
Source: Daily Finance
Future Valuation
As per the yahoo finance analyst estimates, the next quarter average earnings estimate is $-0.07. Current quarter earnings were $-0.17, and the current price of the stock is $13.71. Based on this, the average price estimate is $5.6, making the stock highly overvalued (overvalued by 59.1%) at the present moment in time.
Conclusion
I am bearish on the future of WWE stock. At present, this stock is overvalued. Although, the price of the stock would not rapidly fluctuate within the next 30 days, however, long term investors should refrain from buying this stock.
Disclosure: The author has no positions in any stocks mentioned, and no plans to initiate any positions within the next 72 hours. The author wrote this article themselves, and it expresses their own opinions. The author is not receiving compensation for it (other than from Seeking Alpha). The author has no business relationship with any company whose stock is mentioned in this article.