Editors note: This article originally appeared here on Contrarian Profits and is re-posted with permission. My opinion of new Magic Formula® stock and recent IPO King Entertainment (BATS:KING) aligns closely with those of Alexander Wissel, the author of this piece.
Last week we saw mobile superstar King Digital Entertainment PLC (KING) go public. But instead of IPO glory, investors saw the stock plunge by 15.4% on its first day of trading. It marked the worst performance for an IPO this year.
This is surprising. The company is one of the most profitable mobile application (app) companies of all time, making billions, entering a stock marketplace that has been incredibly hot for Initial Public Offerings (IPOs).
Easy and Unsustainable Cash
The reason for this is that U.S. markets are flush with "easy" cash. In fact, there have been few times that have been as perfect as right now to go public. It's even better than during the dot com era.
The biggest difference between the hot IPO market of 2000 and the one today has been earnings. Companies going public today generally report some sort of income, even if the bottom line is still negative. Unfortunately, just because a company has earnings, doesn't mean that they're sustainable.
King Digital Entertainment has earnings, impressive ones at first glance. However, as an investment, the stock looks more likely to give your portfolio a cavity than profits…
So what went wrong?
There were warning signs if you were looking for them. You needed to look just at the valuation to see the cracks in the publicity image of the most popular - some would say addictive - mobile game today.
Well, let's take a look at the current business of King. It's not just about Candy Crush. The company has a stable of other games. Take a look at King's product spread with Daily Average Users and Daily Average Game Plays below.
The user stats are impressive, no doubt.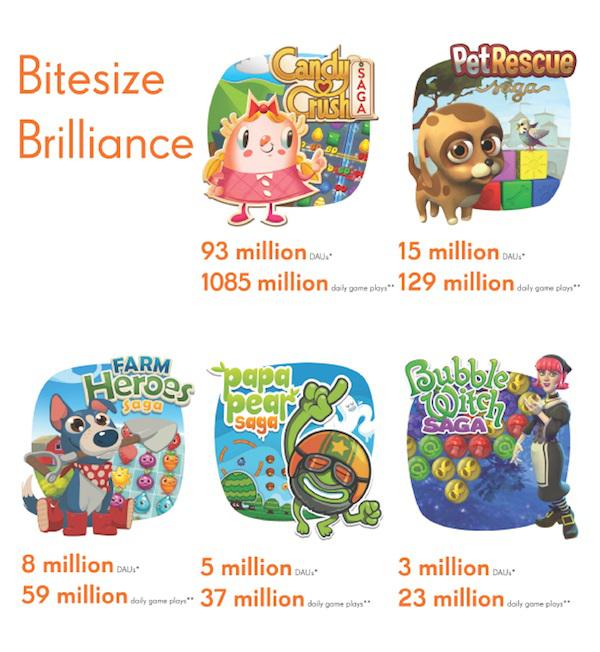 These numbers look good, but they're all red herrings in my book.
The company raised $500 million in this IPO at $22.50 per share. Underwriters placed the projected price-to-sales (P/S) at 2.9. This is interesting because it severely undervalues the company relative to its peers. Generally the opposite occurs with IPO-exaggerated pricing.
Compare that to other mobile and gaming powerhouses. We see that Zynga has a current P/S of 5.1; almost 43 percent more, while Activision Blizzard is around 3.3.
So there was definitely a discount priced into the stock from the very beginning… as though the underwriters knew exactly what we feared the most.
I have to say the most telling and perhaps my favorite statement in the entire IPO filing was this:
"We believe we have a repeatable and scalable game development process that is unparalleled in our industry,"
Yeah, file this comment under famous last words…
Past Failures…
We need only look at some of the mistakes of recent history to know that this game could be a one hit wonder, never to be repeated.
Look at Zynga (NASDAQ:ZNGA) if you want an easy example.
Here was a company that had incredible success with FarmVille, and a seemingly endless ability to produce new games with equally addictive - and profitable - qualities. The stock had a strong IPO opening at $9.50 and hit a high of just under $15 a share in just under a quarter.
Then the tide turned. Players migrated, profits sank, investors bailed and the stock suffered. It has been under $5 more or less since July of 2012. It's a cautionary tale for any Candy Crush speculator.
I know only too well. I was an investor who was very bullish on Zynga and its future prospects when it first entered the scene. I'd known about it for a while since I had a few classmates and colleagues who worked with or for the company. The potential for it seemed limitless.
Until the cold reality of the mass market's attention span settled in that is…
Remember ZYNGA had a stable of "performing" games as well as a promising pipeline, and the misguided belief that the next billion-dollar game was only a quarter away.
KING looks like a case of déjà vu.
Angry Birds, One Hit Wonder Success
Consider that Rovio Entertainment, creator of Angry Birds, another one-hit wonder, has done as well as anyone has with transitioning mobile to a brand presence. The company is still a shadow of what it was as a mobile app superstar.
While it's not public, it does report earnings. It earned about $67.6 million on revenue of $106.3 million. I think that's the future for KING. It may report staggering revenue of $2.62 billion this year, but until it turns those candies into a brand, the long-term future is dismal.
That's not to put down the staggering numbers the company puts up now. I mean $2.6 billion in gross income is nothing to sneeze at.
The company still has 1.2 billion daily game plays from more than 128 million active daily users. It holds the crown for the top grossing mobile app ever. You can see from the image above that Candy Crush Saga makes up the largest chunk of that revenue and number of daily users.
This company could pull a FB and rebound sharply in a few months. It could be all the rage for momentum investors if the firm reports a good earnings quarter. But let's not kid ourselves. The potential for loss here is much greater than that for profit.
Moving Forward
It's worth remembering that as investors we try to stay away from speculation and put our hard-earned money in places where it is least likely to be lost, and most likely to grow.
Again, look to Zynga if you need a script for this stock. The King IPO could initially do very well for investors and after the opening buzz dies down there could be another positive bump.
However. if the company's trends continue downward quarter by quarter, the stock should quickly follow as investors - like irritable teenagers - move on to the next best thing.
So take this "Sweet" IPO with a bit of reticence, even as a value option.
It might be spectacular, it might look tantalizing and it might be exactly what you think you want to see. Nevertheless, like most candy and sugary sweets, the crash afterwards will make you wonder why you ate some in the first place…
We'll try to stay away from the petty candy analogies tomorrow as well.