I read a very good article from Joseph Delaney about Chesapeake Energy (NYSE:CHK). Sometimes I really wonder how one could do such detailed financial/fundamental analysis on a company. I couldn't. But I really want to say "kudos" to great contributions, and a great site (NYSEMKT:SA).
Although I don't have much to offer in terms on analyzing fundamentals, but I still can contribute a little on the technicals. I believe in harnessing the results of financial/fundamental analysis to complement technical analysis to give me a better edge, in terms of entry and exit points.
As you can see from the weekly chart, CHK has reached a potential resistance area after the week it reported good results (which has also broken the 200EMA). CHK has been stalling around the 25.2 region for 2 weeks. This area was once a major reversal point back in March 2013 and another minor one in June 2010. In my opinion, potential investors who hasn't yet vested might want to look at re-entry around the range 22.7-23.9 for slightly better risk and reward, instead of chasing on the high.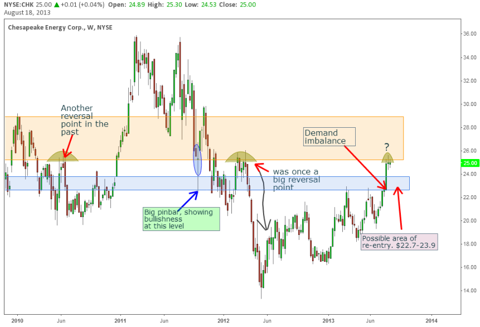 Disclosure: I have no positions in any stocks mentioned, and no plans to initiate any positions within the next 72 hours.