Since Q3, 2012, mortgage servicing rights (MSRs) are trading like wildfire. Selected transactions dating back to 2011 tally more $1.2 trillion in unpaid principle balance (UPB):
$215bln purchase by Nationstar & GreenTree of BoA MSRs
$200bln purchase by Vericrest of ResCap MSRs (figure assumed based on price paid and historical comparable MSR pool sales)
$160 bln purchase by Ocwen/Walter of ResCap MSRs
$100 bln by Bank of America to sell
Other deals summarized by Deutsche Bank:
(click to enlarge)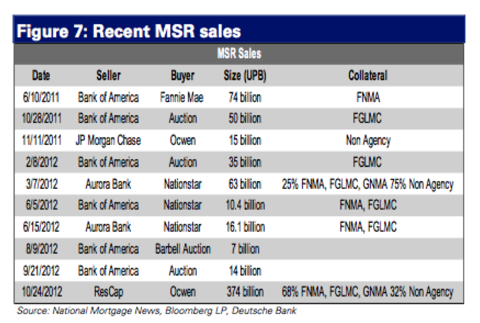 Click to enlarge
Deals are trading at lower and lower prices, hurting margins on these pools:
(click to enlarge)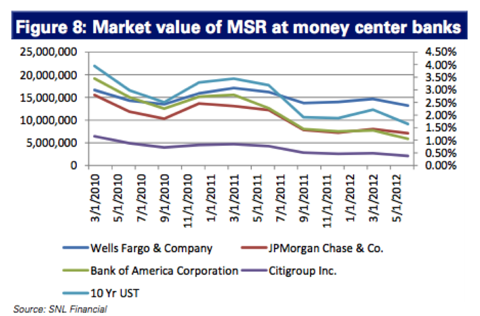 Click to enlarge
According to Deutsche Bank, the market value of the top 20 MSR holders is more ~$40 trillion ("MSR MV" column):
(click to enlarge)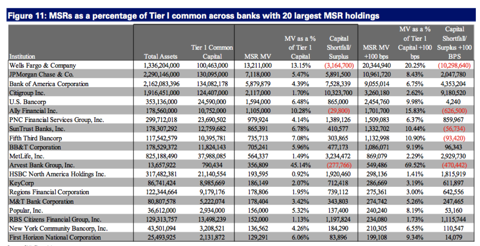 Click to enlarge
Let's assume the 80/20 rule - that these top 20 servicers comprise 80% of the market. That's a total market size of $50 trillion in MSRs available. The 13 transactions outlined above constitute more than 2% of all MSRs, which much of these assets flowing to Ocwen, Nationstar, and Walter Investments.
Given the recent CFPB rules about mortgage servicing, can we afford to let one of these servicers fail?
MSRs operate on a razor thin margin - as small as 20-50 basis points in margin. Just a few slips of the modeling pen or an unexpected downturn in a single market could cause one of these servicers to fall over. Seems that these servicing firms are banking on the housing recovery a little too soon... I just hope they're right.