I have never been a big fan of William 'O Neil's cup with handle technical formation.  But lately they seem to be the technical signature of the widespread turn taking place in the market. 'O Neil, founder of IBD and one of the sharpest stockpickers ever, developed this technical read in his 1988 book How To Make Money In Stocks.  He specifies a complex array of dimension ratios for the cup, volume ratios, and other requirements for the basic shape to be a proper cup with handle.  Essentially, you have a high volume descent into the cup, milder volume as the cup forms, a climb for the right side usually with some volume, then a quieting down as the all important handle forms.  The formation is useful because, when the quiet handle breaks to the upside, the climb tends to be very energetic.  Since most apparent cup and handles are not perfect enough for 'O Neil purists, I'll invent a broader view of them and just call them wheelbarrows.  They look more like a wheelbarrow to me.  So much of what is happening in the market is similar to these examples: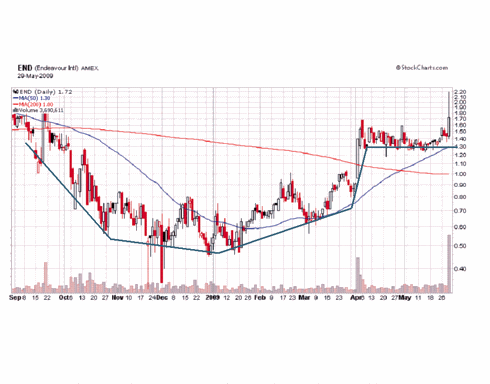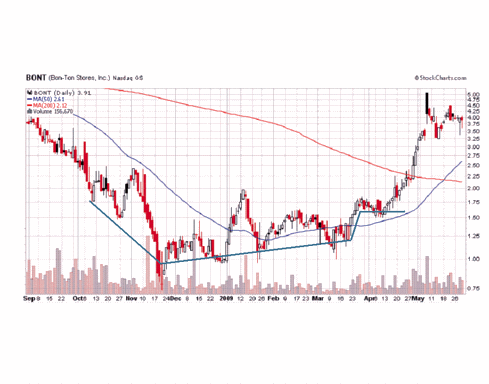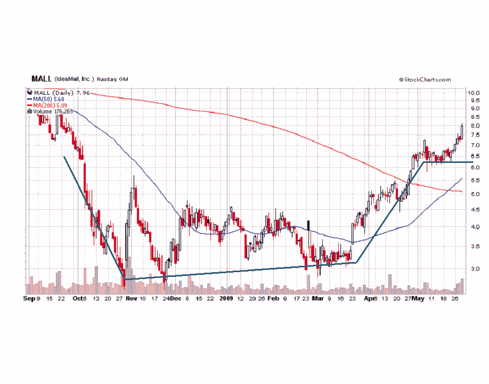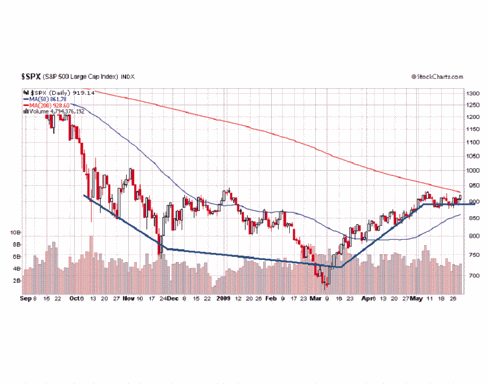 The 3 stocks shown here - END, BONT, and MALL are an oil, a retailer, and a tech.  And they are all small caps.  They typify the leadership groups that were the first to turn down and are, apparently, leading the S&P 500 (the last chart) back up.  Other wheelbarrows - ENG, OPTV, CROX, GEOI, IO.  They tend to:
1. have already broken back above their 200 dma
2. have already proceeded past or are right at their 50/200 crossover
3. have already formed and broken their wheelbarrow handle to the upside
The last chart, the S&P 500, isn't a very pretty cup and handle, but we'll take it as a wheelbarrow.  It is coming up against a major resistance level, the 200 dma, which puts the rally at a big fork in the road.  If the leader groups are any indication, the S&P will climb through this line, breaking its handle and inducing a 50/200 cross.  But it is a major resistance and it is the broad market, so we shall see.