Investment Summary:
Regardless of what or where you believe the future of technology to be found, at this point, invariably, electronics need a power source.
Solar panels in recent years have been limited, with regard to profitability, by the necessity of glass as the medium for the energy-generating cells.
Enter Ascent Solar Technologies Inc. - which can now produce solar cells on plastic, opening the door to product integration as a power source for wearable technology.
To consider: Y-o-Y product revenue growth of 93% for 2013, from 2012, reflecting the global commercialization of next-gen solar technology.
Six year, 500M joint venture underway, formed with bilateral provisions courtesy of the American government and a Chinese province (Jiangsu).
Opening Remarks:
The capital-intensive energy industry tends to be heavily leveraged, with regard to individual company's debt loads, leading to trouble in periods of low inflation. As consumer attention shifts in 2014 toward clean energy alternatives, driven by decreasing product costs and nascent, growth-stage clean energy consumption [trend] headwinds, I believe the reasonable conclusion would be to look for a corporate equity positioned to benefit from capital allocations: especially those aimed to create a sustainable competitive advantage, with regard to economies of scope, predictably reducing product expenses.
Trolling the various analyst dumps and personally screening through tens if not hundreds of purported "leading solar energy provider[s]" in the final weeks of 2013's record year, I saw little that would lend itself to being a home run. At this point in my investing "career," I'm only sure of one thing: no model, term, textbook strategy, etc. could possibly hope to explain the wealth of corporate diversity the modern investor finds in most screened universes of securities. I'll leave my tangent at the personal conclusion of/that each new company, regardless of whether or not I add it to my portfolio, provides a new opportunity to learn: while not every business might be a winner, product-line adoption and sustainability of earnings, or the lack thereof, sometimes have little correlation to the prospective investor's chances of seeing a new [entrepreneurial] take on optimal capital structure.
My biggest takeaway from studying the CFA level-one material (successfully, I might add) for the December 2013 sitting was the importance of mosaic theory: in short, it posits that the global markets should be visually-conceptualized as a mural composed of millions, if not billions, of tiny pictures, analogous to the diversity (not to abuse the word) of capital markets, corporations, and even securities (i.e. stocks, bonds, options, swaps, the list goes on) available to the modern investor at a pro-rata initial-capital dollar threshold decided by the various brokerages available to the non-accredited investor.
I make the above point not to brag, but rather to illustrate what I hope will bring the reader the same moment of clarity it brought me: when you watch a TV "crime scene investigation show," do you find yourself frustrated that, from the third-person view the camera grants you, the facts lend themselves to an easily-determinable conclusion? My hypothesis is that from any two points you can determine the location of a third. Just like modern "detective" themed television features an observer, a predictable variable [read: quantifiable, for our purposes], and an unknown [the crime, or third point], I believe an investor can frame an alpha portfolio by knowing his or her self [the market observer], allocated core-satellite pro-rata by strength of conviction with regard to dominance hypothesis [quantifiable by industry trends, trading multiples, etc. & necessarily specific on a company-by-company basis], and last, but certainly not least, the security, or portfolio of securities, analogous in this case to the unknown.
Heisenberg's uncertainty principle, most commonly applied in esoteric discussions of particle physics, is often overlooked with regard to the mathematical precision it allows through its recognition of ambiguity:
"In quantum mechanics, the uncertainty principle is any of a variety of mathematical inequalities asserting a fundamental limit to the precision with which certain pairs of physical properties of a particle known as complementary variables, such as position x and momentum p, can be known simultaneously." (Source: Wikipedia)
My conclusion is that modern valuation techniques fundamentally deviate from their purported certainty in that they seek to define intrinsic value, where the company is today, while simultaneously defining their per-share determination through the use of projected growth rates, which I posit we can liken to momentum. In seeking to define "complementary variables," in my opinion, modern valuation techniques must be intrinsically-flawed in that they are, by definition, both cyclically redundant and mathematically impossible. To paraphrase, I believe that modern portfolio theory needs to quit trying to divide by zero.
So January finds me stumped: do I give up on the debt-laden sector (cough, Chinese company Chaori), or settle for a mediocre contender on the hopes that the hype translate into something I could hold until at least January of 2015 (long-term gains as opposed to short-term gains, for tax purposes)? Bereft of dominant choices, fate, luck, or plain-old hard work (it was, certainly, at least one of the three) brought Ascent Solar, Inc. (ASTI) to my attention, through a news article announcing their January 2nd definitive agreement with the Jiangsu province of China; in hindsight, I struggle to recall exactly what triggered the instinct, nearly three and a half months prior to finally being able to justify a specific method by which to reasonably value the joint venture and common equity's expected forward value, but by January 7th I had accrued 10,000 shares at a cost basis of $7263, inclusive of commission. The following pages will seek to explain my fervent resolve and marked faith with respect to the commonly-bandied, Buffett-teer (i.e. like musketeer, but with one of the world's wealthiest investors and father of the management 100-year plan for strategic planning at the top level) [Buffett-teer] phrase "I'd rather be approximately right than precisely wrong."
Last thought before we begin…
Given the complexity of this company's capital structure, and my personal ownership, I feel that it is important to preface both the preceding and following pages with a disclosure and reminder that I am now long 25,800 shares of this security, and thus, at a minimum, subconsciously-biased toward the success (measured commonly by holding period return) of this security. In no uncertain terms, this means that my conclusion, if accurate, would result in abnormal returns (alpha) well in excess of the market. On the Thursday, March 20th, 2014 edition of the Charlie Rose Show, guest Jaron Lanier (I just ordered his book Who Owns the Future today, Friday, March 21st, as I write this revision), concisely illustrated the limits of statistical modeling in a manner reminiscent of MacGyver - holding his thumb above the table, he traced an imaginary line down toward the table, culminating in a show of emphasis at the point in which his thumb ran into the table. Statistical modeling, he explained, might have perfectly followed his finger's progress to the point in which his finger reached the table; however, whereas in the real world a tangible barrier prevented his finger's forward progress, statistical modeling would have extrapolated his finger's path to have continued through and beneath the table. Summarily, he concluded, "when this perfect machine that seems to be making infinite wealth forever, hits some barrier, because of the real world, that can't be represented by statistics," conservatism principles will constrict economic growth to the extent to which they are [cyclically-redundantly] assumed.
Avoiding a progression into a very technical study of the limitations of modern portfolio theory, a common source of derision within Berkshire-Hathaway's annual letters to shareholders, I will leave the discussion of modeling risk with a final quote from Jaron Lanier's interview: "The only way that your wealth can mean anything is if you're part of a functioning civil society … If we concentrate wealth so much that the whole thing is falling apart into a huge slum, which is more or less what is happening in my view, even our own wealth is no longer real at the end of that process."
Ascent Solar Technologies, Inc.
Industry: Retail Discretionary
Sector: Consumer Discretionary
Market Cap: $41.50 (M USD)
52-week Range: $.4948 - 1.3300
Next Earnings Release - 5/09/14
Business Description: "Ascent Solar Technologies, Inc. develops thin-film photovoltaic modules with substrate materials. Its solar modules can be directly integrated into electronics, military and consumer portable power products, transportation systems, building elements, and space/near-space applications." (Source: Bloomberg)
Contingent Drivers of Upside (premium):
"Definitive agreement signed to form Joint Venture (JV) and build new manufacturing plant in Suqian of Jiangsu Province, China. Suqian will provide RMB200M ($32.5M) for the JV" (Source: Form 8-K).
Fiscal 3Q and 4Q of 2013 saw extensive development of sales and distribution channels, on a global scale (Source: Form 8-K from 3/6/14; Form 8-K from 11/7/13).
Commercialization of a project with original funding stemming from the US Department of Defense; Initiation of a new government contract (Source: Form 8-K).
Norsk Hydro ASA (OTCQX:NHYDY) owns a significant portion of the preferred stock series, Class A and B warrants, and even the common stock itself: this is significant because the Wallenberg family, Swedish bankers and industrialists once "thought to indirectly control about a third of the national [Swedish] GDP in 1990," financed the creation of Norsk Hydro ASA in 1905. (Source: Wikipedia; 3/28/14 Form 10-K)
Specialty / Consumer pricing of $5-100 per watt, as opposed to $.40-.80 in commercial space.
2014 Guidance - "For the full year 2014, we are projecting to grow more than five hundred percent, which translates to approximately $5M to $6M of sales, of which Enerplex will be approximately 90% of the total." Source: March 6, 2014 - Fiscal 4th Quarter and Full year 2013 Financial Results Transcript
Contingent Drivers of Downside (discount):
Complexity of capital structure, in which the [cumulative] dividends owed to preferred stocks, held in majority by venture capital fund, Ironridge Global, pay a variable coupon structured against the per-share value of common equity - if the price of the stock increases, within a limited period, the coupon has the potential to rise from its current ~3% to as high as 15%.
When the pre-definitive agreement with China was first announced, investors were excited: when the honeymoon-period ended and they realized the duration/lengthiness of the process, analyst coverage was abandoned and investors largely forgot about the company and its common equity.
Traded on the NASDAQ Global Market tier, which required a minimum (moving average) above $1 per share: failure to meet this requirement shifted ASTI to the NASDAQ Capital Market exchange, reducing transparency/liquidity, which resulted in "an additional 180-day period within which to regain compliance with the $1.00 bid price requirement, through September 15, 2014," forcing shareholders to assume the risk of delisting into / risk assumption of OTC (over-the-counter) or pink-sheet markets.
Historical Price Chart:
(click to enlarge)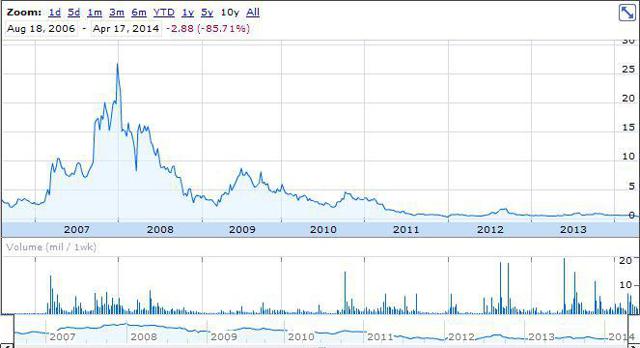 Click to enlarge
Source: Google Finance
Dominance Hypothesis [reason to keep]: Due to past discrepancies between shareholder patience and the extended-timeframe inherent to M&A-related events, investors have largely neglected a company that reported 4Q-revenue that was up 112% from the prior quarter, driven by strength in the EnerPlex™ product line, resulting in total year product revenue of $1.1 million, a 93% increase year-over-year. In addition, it is important to realize how beneficial their definitive agreement truly is toward the company's intended full-scale commercialization:
The agreement covers a multi-faceted, three-phase project. Completion of all three phases would involve an anticipated investment of up to $500 million over six years, comprised of equipment, intellectual property and cash funded by Suqian, Ascent and other supporting investors to be brought in by Ascent.

In the initial phase of the project, Ascent and Suqian will form a joint venture entity ("JV") in which Suqian will inject approximately $4.8 million in cash and have majority interest of 75%. Ascent shall inject approximately $1.6 million in cash and hold a minority interest of 25%. Subsequently, during 2014 Suqian will further inject the balance of the committed $32.5 million while Ascent will contribute its proprietary technology and intellectual property, as well as certain equipment from its Colorado facility, thereby increasing its shareholdings progressively up to 80% ownership.

The JV will build a factory to manufacture Ascent's proprietary photovoltaic modules. Ascent will be required to purchase this factory within the first 5 years at the initial construction cost, and will also have the right to purchase Suqian's ownership interest in the JV at a cost of 1.5 times Suqian's cash investment.

(Source: Form 8-K filed 1/2/14)
Furthermore, the exhibit attached in the same Form 8-K cited above goes on to specify "additional incentives" provided by the joint venture:
Suqian will also provide a package of additional incentives including:

1. A 5-year corporate tax holiday and a further 50% tax rebate over the next 5 years,

2. Full rebate of value-added tax for the first 2 years and 50% rebate for the subsequent 3 years,

3. Free accommodations for up to 3 years for key scientists, engineers and management personnel of the JV.

4. As Phase two of this program is implemented, Ascent will have the option to purchase approximately 215,000 square feet of land zoned for commercial usage at a favorable price at 10% above the government's prevailing cost, which may generate income for Ascent.
(Source: Form 8-K filed 1/2/14)
For reference, I included the corresponding material definitive agreement from July 2, 2013:
The agreement covers a multi-faceted, three-phase project. Completion of all three phases would involve an anticipated investment of up to $500 million over six years, primarily funded by Suqian.

Under the framework agreement, in the first phase Ascent and Suqian will form a joint venture entity ("JV") in which Ascent will have majority interest of up to 80%. The JV will build a factory to manufacture Ascent's proprietary photovoltaic modules. Ascent will contribute proprietary technology and intellectual property, approximately $1.6 million in cash and certain equipment from its Colorado facility. Suqian will provide cash of approximately $32.5 million as well as rent-free use of a 270,000 square foot factory that is currently being built in the Suqian Economic & Industrial Development Science Park. This factory is expandable to 1,000,000 square feet for phases two and three of the agreement. The total project size of phase one under the agreement is expected to be approximately $160 million. Ascent will have the right to purchase this factory within the first 5 years at the initial construction cost, as well as the right to purchase Suqian's ownership interest in the JV for a modest nominal cost above Suqian's cash investment.
And most importantly, highlights of and a link to the full contract from the Form 10-K filed on 3-28-14, in which it was included as an exhibit:
(1) Project Investment Scale and Period

1) The total investment amount is USD 500 million and is divided into 3 phases, including:

Phase 1 investment USD 30 million, mainly used for constructing back-end application components packaging line, and the construction period is Six (6) months;

Phase 2 investment USD 130 million, mainly used for constructing front-end thin-film coating, mid-section laser cutting and patterning cell process lines and environmental protection associated equipment, and the construction period is Eighteen (18) months;

Phase 3 investment USD 340 million, mainly used for constructing new thin-film photovoltaic components and accessories production lines, developing and manufacturing the associated equipment in its upstream and downstream industry chains plus film photovoltaic components, the construction period is Forty-eight (48) months.

The construction will start in the year of 2014 and last for six (6) years.

…

(2) Registered capital and contributive proportion

1) Party A and Party B shall jointly set up a Sino-Foreign joint venture company-ASCENT SOLAR TECHNOLOGIES (JIANGSU) CO., LTD with a total registered capital in Phase 1 and 2 of no less than USD 160 million (equivalent to RMB 1 billion approximately), Party A and Party B shall contribute 20% and 80% respectively.

…

[…] and it is agreed that CERBERUS (NYSE:HK) INVESTMENT GROUP LIMITED will be introduced as the third shareholder in the Joint Venture Company to hold 3% of the shares, which will be transferred from the shares held by Party B. In later stage, the Joint Venture Company will successively complete final registration of increased capital. The incremental capital obligation of the 3% shares held by CERBERUS INVESTMENT GROUP LIMITED in the Joint Venture Company will be undertaken by Party B. The final shares held by CERBERUS INVESTMENT GROUP LIMITED in the joint venture will be determined by the final shareholdings held by Party B.

3) Since the date of signing this contract, within the fifth year, Party B shall acquire all the shares held by Party A for 1.5 times of the cash amount contributed by Party A. If the acquisition were to take effect earlier, the acquisition price shall be negotiated and agreed upon mutually.

…

Article 7 Project Expected Return

1) After Phase 1 and Phase 2 construction is completed and put into operation, it is expected to realize 25MW production capacity annually and the invoiced sales will reach RMB 600 million each year, besides it is estimated to generate RMB 60 million tax revenues.

2) Once the project is put into production and operation, it shall bring about a total investment scale of USD 500 million into Suqian for the flexible photovoltaic components industry in 6 years, it is expected to realize RMB 6 billion annual sales starting from the 6th year and its tax payment scale will reach RMB 500 million per year.
Joint Venture's Book Value Added per Share Increasing Equity:
Accounting for Shares Reserved to estimate fully diluted shares outstanding:
(click to enlarge)

Click to enlarge

Model Assumptions:
500M factory investment due in 5 years (at initial cost) treated as long-term construction project.
Cash and Cash Equivalents reflecting the cash infusions by both Ascent and Suqian, per the JV agreement.
Added Minority Interest (Suqian's) from the JV, equal to the cash invested, $37.3M, times the contract rate of 1.5X, with no [other] adjustment for time value, as stated in the terms of the agreement.
The issuance of the newly registered 125M shares (double prior registration) will be made at or near market value, reflecting the principal that changes to capital structure do not directly result in changes to enterprise value.
Accumulated Deficit (R&D credit) is drawn-down against up to 25% of taxable income
Contingent (floating) provisions relating to the effective coupon rate of the preferred will cost the company the stated (cumulative) rate of 8% per annum.
That the market price will continue to trade within the range indicated by a regression of historical multiple(s) of book value per share.
Equity Value per Share is potentially more accurate when the denominator fully accounts for contingent dilution events - my calculations of equity value per share will thus be made using a fully diluted share count, with contingent dilutions fully recognized: my justification is that any share repurchases or contingent-event "expiration" provide easily-associable drivers of upside.
(click to enlarge)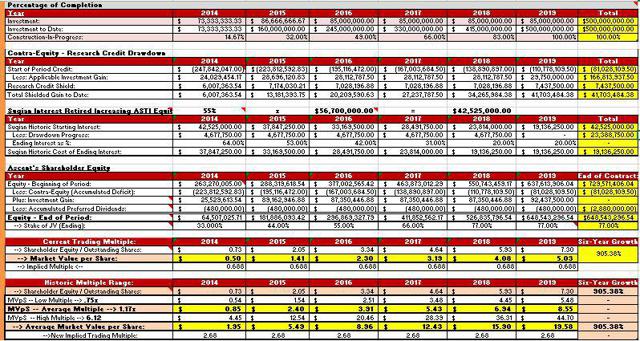 Click to enlarge
Bloomberg Terminal Financial Analysis <FA>, for reference
(click to enlarge)

Click to enlarge
(click to enlarge)

Click to enlarge
Price Target, Year End 2014: $1.95; Year End 2019: $19.58
Taking the average of the share value implied by the FY2013 low, average, and high values for price to book ratio, equally weighted, my model determined a market value per share of $1.95 YE 2014, representing an extreme upside from the [$.50-75 per share] it has oscillated around YTD in 2014. At the end of the project "construction phase," YE 2019, the same methodology determined a per-share price of $19.58. These per-share values were calculated at a fully diluted share count of 88,791,623, based on the scheduled [contingent] issuance of shares as outlined in company filings. For reference, the company currently has 75.90 million shares outstanding.
Bloomberg's Consensus Estimate of Book Value - Divergence or potential for upside?
While my model estimates YE 2014 Book Value / Share to weigh in at 73 cents, Bloomberg <FA> reports a FY 2014 estimate of $1.73, while current standing remains at $.12. I believe this is derivative of the lack of analyst coverage, resulting in the absence of any adjustments from company reported figures. As the company's figures are indicative of R&D-phase accumulated deficit creation, I believe the current BV/Share, $.12, is a clear indicator of the joint venture not being priced into the current market price.
[Bloomberg's] Current Price to Book Ratio: 5.65x
Whether my 73 cents or Bloomberg's $1.73 is ultimately correct, 5.65x the chosen value represents a significant premium to where the stock currently trades.
(click to enlarge)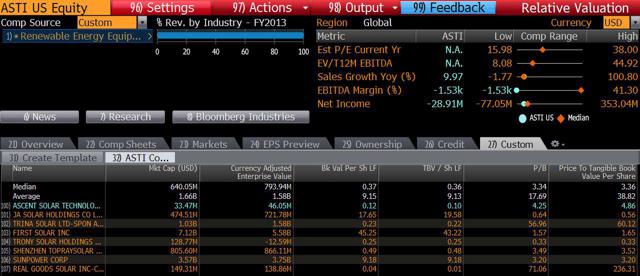 Click to enlarge
Highlights from recent company 8-K Current Reports:
November 7, 2013:
Q3 2013 Highlights

Ascent Solar announced its intention to build a new manufacturing plant in Suqian, China with funding from Suqian government in the form of a Joint Venture. The Joint Venture is expected to accelerate Ascent's penetration of consumer electronics and specialty market applications by way of China's large and growing consumer base and readily available contract manufacturers.
Ascent Solar expanded EnerPlex distribution into the United Kingdom & Ireland with West Coast Limited, utilizing West Coast's established distribution channels in these key European geographies.
Ascent Solar announced the Company's partnership with the Breitling Wing Walkers. In tandem with the launch of Ascent's EnerPlex series of integrated solar products in the United Kingdom, Ascent teamed with the Wing Walkers for their European Tour.
Ascent Solar debuted the newest additions to its EnerPlexKickr™ Series as well as introduced a new line of EnerPlex products at the Outdoor Retailer Summer show in Salt Lake City, Utah.
Ascent Solar announced a sponsorship agreement with Denver Broncos Football Club, including in-stadium advertising rights at Sports Authority Field at Mile High, as well as promotional rights for Ascent's EnerPlex products.
Ascent Solar announced the completion of its Series A Preferred Stock private placement resulting in incremental gross proceeds of $5.0 million to the Company.
Ascent Solar announced the debut of Jumpr™ Mini, the thinnest 1350mAh powerbank ever. With the same dimensions as a conventional credit card and at only 6mm thick, the Jumpr Mini is capable of boosting most smartphones' batteries 55-85% on a single charge.
Ascent Solar debuted the Jumpr Stack, a magnetic battery stack with revolutionary cordless charging ability. The Jumpr Stack is available at Ascent's retail locations in the Denver area, online at goenerplex.com, as well as at all Frys Electronics stores.
Ascent Solar announced debut of the EnerPlexKickr I and II, the newest additions to the Kickr line of personal solar chargers. Ascent's Kickr products are lightweight, flexible and compact, allowing for easy attachment to outdoor equipment such as bikes, tents, and backpacks.
Ascent Solar launched NFL licensed' Denver Broncos branded EnerPlex products. Denver Broncos branded EnerPlex products are available at goenerplex.com as well as the Company's direct retail locations in the Denver Metropolitan Area.
Bill Gregorak was appointed Chief Financial Officer of Ascent Solar Technologies. Prior to joining the Company, Mr. Gregorak served as CFO of Thule Organization Solutions, a manufacturer of personal electronics cases sold under both the Case Logic® and Thule® brands, overseeing operations in the U.S., Europe and Hong Kong.
(Source: Form 8-K filed 11/7/13)
And on March 6, 2014:
Q4 2013 Highlights

Ascent Solar completed $10M preferred stock financing with Ironridge Technology Co. Funding of first $5M tranche completed in October 2013, with second $5M tranche delivered in February 2014
Definitive agreement signed to form Joint Venture (JV) and build new manufacturing plant in Suqian of Jiangsu Province, China. Suqian will provide RMB200M ($32.5M) for the JV
Ascent Solar debuted EnerPlex Surfr™ battery & solar case for iPhone®5 and 5s at CES 2014
Ascent Solar announced availability of EnerPlex Surfr™ battery &solar case for Samsung S®4
Ascent Solar expanded retail distribution network into Japan
Ascent Solar's flexible photovoltaic modules selected for The Volvo Pure Tension Pavilion Project
Solar expanded retail kiosk locations in California and Nevada
Ascent Solar announced availability of EnerPlex™ products on walmart.com, newegg.com, sears.com and others
Ascent Solar announced debut of EnerPlex Packr™, a solar-integrated backpack
(Source: Form 8-K filed 11/7/13)
Addressable Markets and Key Product Takeaways:
Finally, from goenerplex.com, which seems to be their direct-sales distribution channel, I thought a snapshot of a couple of their products might provide a measure of tangible credibility to the company, their vision, and their assorted product lines: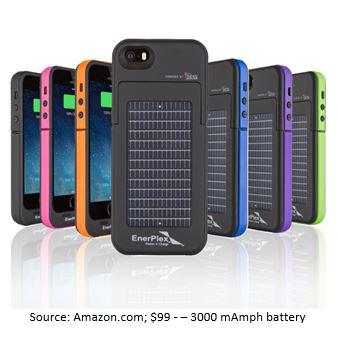 Mophie, a portable power competitor, sells a similar battery case - minus the solar panel and with a smaller capacity: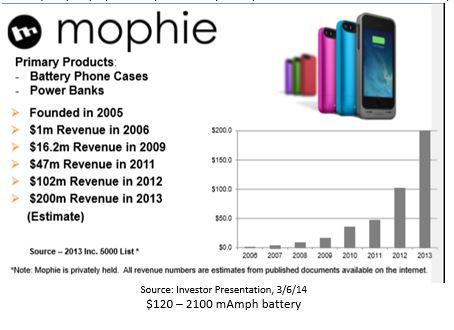 Multipurpose Charging Stations: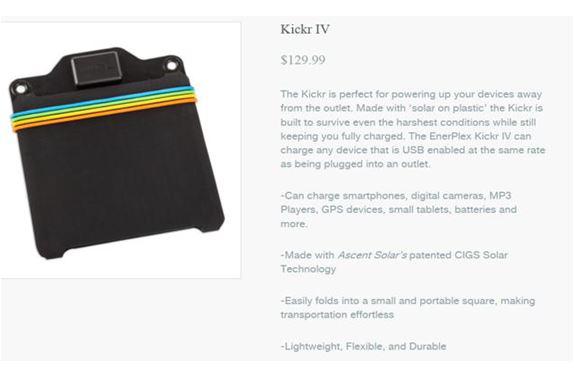 The "Kickr IV can charge any device that is USB enabled at the same rate as being plugged into an outlet"
Folds into a square less than a foot across; unfolds to a width of ~30.5 inches
Also comes in camouflage.
Energy To-Go: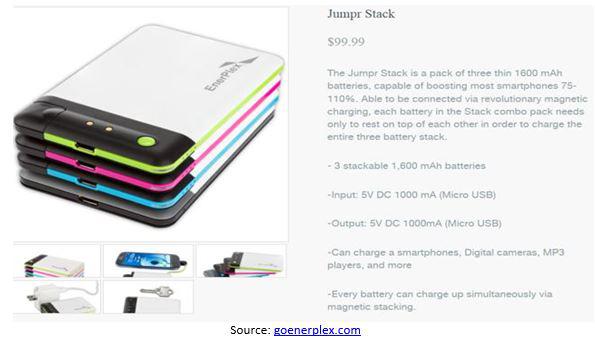 Product Line Interconnectedness & Product Guarantee: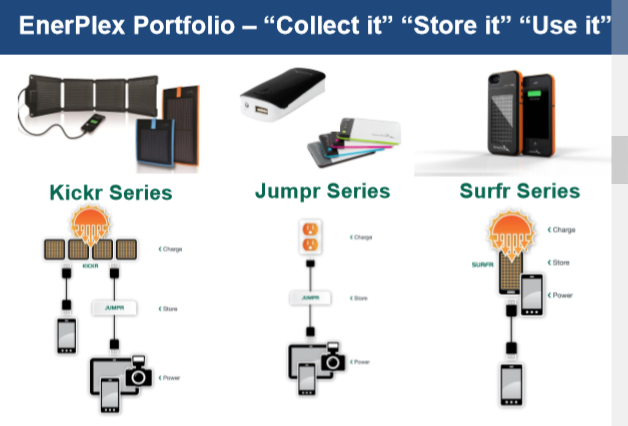 (click to enlarge)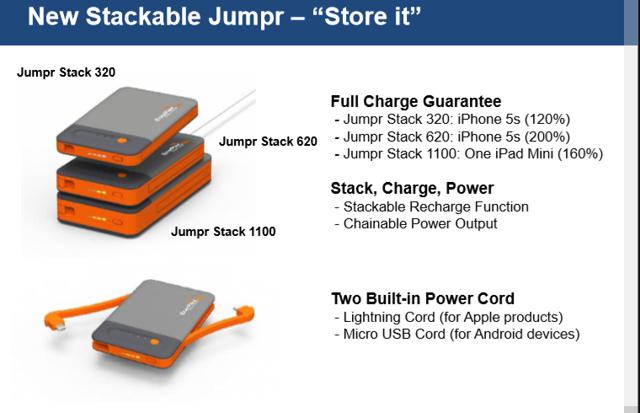 Click to enlarge
Source: Investor Presentation, 3/6/14
Again from the most recent shareholder presentation: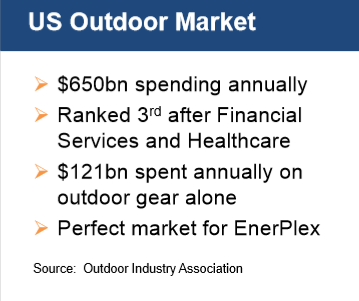 Which they will attempt to address with the above mentioned products, in addition to: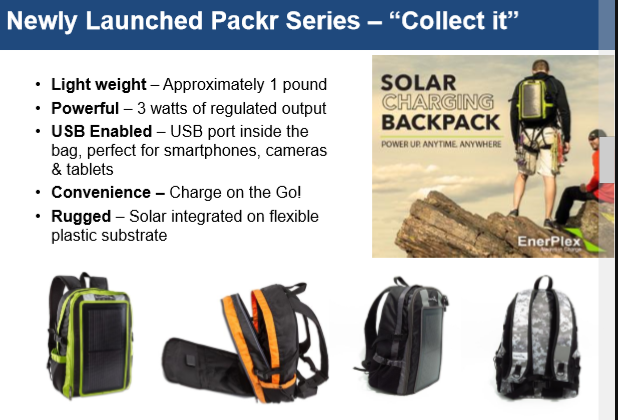 Source: Investor Presentation, 3/6/14
All of the above which they will distribute through: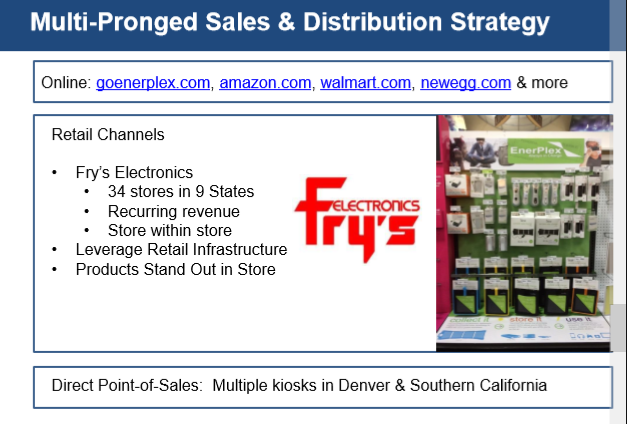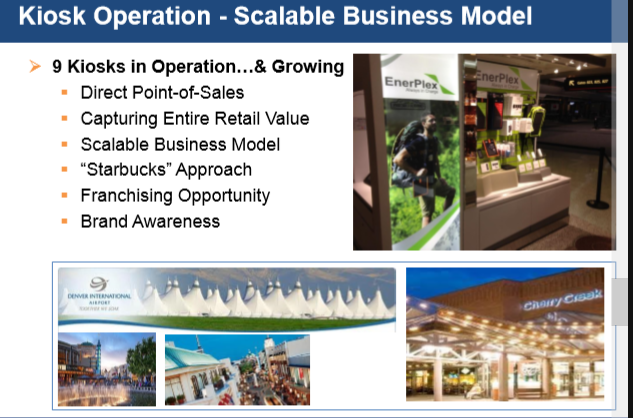 Source: Investor Presentation, 3/6/14
Through these products and distribution avenues, the company believes their addressable market (non-inclusive of Specialty PV), at $5-100 a watt, consists of:
(click to enlarge)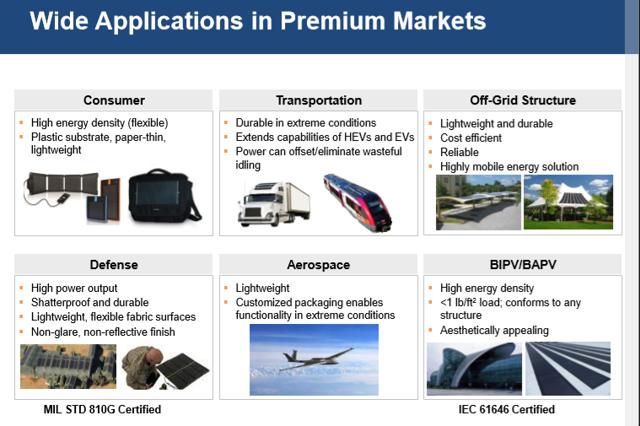 Click to enlarge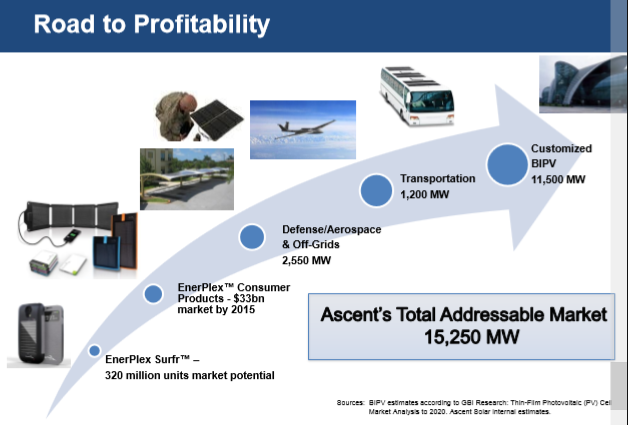 Source: Investor Presentation, 3/6/14
Revenue to date: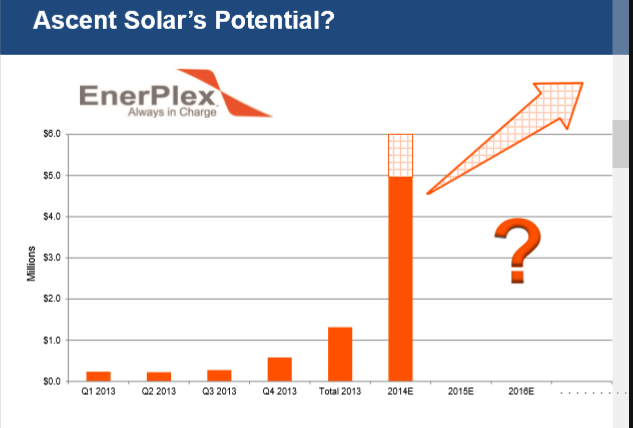 :
Revenues would suggest increasing product adoption, providing reason for innovation to continue:
(click to enlarge)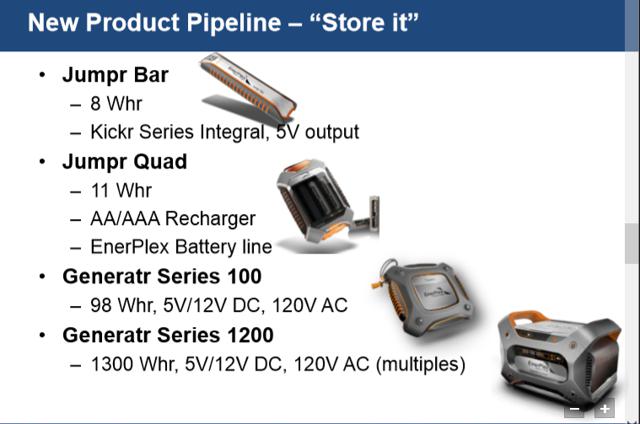 Click to enlarge
Source: Investor Presentation, 3/6/14
Product Line Differentiation: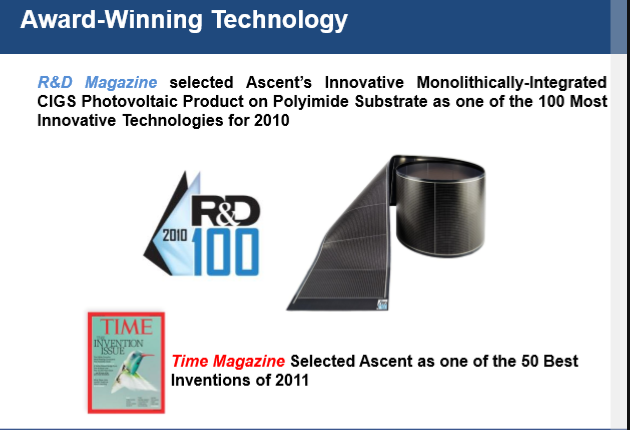 But what really sets it apart?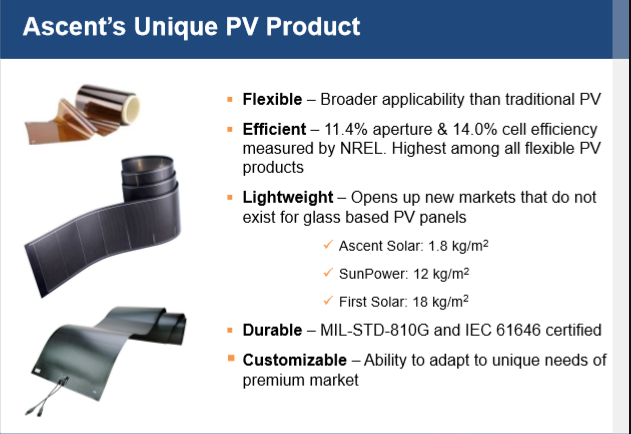 Source: Investor Presentation, 3/6/14
Major Shareholders:
Name of Beneficial Owner

 

No. of

Shares

Beneficially

Owned

 

Percentage

5% Stockholders:

 
 
 
 

TFG Radiant Investment Group Ltd. (1)

 

16,032,842

 
 

26.48

%

Seng Wei Seow (2)

 

5,994,082

 
 

9.90

%

Ironridge Technology Co., a division of Ironridge Global IV, Ltd. (3)

 

4,148,194

 
 

6.85

%

Officers and Directors:

 
 
 
 

Victor Lee (4)

 

-

 
 

*

 

Bill Gregorak (5)

 

-

 
 

*

 

Amit Kumar, Ph.D.(6)

 

454,311

 
 

*

 

Kim J. Huntley (7)

 

90,723

 
 

*

 

G. Thomas Marsh (8)

 

309,942

 
 

*

 

Xu Biao (9)

 

-

 
 

*

 

All directors and executive officers as a group (16 persons)

 

854,976

 
 

1.41

%
Source: Def 14A 12/19/13
Thoughts:
It is always important to ascertain who [else] owns a stake in the security you are considering, as they will be your teammates for as long you both hold, and believe in, the underlying fundamentals of the corporation. In this case, major shareholders include those above; however, that alone might not tell the investor much, as most wouldn't readily recognize the names above: a quick Bloomberg Terminal <HDS> function search will quickly enlighten the technologically-proficient investor to a startling detail: inclusion of more than 100,000 shares within Vanguard Funds (VGSTX if you like mutual "fund'o'funds," yawn).
Interpret that as you may, but as I hesitate to use the "snipping tool" to import Bloomberg data without express permission, I decided to present this thought as an afterthought in this revision, after withholding it from the original. While Vanguard's holding isn't priced into my model, it nevertheless reassures this investor (myself) that Vanguard, commonly considered to be the leading argument against the validity of the efficient market hypothesis (and job-displacer of many a dart-throwing monkey), for the last forever, has more than 10X the exposure I do to this security: selfishly, I can't help but hope the difference in exposure correlates to strength of conviction.
Final Remarks:
When I first submitted this article to the editors, my hope was that somebody would readily be able to see the angle or find the insight I was lacking with regard to modeling certainty and the validity or statistical significance of my conclusions. While I believe my valuation approach provides conservative strength in determining a balance-sheet driven pseudo-book measure of value, a noteworthy counterpoint immediately prevails itself upon the rational thinker: while book value is beneficial to measuring, whether relatively or absolutely, for example, the common equity of financial institutions, the method might not be equivocal with respect to this individual security.
My personal hypothesis is that the predictable book value at each of the year-marks is indicative of an abnormally-large opportunity to benefit from planned, organic growth; however, with that said, I would like to remind the reader one last time that in a long position, I personally benefit from a positive conclusion. While I believe I have used the appropriate financial and accounting principles to rationally measure the per-share value of the security in question, I equally appreciate the opportunity for constructive feedback. My hope is that this article will have sown the seeds for the investment community to recognize, and benefit from, the study of this security regardless of the ex post conclusions we may draw from my analysis. Worst case scenario, we all come together and confront something many otherwise might not have tackled on their own; on the other hand, if indeed my method is at a minimum approximately correct, then the company that released eleven current reports in the 8 months preceding this article (3/21/14) presents the opportunity for strong corporate governance and continuing rapid growth of product adoption rates (and thus revenues) to result in the joint venture's completion.
I bought the case for my cell phone in early March - in the period since, I've yet to meet a person not interested in a solar case that brings power to his or her phone. To clear up any questions regarding the iPhone 5/5s case and how well it can ACTUALLY charge a battery, I'll leave this article with my findings:
The solar ability can charge the battery in a similar manner to the way in which a trickle-cell charger charges a dead car battery - slowly, but enough to get the engine running: in much the same way, this panel has the ability to charge (from even ambient/inside lighting) the panel slowly throughout your day, minimizing the time-decay of your battery, especially in idle (sleep) mode.
The case itself is solid. After saying I wouldn't drop it, it has since collected at least 4-5 interactions with the floor from varying heights (I'm 6'3" for reference). iPhone 5s still sparkly new, case works like a gem and no visible scratches, and most importantly the solar panel remained intact.
The case itself is a battery with a capacity of 3000mAmph, comparable to the iPhone's [stock] 2100mAmph capacity: when put together, the iPhone has 5100mAmph of battery life. I will not dare to claim competency with regard to measures of current, but I would like to point out that 5100mAmph is nearly 2.5x the battery life an iPhone comes with standard. Turning the case on, from empty (phone battery; case charged four out of five indicator lights), and throwing it on airplane mode, within an hour and a half (ran the stopwatch app) I was sitting at 89% charge. If you don't feel like waiting on the sun, a micro-USB port allows rapid charging of the case (and pass-through to the phone, which is locked into place by a lightning cable extension).
Good luck to any reader who has made it this far - you earned it:
(click to enlarge)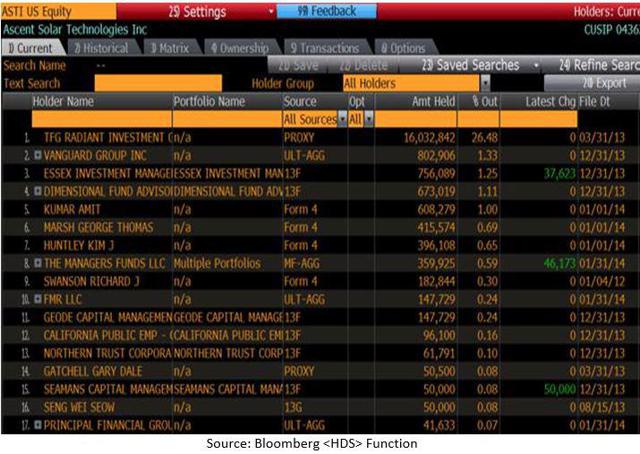 Click to enlarge
Disclosure: I am long ASTI.
Additional disclosure: I purchased the Jumpr Slate 10K Power Bank, the Kickr IV, the iPhone 4/4s case, and iPhone 5s case - due diligence with a side of free power?