This note refers to the portfolio I put forward in the Instablog "High Beta - Burning a Hole In The Pocket".
I have just returned from a 3 week holiday to India.
Prior to leaving in early January, I was in two minds as to whether to close off the portfolio, taking modest profits, or to let it run. At the time of leaving, the portfolio was up an acceptable 8%. While in India, my expectation was that I would be incapable of tracking performance, so returns were at risk if there were adverse movements in the stock market. In the end, I decided to let it run on the basis that I really want to develop portfolios which have a 3 month life.
As it turned out, life was kind. India turned out to be a fascinating place and there were no adverse market movements. The portfolio performance is now a non too shabby 13%: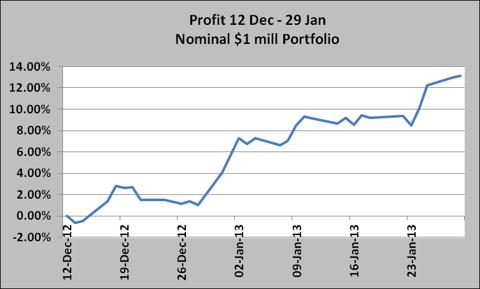 Now however, I notice that falls in the SPY are matched by falls in a majority of the stocks in the portfolio which is a worrying sign, and one which would prompt me to go to either cash or index until I can construct a new portfolio.
Disclosure: I have no positions in any stocks mentioned, and no plans to initiate any positions within the next 72 hours.