For the period 17 August 2012 to 30 June 2013, the portfolio based on identifying "High Beta" stocks outperformed the SPY by around 4%, but May/June proved unkind months delivering a relative loss. The story unfolds in the following graph.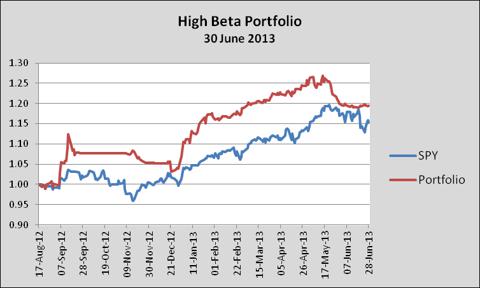 To recap, due to increasing volatility in my "High Beta" watch list, usually a sign of bad things to come, I went to SPLV (safety) while holding DCO, GME and IDT. DCO and GME were hard hit on adverse results while IDT sailed on nicely. The desire for safety actually proved counter-productive with SPLV subsequently suffering a downturn while DCO and GME recovered.
I put a ruler under the year, going to cash while seeing what 1 July brings.