Can things get worse for Chesapeake Energy (NYSE:CHK)?
An independent research firm called into question the size of Chesapeake EnergyCorp.'s proved reserves of oil and natural gas, an important metric institutional investors use to value energy producers, in a report published this week.
The report zeroed in on reserves in the Barnett and Haynesville shale formations in Texas and Louisiana, which make up 42% of the gas the company estimates is in fields it owns. ITG calculated reserves for Chesapeake's developed wells in that region at 2.8 trillion cubic feet, 70% of the amount estimated by a third-party engineering firm for Chesapeake's 2011 annual report. That difference accounts for approximately 12% of what Chesapeake estimates is left in all of its existing wells.
Chesapeake's engineering consultant, Netherland, Sewell & Associates Inc. generated its estimate with internal information provided by the company. ITG relied solely on public information. The report attributes the variance between the estimates to "differing type curve assumptions," referring to how quickly production volumes will decline.
The shale formations have a pretty steep decline curve, and the curve estimation will be the source of any variation. While I am inclined to go with an independent consultant using internal data, this is Chesapeake and their reputation is virtually shredded.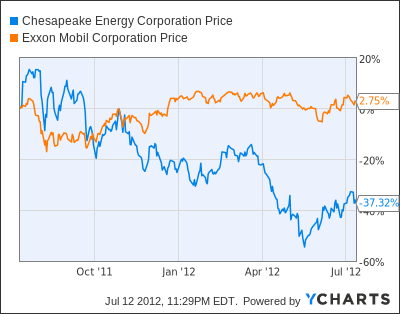 Disclosure: I have no positions in any stocks mentioned, and no plans to initiate any positions within the next 72 hours.