The real climbed 3.7 percent to 2.3488 per dollar on Friday after the Brazilian central bank announced a $60 billion intervention program aimed at strengthening its currency.
(click to enlarge)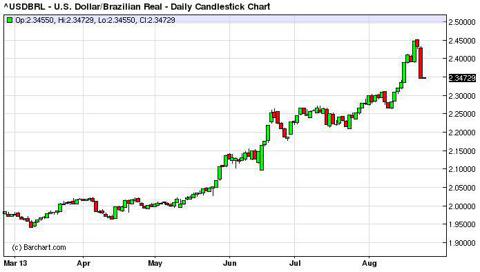 Click to enlarge
A plunge in the real to a four-year low this week threatened to spur inflation, which is nearing the top end of the central bank's target range.
In terms of trading I've been eyeing a short position in coffee, given the ongoing supply increases and the relative weakness of the real.
Now that the real is poised to bounce it poses another interesting question.
Will this present an opportunity to get a better price on our short position? Or will it help put a floor in the price as exporters will be less tempted to sell as they'll get less value?
(click to enlarge)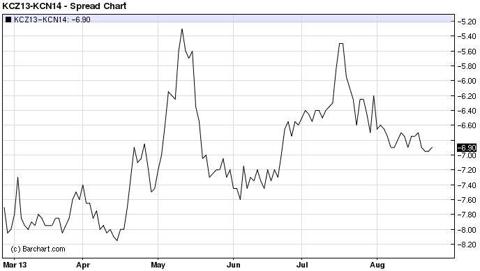 Click to enlarge
I've been watching a couple of bear spreads, one of which is the Dec13/Jul14. I was looking for a bounce but it might be best to wait and see what, if any, reaction we get early in the week.
Comments out from Citigroup suggest that we shouldn't be getting too excited, but there is potential for a short term move
The announcement of intervention in Brazil is fairly large at up to 36bn USD in derivative intervention up to the end of the year. As a reminder, in 2008/2009 the BCB sold 14bn USD in spot and auctioned 33bn in FX swaps.

The current program is also large relative to the current account deficit less FDI.

Of course, it does not fix any of Brazil's problems.
So for now I won't be jumping in early in the week, but I'll certainly be keeping an eye on a potential point to enter at the first sign of a reversal on any bounce, should one come.