On Thursday we saw an injection into storage of 58 BCF (exp 54 BCF), which sent natural gas prices lower.
Natural gas has been on a bit of an uptrend over the last month on the back of an extended hot streak.
While the weather is above average for this time of year, as it's not the peak of summer, we probably shouldn't expect power demand to be quite as high.
(click to enlarge)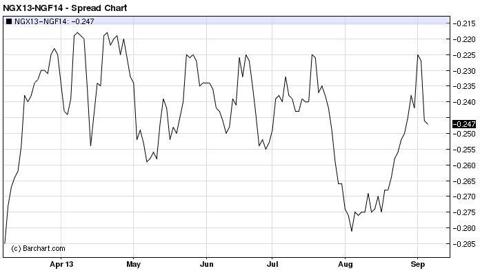 Click to enlarge
I've been watching with an eye to getting short the Nov13/Jan14 spread as the shoulder months, periods of lower demand, are approaching.
This week we also saw some storm activity on the horizon which had traders thinking about the possibility of weather factors in the near future. This added to the bullish tone early, but nothing really eventuated of any relevance to the US.
All these things have seen the Nov13/Jan14 spread trade at levels well off what we would expect for this time of year. Traditionally this one hasn't really traded above 20 in the last 10 years or so.
Seasonally the window opens on the 18th of September but I like these levels so I'll jump in a touch sooner. If you're patient you can probably even work a better price as we often get a pullback on the back of a sharp reversal.