This article addresses some of the biggest Muddy Water accusations against NQ Mobile (NYSE:NQ)
1. Muddy Water's allegation against NQ's reported assets.

So what is their accusation exactly? Either NQ has the cash and it resides in level 2 funds, or NQ is committing accounting fraud and doesn't have the cash it claims. If NQ is really committing fraud, then why would they go to the trouble of restating their 2011 Cash as level 2? They classified their assets as level 1 in 2011, why go through the trouble of changing it to level 2?
NQ stated during its press release that all of the level 2 cash are term deposits. They go on to explain that level 2 cash is very common in the industry. They have no worries regarding liquidity because their term deposits are removable after 24 hours.
These statements were refuted by Barrons, but there are certain facts that need to be addressed in order to see the full picture. NQ's auditor is PricewaterhouseCoopers (NYSEARCA:PWC) Zhong Tian. Zhong Tian is also the auditor for Sina.com (NASDAQ:SINA), Sohu.com (NASDAQ:SOHU), TsingDao Beer (OTCPK:TSGTY), Shanda Games (NASDAQ:GAME), Ku6 Media (NASDAQ:KUTV), and Perfect World (NASDAQ:PWRD).
Zhong Tian has a great track record and has never signed off on any company that has committed accounting fraud. Zhong Tian has audited both NQ's 2011 and 2012 financial statements. Muddy Water's track record on the other hand, has been far less accurate.
Zhong Tian's other clients,
SOHU has 100% Level 2 cash and seem to be fully operational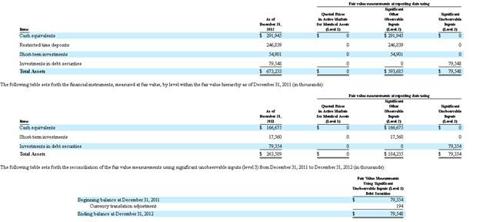 PWRD has 99% Level 2 cash.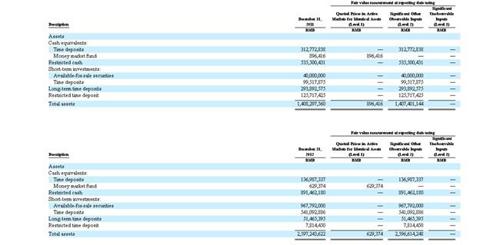 Other companies with high level 2 assets include Baidu (NASDAQ:BIDU), and Changyou.com (NASDAQ:CYOU) which is also at 100% level 2 cash. I must conclude that while it might be out of the norm for companies to be 100% Level 2 cash, having a majority stake in Level 2 is not uncommon and should not warrant suspicion. Additional 20-F statements for other companies are available at sec.gov.
As for NQ's bank accounts and cash balances, NQ's holds a big portion of their funds in China Industrial Bank CIB (All of China's major banks are subsidized by the Government). I checked out their website and found their definition of Time Deposit and Call Deposit. These are consistent with the information provided in their press release regarding the ability to access funds pending 1 day notice. Here is a blog by Dr. Paul Gillis PhD CPA the Professor of Practice at Peking University's Guanghua School of Management. He breaks Muddy Water's issues down succinctly and confirms that there is no irregularity with how NQ reports its assets.
On NQ's 2011 20-F Filling this statement can be found

aa) Recently issued accounting standards

In May 2011, the FASB issued ASU 2011-04, Fair Value Measurement (Topic 820): Amendments to Achieve Common Fair Value Measurement and Disclosure Requirements in U.S. GAAP and IFRSs. This results in common fair value measurement and disclosure requirements in US GAAP and International Financial Reporting Standards. Including which, the amendments clarify the FASB's intent about the application of existing fair value measurement and disclosure requirements, such as the application of the highest and best use and valuation premise concepts being only relevant when measuring the fair value of nonfinancial assets and are not relevant when measuring the fair value of financial assets or of liabilities. The amendments also change a particular principle or requirement for measuring fair value or disclosing information about fair value measurements. This update is to be applied prospectively for public entities during interim and annual periods beginning after December 15, 2011. Early application by public entities is not permitted.

The Group will adopt this amendment at the beginning of 2012 but expects no significant impact on the consolidated financial statements of the Group. "
I conclude that NQ did state they would be following these guidelines to re-address their assets in 2012.
2. NQ's true market share in China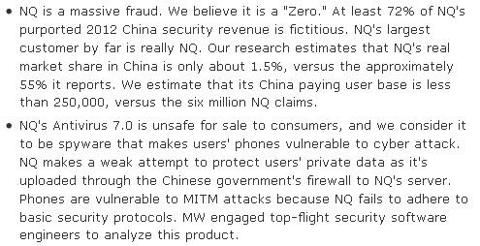 Muddy Waters claims research that puts NQ at 1.4% market share in China. Independent research has shown a variety of other different market share numbers from Piper Jaffray to the much debated 55% market share published by research firm Sino MR.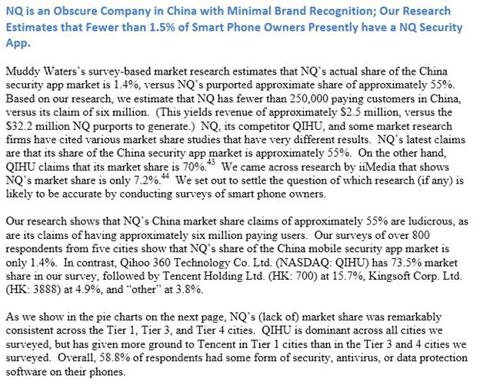 Please note: they surveyed respondents regardless of whether or not they had any security software installed, which cuts the actual sample size to approximately 470 users accross the 'Mobile Security User' population
The stated survey does not go into any detail in regards to how they selected their sample set (their only clarification is in regards to location). This provides a large degree of ambiguity in the selection process for their sample set and must be interpreted with extreme caution due to the high possibility of sample set bias.
Some forms of bias that might affect results are:
a. What was the breakdown of phone manufacturers in their survey? Surveying phones from carriers that NQ has business partnerships with might yield entirely different results than surveying brands that NQ does not have relations with.
b. Did they consider NQ's other products? NQ provides more than 1 form of security product and each one should be counted separately. Mobile vault and NQ Security would be 2 instances.
c. Do they consider that NQ's software might be integrated under a different name? For example, ZTE's Palm Steward Security system comes from NQ. An average user wouldn't know this.
I will apply some quick and dirty statistics using Muddy Water's numbers. Muddy Waters interviewed 800 people and concluded only 1.4% of the market share use NQ. China has an estimated 300M to 400M Smartphone users in 2012 depending on the source and timing of the research. We will average this out to 350M users. Of the 350M users, only 58.8% use mobile security, thats 205.8M people. At 95% confidence, this number has an error of approximately 3.4% and bringing us to a range of 190.4M - 221.2M mobile security users. We will use 205.8M for simplicity but please note the resulting confidence interval for NQ's user base is not a complete range for 95% confidence.
Muddy Waters approximates NQ at 1.4% market share. With a sample set of 470 (58.8% of 800), and a population of 205.8M users, the 95% confidence error term is 1.06%. This puts NQ at approximately .34% - 2.46% market share or 752K - 5.89M users with 95% confidence (not counting the "Do not know" category or the confidence interval for actual Mobile Security User market). This also doesn't count multiple NQ apps on the same phone, or users with multiple phones. Neither does it consider corporate users as a bigger concentration than the general public. All in all, a very biased statistical result with a giant gap in user range
NQ Security 7.0
Muddy Waters claims NQ Mobile's software is unsafe and essentially spy-ware. They hired 'Top-Flight' Engineers (Googled top-flight but did not return any credible result) to analyze the product and claimed it installed spy-ware onto people's phones.
Here are some interesting articles I found.
a. Per Wikipedia, NQ has won several awards in 2010 and 2011 for their products.

b. They have been validated by WestcoastLabs, CNET, and PCMagazine.
c. Their main app on Google Play has 4.5 Stars and over 10M downloads.
d. They are featured on Top Ten Reviews at #9
e. They are featured on CCTIME for ZTE's Palm Steward Security system rated first in security.
Conclusion:
I have analyzed some of the biggest concerns I had with Muddy Water's accusation of NQ Mobile and found their accusations baseless. NQ's accounting structure and the classification of Level 2 assets is not abnormal in the industry nor with PwC Zhong Tian's clients. Level 2 Assets are not risky assets, just less liquid than Level 1 assets. Muddy Water's survey and assumed market share of 1.4% comes closer to validating the inaccuracy of their report. The confidence interval for NQ users is extremely inaccurate at 750K-5.9M and I believe the bias present in selecting the sample size might have minimized NQ's presense in the market place. Regarding the issue of NQ Security 7.0 being mal-ware, I suppose we just have to 'trust' Muddy Water's mysterious 'top flight engineers' over NQ's validation by real industry professionals such as Westcoastlabs, CNET and PCMagazine as well as industry experts who have granted them 5 awards in 2010 and 2011.
...Or I could trust Jackie Chan.
Muddy Waters posted a picture of a clown on their research report. Henry Lin has Jackie Chan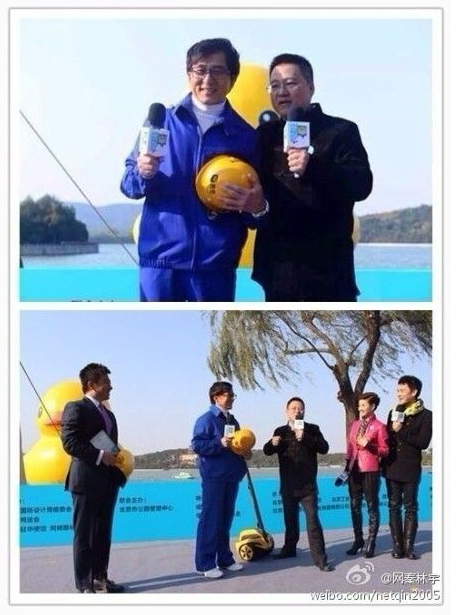 Afterthoughts: There were also claims afterwards stating NQ falsified their relationship with ZTE. This is also blatantly false. The CCTime article above proves this, but incase someone wants to argue that nobody made the connection between NQ and Palm Steward, NQ is preloaded on ZTE v961 as itself 网秦杀毒
Disclosure: I am long NQ. I wrote this article myself, and it expresses my own opinions. I am not receiving compensation for it. I have no business relationship with any company whose stock is mentioned in this article.