We have identified 2 support zones:
The 0.8880 area where a Shark pattern takes place and a positive divergence is clearly visible on the chart. For those traders who favor this scenario, the buy signal is triggered when the 0.8979 level is broken to the upside.

In this case, the typical target for bulls will be 0.9279.

The second support zone is 0.8766 which, in our opinion, will be very hard to break for the bears in the intermediate term.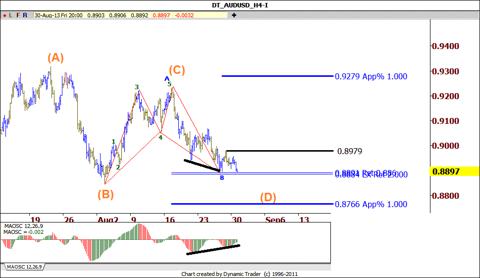 Tracking the major players
Under the 'large speculators' section of the CFTC's last week report, we observed a fresh increase of short positions that kept the market sentiment bearish. Considering the fact that we have 85000 open short positions in contrast to only 14000 open long positions, we can conclude that there isn't much hope among the major players regarding the Australian Dollar yet.
An interesting point to ponder upon is the reduction of short positions held by commercials. It seems reasonable that, because of the high spread between the short and long positions held by major players, the short positions will be offset gradually over the next 2 weeks.
For this currency pair, we will be willing to initiate long positions. The only factor that has kept a massive selling pressure over Aussie is the large speculators group as commercials and small speculates have barely contributed in this bearish sentiment.
Any reversal or offsetting of short positions by major players will lead to a 200-300 pips rally in this currency pair.