Electric car maker Tesla Motors (NASDAQ:TSLA) has been on a tear since last fall. What was $28 stock at the end of September just hit $50. Wow what a ride! Tesla won Car of the Year, Tesla is selling cars, Tesla is making money and the market has been good to Tesla shareholders. But there is something Tesla investors should pay attention to.
Tesla has attracted market interest far beyond what a company of this size usually sees. Investors are highly polarized. Some love this company, its products and its CEO. Others despise the company, hate the product, loath the CEO and are about to rebel against their Government for allowing Tesla to exist. Oh, did I mention that a really big chunk of Tesla shares are short?
Tesla CEO Elon Musk has promised several "very exciting" announcements. Deliveries of Model S cars to European customers are soon to begin. SuperChargers will be rolling out across America. Frunk liner production and by inference Model S production is going to 30,000+ units a year starting in late Q3. The really big news for Tesla shares in the near term may however be much more pedestrian: Summer is almost here.
The old investment adage, "Sell in May and go away" could have more impact on Tesla shares than any big announcement or even any big progress that Tesla may make between May and October. Tesla's share price is highly volatile, driven by market sentiment and inflamed by the massive short interest. If Tesla investors really do take the summer off, interest in the stock will wane and shares could languish - though Tesla shorts might avail themselves and unwind some positions.
Investors departing the market over the summer has a sound, empirical basis. Since 1950, the Dow Jones Industrial Average has had an average return of only 0.3% during the May-October period, compared with an average gain of 7.5% during the November-April period. Why stay in the pool when everyone else is out in the sun? As it turns out, Tesla's share price behaves a lot like the rest of the market.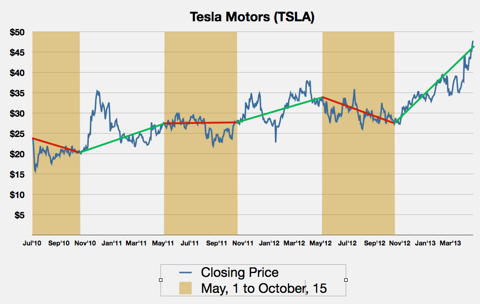 Going back as far as the IPO, Tesla shares have performed less well from May 1 through October 15 than during other times of the year.
Tesla is poised to do interesting and important things this summer. Things that should strengthen Tesla's competitive position, grow sales, and innovate new solutions to electric mobility. But none of this will drive the share price if Tesla's investors are unplugged.
Disclosure: I am long TSLA. I wrote this article myself, and it expresses my own opinions. I am not receiving compensation for it (other than from Seeking Alpha). I have no business relationship with any company whose stock is mentioned in this article.